The Curse of La Llorona (2019)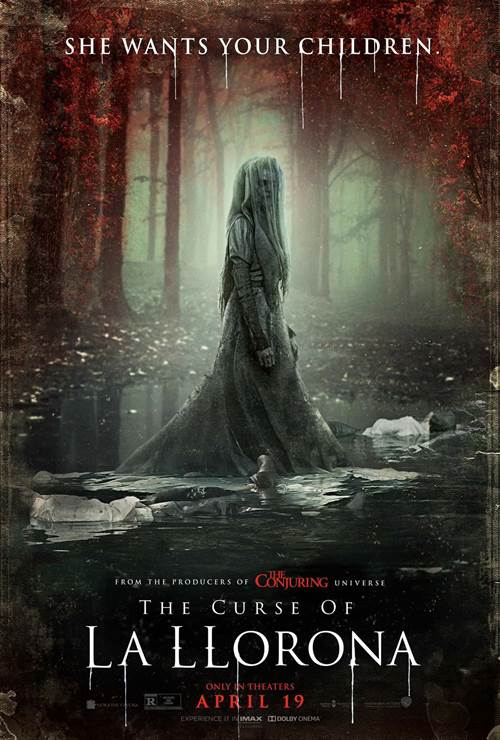 Share this:
| | |
| --- | --- |
| Director: | |
| Writers: | Mikki Daughtry, Tobias Iaconis |
| Cast: | |
| Released: | Friday, April 19, 2019 |
| Length: | 93 minutes |
| Studio: | New Line Cinema |
| Genre: | Horror |
| Rating: | Under 17 requires accompanying parent or adult guardian. |
Synopsis
La Llorona. The Weeping Woman. A horrifying apparition, caught between Heaven and Hell, trapped in a terrible fate sealed by her own hand. The mere mention of her name has struck terror around the world for generations. In life, she drowned her children in a jealous rage, throwing herself in the churning river after them as she wept in pain. Now her tears are eternal. They are lethal, and those who hear her death call in the night are doomed. La Llorona creeps in the shadows and preys on the children, desperate to replace her own. As the centuries have passed, her desire has grown more voracious…and her methods more terrifying.

In 1970s Los Angeles, La Llorona is stalking the night—and the children. Ignoring the eerie warning of a troubled mother suspected of child endangerment, a social worker and her own small kids are soon drawn into a frightening supernatural realm. Their only hope to survive La Llorona's deadly wrath may be a disillusioned priest and the mysticism he practices to keep evil at bay, on the fringes where fear and faith collide.

Beware of her chilling wail…she will stop at nothing to lure you into the gloom. Because there is no peace for her anguish. There is no mercy for her soul.

And there is no escape from the curse of La Llorona.
Purchase DVD/Blu-ray/4K physical copy of The Curse of La Llorona today at
Download The Curse of La Llorona in Digital HD/4K from the iTunes store.
Listen to the The Curse of La Llorona soundtrack on Apple Music.
The Curse of La Llorona images are © New Line Cinema. All Rights Reserved.


The Curse of La Llorona Blu-ray Review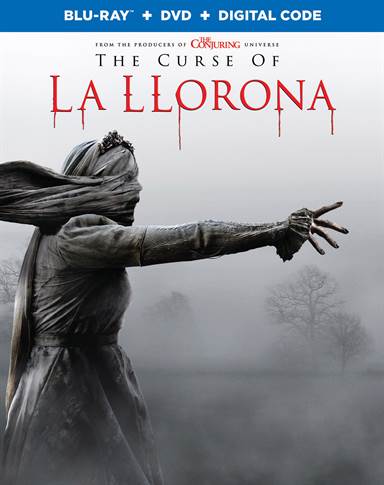 Every culture has its folklore and tall tales. Some are sweet and build on traditions that bring a community together while others are bedtime stories. Still, others are scary and used to keep children on their best behavior. One of the latter is the Mexican story known as La Llorona or the weeping woman. For centuries children have been told of the ghost looking for her children whom she drowned in the river. It is said that if Children misbehave she will come for them. This year, as part of the Conjuring universe, New Line Cinema brought this ancient story to the big screen in The Curse of La Llorona and this month it receives the home release, Blu-ray treatment.
Anna Tate-Garcia (Linda Cardellini; Avengers: Age of Ultron) is a widowed social worker who goes to visit one of her clients after the woman's children are reported missing from school. There Anna finds the children locked in a closet and their mother, Patricia (Patricia Velasquez; The Mummy) frantically exclaiming that she is trying to keep them safe. The boys are taken away by child protective services and placed in foster care but when they wind up drowned Patricia tells Anna it is all her fault.
Upon returning home, strange things start happening and Anna's children begin toes a veiled woman all in white which Patricia tells Anna is La Llorona. After Anna's kids are almost drowned she seeks out help from the Church but is turned away. She finds a former priest, Rafael Olvera (Raymond Cruz; Training Day) who will "cleanse" her house but he actually uses Anna and her children as bate to lure La Llorona in to try to eradicate her. However, when Patricia shows up and offers to trade Anna's children for her own son's things end up getting even worse until Anna manages to kill (or so she thinks) La Llorona with a cross made of wood from a fire tree.
Cardellini does a decent job with the material she has to work with but the script leaves much to be desired. It doesn't give her much time to process or disbelieve what she is seeing and she immediately goes into "mamma bear" mode to protect/save her children. Velasquez doesn't have many lines in the film but she uses the ones she has to make as much of an impact as possible. Cruz is merely ok but doesn't seem to be mean enough to scare a ghost away for good.
First-time feature film director, Michael Chavez, doesn't give the story enough time to breathe nor does he build enough suspense to make an impactful difference. The moments of tension don't have that feeling of forbidding for the most part, which is why the movie isn't as scary as it might have been had it been given more time to marinate. The folklore is interesting enough but New Line Cinema rushed it to theaters with the hopes of little investment hoping to equal a big payoff. As the saying goes "you get what you pay for".
The 1080p high definition video quality is good as the details of the ghost can clearly be seen. and the color scheme is deep. Dolby Atmos audio is always a treat and this film is no exception. The base tones of the soundtrack help to build the little amount of suspense there is in the movie. The Blu-ray offers a couple of extras including: The Myth of La Llorona, Behind the Curse, The Making of a Movie Monster. Deleted Scenes, and Storyboards.
While the film does have it's merited, if you are looking to be scared out of your mind you would be better off re-watching The Conjuring.
Grade: C
For more reviews please visit our film/television review section.
The Curse of La Llorona star Patricia Velasquez speaks with FlickDirect's Austin Putnam about th...

La Llorona. The Weeping Woman. A horrifying apparition, caught between Heaven and Hell, trapped in a...

La Llorona. The Weeping Woman. A horrifying apparition, caught between Heaven and Hell, trapped in a...
For this edition of This Weekend At The Movies, FlickDirect's Austin Putnam reviews THE CURSE...
SPONSORED LINKS
Comments

Courtesy of
Movie Hype App
movieguynathan
Screening time.
4/11/2019 6:48 PM EDT
joker84
Remember the story growing up
3/25/2019 12:14 PM EDT