Batwoman (2019)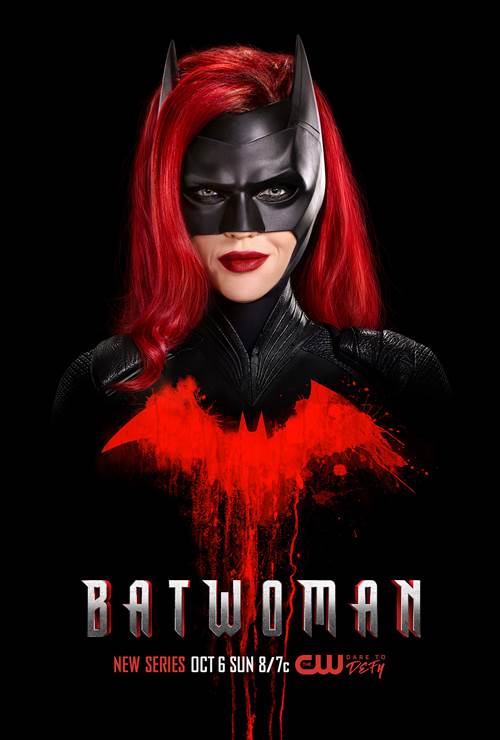 Share this:
| | |
| --- | --- |
| Created By: | |
| Writers: | |
| Cast: | |
| Air Date: | Sunday, October 6, 2019 |
| Studio: | Warner Bros. |
| Genre: | Television |
| Rating: | This program contains some material that many parents would find unsuitable for children under 14 years of age. |
Synopsis
Kate Kane (Ruby Rose) never planned to be Gotham's new vigilante. Three years after Batman mysteriously disappeared, Gotham is a city in despair. Without the Caped Crusader, the Gotham City Police Department was overrun and outgunned by criminal gangs. Enter Jacob Kane (Dougray Scott) and his military-grade Crows Private Security who now protect the city. Years before, he sent his daughter, Kate, away from Gotham for her safety. But now, she's back, and she's done asking for permission. In order to help her family and her city, she'll have to become the one thing her father loathes – a dark knight vigilante. Armed with a passion for social justice and a flair for speaking her mind, Kate soars through the shadowed streets of Gotham as Batwoman. But don't call her a hero yet. In a city desperate for a savior, she must first overcome her own demons before embracing the call to be Gotham's symbol of hope.

Purchase DVD/Blu-ray/4K UHD physical copy of Batwoman today at Amazon.com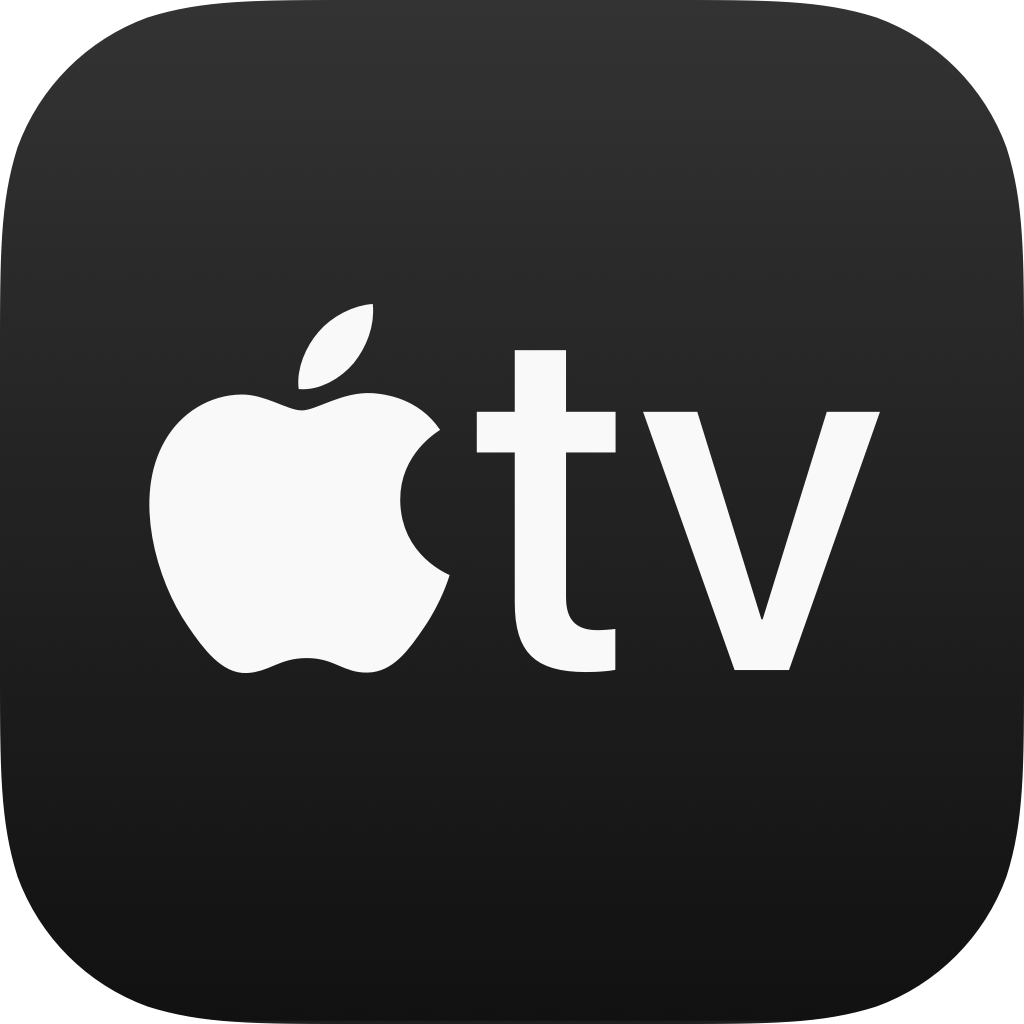 Download Batwoman in Digital HD/4K from the iTunes store.
Batwoman images are © Warner Bros.. All Rights Reserved.
Batwoman: The Complete First Season Blu-ray Review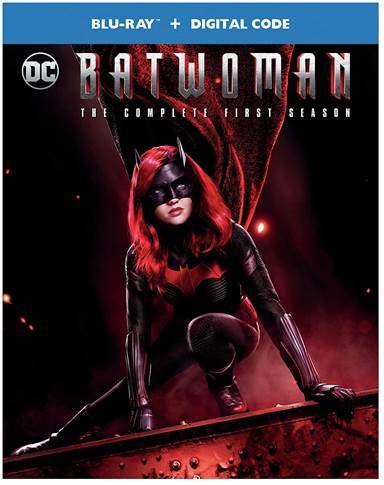 When the television show Arrow announced its eighth and final season in March of 2019, DC Comics and the CW knew there would be a large hole that they would need to fill. While they still had The Flash, Legends of Tomorrow, and Supergirl, they needed something fresh and edgy. Enter Batwoman (Ruby Rose; John Wick: Chapter 2) …an outspoken, lesbian who, like Batman, has her own set of demons she has to deal with while fighting crime in Gotham. While COVID has put filming for Season Two on hold, Batwoman: The Complete First Season is now available for purchase on Blu-ray.
Three years after billionaire Bruce Wayne (A.K.A Batman) disappeared, Gotham City is in bad shape as criminals run free without anyone to stand up against them. This is how Kate Kane (Rose), Bruce Wayne's cousin, finds it when she returns. As Kate tries to find her cousin, she discovers more than she bargained for…her cousin, Bruce is Batman. With a passion for justice, Kate realizes she must take up the bat mantel in order to save her father, her ex-girlfriend, Sophie (Meagan Tandy, Teen Wolf), and Gotham City. Helped by Wayne Enterprises' employee, Luke Fox (Camrus Johnson; The Sun is Also a Star), Kate dons the (altered) bat suit to fight crime and give Gotham City a little sense of hope.
Throughout Season One we watch as Kate struggles with various realizations… The criminal, Alice (Rachel Skarsten; The Vow) is really her sister, Beth, whom she was led to believe died in a car crash and the reason that Kate can never have a "normal" relationship because of her newfound job as a crime-fighting vigilante. But Alice/Beth isn't the only problem as each week we watch Batwoman fight another group of villains trying to take over Gotham City.
Season One introduced Rose as Kate/Batwoman but by the start of shooting for Season, Two Rose announced she wouldn't be returning due to injuries sustained onset. Covid-19 also shut down production so shooting has been delayed even further. For Season Two, Rose won't be replaced by another person portraying the same character while expecting the audience not to notice, but instead will evolve as Kate leaves Gotham and Ryan Wilder (Jacivia Leslie; The Family Business) steps in to become Batwoman, This gives the producers a chance to "wipe the slate clean" and start somewhat fresh. The rest of the cast will stay the same, but it will be interesting to see how this new dynamic plays out.
The 1080p resolution and 1.85:1 aspect ratio means the picture quality is very good. While the show hovers over black and grey tones by its very nature, there are some pops of color that stand out. The DTS-HD Master audio 5.1 is also well done with explosions and gunshots coming from all angles to help the viewer feel as if they are in the middle of the action. The extras are split up in an interesting way. The first three discs of the five-disc set have deleted scenes. Disc four has a 50-minute montage of DC's TV San Diego Comic-Con Panels from 2019 and disc five offers Crisis On Infinite, Crisis On Infinite Earths: The Architects Return, Crisis Management,
Crisis Past and Present: Kevin Conroy Bat Legend, Crisis Past, and Present: Superman vs. Superman, Characters in Crisis: Pariah and Characters in Crisis: The Anti-Monitor.
Batwoman started with quite a bit of hype but, for some reason, viewership waned over time. However, with the latest casting developments, the curiosity might improve the ratings for the first few episodes at least. Overall, the show isn't too bad and has a similar look and feel of many of the other shows in the Arrowverse so it's not a complete departure of the tried and true.
While we are all at home, and before Season Two begins, grab the Blu-ray combo pack of Batwoman so you can be ready to go when things (sort of) return to normal and Batwoman returns.
Grade: B-
For more reviews please visit our film/television review section.
Kate Kane (Ruby Rose) never planned to be Gotham's new vigilante. Three years after Batman mysteriou...
SPONSORED LINKS