El Camino: A Breaking Bad Movie (2019)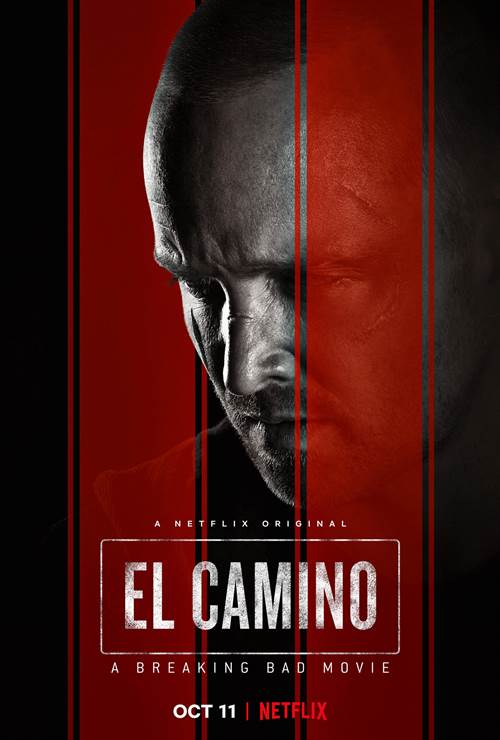 Share this:
| | |
| --- | --- |
| Director: | |
| Writers: | |
| Cast: | |
| Released: | Friday, October 11, 2019 |
| Length: | 122 minutes |
| Studio: | Netflix |
| Genre: | Action/Adventure |
| Rating: | This program is specifically designed to be viewed by adults and therefore may be unsuitable for children under 17. |
Synopsis
The Netflix Television Event EL CAMINO: A BREAKING BAD MOVIE reunites fans with Jesse Pinkman (Emmy-winner Aaron Paul). In the wake of his dramatic escape from captivity, Jesse must come to terms with his past in order to forge some kind of future. This gripping thriller is written and directed by Vince Gilligan, the creator of Breaking Bad. The movie is produced by Mark Johnson, Melissa Bernstein, Charles Newirth, Diane Mercer and Aaron Paul, in association with Sony Pictures Television.

Purchase DVD/Blu-ray/4K UHD physical copy of El Camino: A Breaking Bad Movie today at Amazon.com
El Camino: A Breaking Bad Movie images are © Netflix. All Rights Reserved.
El Camino: A Breaking Bad Movie Blu-ray Review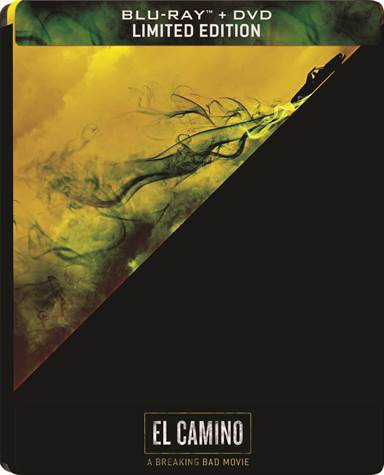 Back in the early 2000s, AMC (originally American Movie Classics) aired mostly…you guessed it, old movies. However, by the latter half of the decade, they were experimenting with some original programming. In January of 2008, they furthered their ambition by airing a new show called Breaking Bad. It immediately generated "buzz" (in a good way) and was praised by critics. The premise of the show consisted of a disillusioned chemistry teacher named Walter White (Bryan Cranston; Malcolm in the Middle) who decided to start selling Crystal Methamphetamine after he was diagnosed with stage three lung cancer. Teaming with one of his former students, Jesse Pinkman (Aaron Paul; Need for Speed), the two created and distributed meth as a way for Walter to make sure his family was financially secure once he was gone.
Fans of the show will remember the explosive (literally) series finale when Walter returned to save Jesse from his captors. Armed with a remote-controlled machine gun, Walter took out the bad guys and set Jesse free but was fatally wounded in the process. The last scene shows Jesse driving away from his prison as the police are heard heading his way. Six years later, writer, director, and producer Vince Gilligan (The X-Files) finished his story with El Camino: A Breaking Bad Movie which aired in theaters and on Netflix and was showed earlier this year on AMC.
The movie begins exactly where the television series ended…Jesse driving away, finally free again. As a manhunt for him begins, Jesse, showing obvious signs of PTSD, heads to Badger (Matt Jones; Brightburn) and Skinny Pete's (Charles Baker; The Neon Demon) place to hideout. When a tracking device is discovered in the car Jesse stole to escape, the three friends come up with a plan to ditch the car and to give Jesse time to come up with the money he needs to "disappear" with help from Vacuum Salesman Ed Galbraith (Robert Forster; Olympus Has Fallen).
For those who loved the story and the characters of Breaking Bad, El Camino is not only an epilogue of the series but also a prequel to the last episode of the show. Paul returns as a more mature Jesse who has been tortured by his captors and suffers psychologically for it. The rest of the cast is a television reunion of sorts with Jesse Plemons (Game Night) returning as Todd (in flashbacks), Ed, Badger, Skinny Pete, and of course, Walter White who shows up in Jesse's memories. The film is chock full of cameos from previous cast members which will delight Breaking Bad fans.
The special edition SteelBook houses both the Blu-ray and DVD discs. The 1080p video quality is sharp and clear with colors popping off the screen even in dusty New Mexico. The DTS-HD Master Audio 5.1 enhances the video with sound alternating from all speakers making for a rich and layered soundtrack. The combo pack offers some extras including: Audio Commentary With Vince Gilligan and Aaron Paul, Super-Commentary! Making El Camino, Deleted & Extended Scenes, Gag Reel, Storyboard Breakdowns, Promotional Materials, and Rodeo FX. While not especially plentiful the extras are informational at least.
Fans of the show who loved Jesse and who were sad for Walter's demise (though it was coming eventually), will love this movie as it wraps up a number of loose ends. For me, it dragged at times and didn't always keep my attention.
Technically the movie is well done with some excellent close-ups and one particular shot when we are looking down at Todd's apartment (think bird's eye view) while Jesse destroys it looking for all of Todd's money which he kept hidden.
El Camino: A Breaking Bad Movie has good points and bad points but wraps up the series with a bright big bow.
Grade: B

For more reviews please visit our film/television review section.
The Netflix Television Event EL CAMINO: A BREAKING BAD MOVIE reunites fans with Jesse Pinkman (Emmy-...
SPONSORED LINKS