Space Force (2020)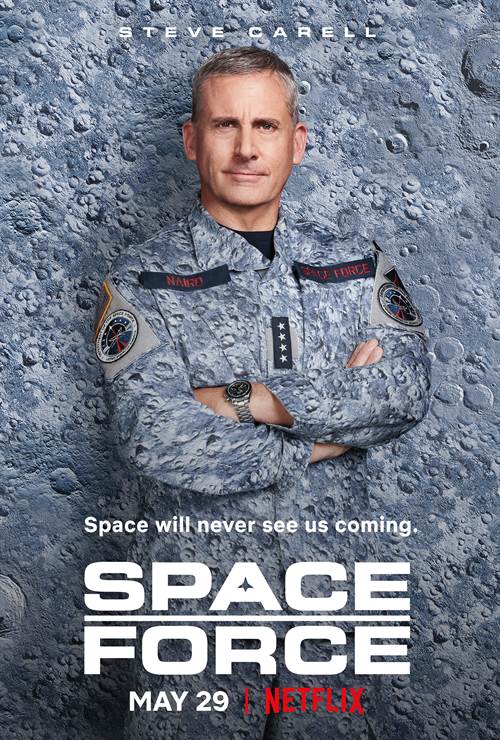 Share this:
| | |
| --- | --- |
| Created By: | |
| Writers: | |
| Cast: | |
| Air Date: | Friday, May 29, 2020 |
| Length: | 30 minutes |
| Studio: | Netflix |
| Genre: | Television |
| Rating: | This program is specifically designed to be viewed by adults and therefore may be unsuitable for children under 17. |
Synopsis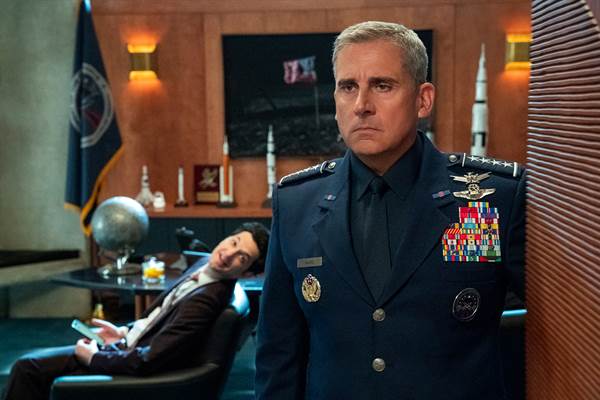 A decorated pilot with dreams of running the Air Force, four-star general Mark R. Naird (Steve Carell) is thrown for a loop when he finds himself tapped to lead the newly formed sixth branch of the US Armed Forces: Space Force. Skeptical but dedicated, Mark uproots his family and moves to a remote base in Colorado where he and a colorful team of scientists and "Spacemen" are tasked by the White House with getting American boots on the moon (again) in a hurry and achieving total space dominance. From co-creators Carell and Greg Daniels (The Office), SPACE FORCE is a new kind of workplace comedy, where the stakes are sky high and the ambitions even higher. John Malkovich, Diana Silvers, Tawny Newsome, Ben Schwartz also star, alongside co-stars Lisa Kudrow, Jimmy O. Yang, Noah Emmerich, Alex Sparrow and Don Lake. Howard Klein/3Arts (The Office) serves as executive producer, with Daniels as showrunner.
Space Force images are © Netflix. All Rights Reserved.
Space Force Series Review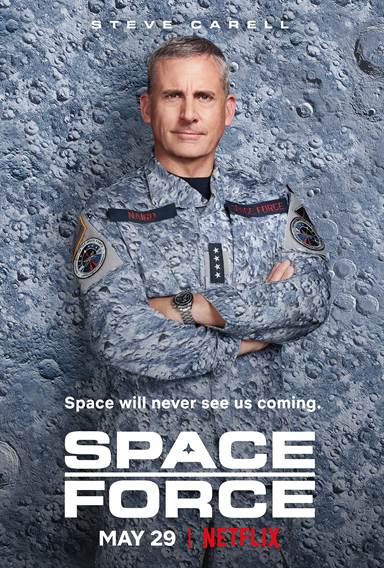 In 1982 The Air Force Space Command was formed to oversee "space warfare" operations. Five months ago it was changed to an independent service, The United States Space Force, and charged with organizing, training, and equipping forces for space superiority and dominance, offensive and defensive space control, command satellite operations, etc. If this sounds like the plot for a movie or television series, it's understandable why. Luckily, one of the creators of the American version of The Office, Greg Daniels (Parks and Recreation), and the boss of the first five seasons of the show, Steve Carrell (The Forty-Year Old Virgin), saw the comedic potential of this new division of the Department of Defense and created Space Force - a thirty-minute, ten-episode series set to premiere on Netflix on May 29, 2020.
The series opens with General Mark R. Naird (Carrell) earning his fourth star and being promoted to the Chief Officer of Space Force. Unfortunately, that means moving from Washington D.C. to Colorado; an idea both his wife, Maggie (Lisa Kudrow; Friends) and daughter, Erin (Ma, Booksmart) despise. Naird also is taunted every step of the way by his arch-enemy, General Kirk Grabaston (Noah Emmerich; The Americans), who oversees the Air Force and who used to run the precursor to Space Force before it became an independent department with Naird at the helm.
Throughout the ten episodes, we watch as Naird navigates his new command post with several obstacles thrown in the way. His "partner in crime"/semi-antagonist is the chief scientist of Space Force, Dr. Adrian Mallory (John Malkovich; Dangerous Liaisons). He tries to be the voice of reason when Naird goes off the rails and comes up with crazy ideas to fix any problems that arise during the preparations to launch the manned rocket to the moon in an effort to colonize it. To add pressure, Space Force finds itself losing in the competition, to the Russians and the Chinese, to live on the moon.
Carrell is the straight man here and does a good job setting up his fellow actors to get the laughs. Kudrow isn't as ditzy as her previous character, Phoebe, but she does of moments that feel like a flashback to the 1990s. Silvers doesn't have too many film and television credits to her name but her roles have all been fairly big and she plays them well. Her turn as Erin Naird does nothing to dispel the idea that she is a great actress with a promising future ahead. The supporting cast is fairly strong with varying degrees of appeal as well. However, the real star of Space Force is Malkovich. He is brilliant as the sarcastic, intelligent, and witty voice of science and reason in an otherwise bizarre plot. I hope to see him nominated for a prime time Emmy, as the show would be incomplete without him.
While Space Force has moments reminding the audience of The Office, it is its own entity and should not be compared. The situations Naird, Mallory, and the crew find themselves in are hilariously ridiculous and unrealistic, making fun of the current U.S. administration and the implausibility of populating the moon in every way possible. The writing, for the most part, is smart and often cutting, but doesn't try to be so intelligent that it goes over the layman's (figurative) head.
This is one show that is easy to binge-watch and should be renewed for a second season at a minimum, if not longer. Netflix and Carrell have another hit on their hands that is enjoyable and entertaining, especially if they keep Malkovich as part of the cast.
Grade: B+
For more reviews please visit our film/television review section.
A decorated pilot with dreams of running the Air Force, four-star general Mark R. Naird (Steve Carel...
SPONSORED LINKS