Secret Society of Second Born Royals (2020)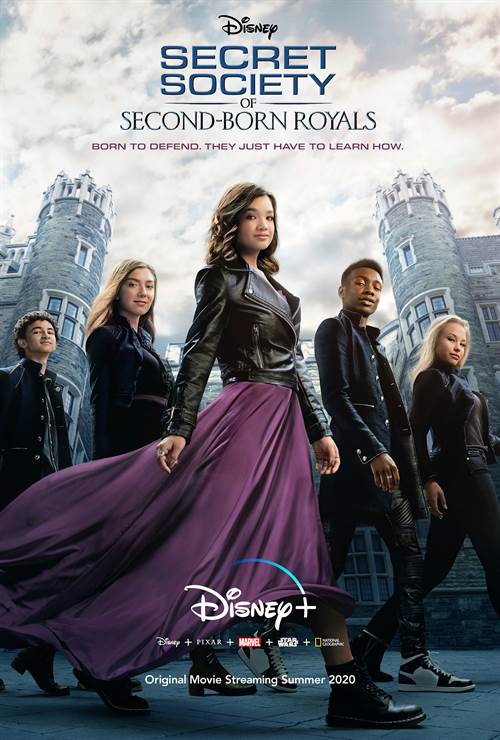 | | |
| --- | --- |
| Director: | |
| Writers: | |
| Cast: | |
| Released: | Friday, September 25, 2020 |
| Length: | 99 minutes |
| Studio: | Walt Disney Pictures |
| Genre: | Family |
| Rating: | Some material may not be suitable for children. |
Secret Society of Second Born Royals Synopsis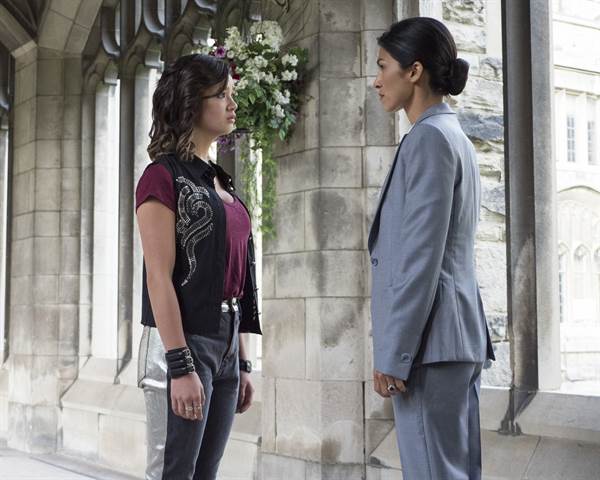 "Secret Society of Second-Born Royals" follows Sam, a rebellious teenage royal who unknowingly develops superpowers from a genetic trait attributed only to second-borns of royal lineage. Second-in-line to the throne of the kingdom of Illyria, Sam constantly questions what it means to be royal and wants to create her own legacy. Unlike Sam's picture-perfect older sister Eleanor who will become the next queen, Sam would rather rock out with her bandmate and best friend Mike at an illegal protest or ditch a royal engagement for a wild night out.
Fed up with her daughter's misbehavior, Queen Catherine sends Sam to a summer boarding school where she and four other second-born royals – Tuma, Roxana, January and Matteo – discover they have unique super-human abilities and are invited to join a secret society with a longstanding tradition of covertly keeping the peace. With a new sense of purpose and a little help from their Secret Society instructor James, Sam and her fellow royal recruits must learn to harness their newfound powers and work together as a team before they can save the world.
Starring is Peyton Elizabeth Lee as Sam; Skylar Astin (Zoey's Extraordinary Playlist") as James; Olivia Deeble ("Home and Away") as Roxana; Niles Fitch ("This is Us") as Tuma; Faly Rakotohavana ("Raven's Home") as Matteo; Isabella Blake Thomas ("Once Upon A Time") as January; Elodie Yung ("Daredevil") as Queen Catherine; Ashley Liao ("Always Be My Maybe") as Eleanor; Noah Lomax ("Trial By Fire") as Mike; and Greg Bryk ("Handmaid's Tale") as the villainous Inmate 34.
"Secret Society of Second-Born Royals" is directed by Anna Mastro (Marvel's "Runaways," "The Bold Type") and executive produced by Zanne Devine ("I, Tonya"), Mike Karz ("Valentine's Day") and Austin Winsberg ("Zoey's Extraordinary Playlist") with Juliana Janes ("Butter") serving as co-producer. The teleplay was written by Alex Litvak ("Masters of the Universe") and Andrew Green ("Hannah Montana") and is based on an original story by Litvak, Green and Winsberg.
Listen to the Secret Society of Second Born Royals soundtrack on Apple Music.
Secret Society of Second Born Royals images are © Walt Disney Pictures. All Rights Reserved.
Secret Society of Second Born Royals Review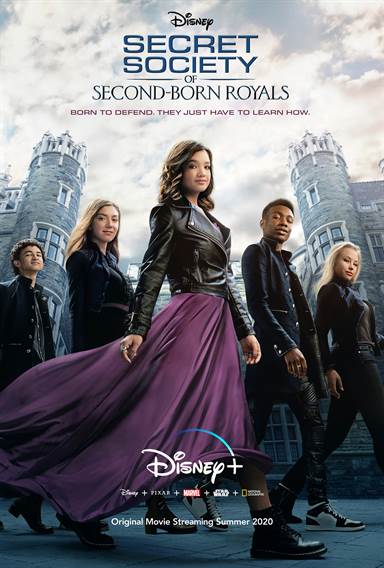 Disney Channel has had a long history of making movies aimed at tweens and pre-teens. High School Musical, Camp Rock, Princess Protection Project, Lemonade Mouth, Descendants, etc. all were launch pads for their casts to move on to successful careers as adults and continued a legacy of clean, quality television programming from Disney. With the launch of Disney's streaming service, Disney+, the legacy of these movies continues and this month they are releasing Secret Society of Second Born Royals as the latest installment of the company's pre-teen/tween programing. Introducing a new set of future "stars", the film is consistent with the fare Disney has produced for years.
Sam (Peyton Elizabeth Lee; Andi Mack) is the second born princess in the make-believe country of Illyria. She is rebellious and uninterested in Royal life. As her sister's coronation is about to happen, making her sister Queen of Illyria, Sam discovers a deep secret. She is told she is being sent to summer school because she missed a final exam in one of her classes because she was actually in jail but in truth, she was one of five second born royals who were sent to "training" for the secret society. It seems second born royals all had special powers they were expected to use to help their countries.
After the summer training, those who passed would get to keep their powers and be sworn to secrecy. Those who didn't would be stripped of their powers and have their minds erased so they wouldn't remember the society. As this group of five young royals were learning about their powers, there were evil forces plotting against them wanting to destroy the society and the monarchs of the world. Somewhat unprepared, the group must join together to stop the evildoers, including one of their own, from succeeding in their plan.
Lee is decent as the princess suddenly discovering her powers and capably leads the Disney film and the cast, which is quite an undertaking for a teenager. Her compatriots – Isabella Blake-Thomas (Once Upon A Time), Niles Fitch (This Is Us), Ashley Liao (Fuller House), Noah Lomax (Safe Haven), Jadiel Dowlin (Annedroids), Olivia Deeble (Home and Away), and Faly Rakotohavana (The Mick) all work well together and have good chemistry. The main adults in the film, consisting of Elodie Yung (Netflix's Daredevil), Skylar Astin (Pitch Perfect), and Greg Bryk (Saw V), play their parts well and don't get upstaged by the younger cast members.
While this movie does have some music, it is not a musical like High School Musical or Camp Rock. Since Disney tends to fare better with the latter genre, this made for television movie is average. The script is interesting and has some unique moments but there are plenty of lines that still fall into the realm of "cheesy Disney dialogue". The production value is good for the most part but there are a few moments that are obviously CGI and you can tell. The costumes range from fairly ridiculous (the palace guards' uniforms) to stunning (The ballgowns).
Secret Society of Second Born Royals, besides being a mouthful of a title, definitely has a target audience in mind. My daughters, who have just entered the world of adulthood, would have enjoyed this film about 6 years ago – when they were in early middle school. Any older age group would be uninterested, and any younger age group would probably rather watch the two Frozen movies.
There is a recurring theme in Disney television that young people are strong and capable individuals and can probably do more than adults think they can, and Secret Society of Second Born Royals continues that theme. Not a bad message to send out to the youth of today.
Grade: B-
For more reviews please visit our film/television review section.
SPONSORED LINKS