Songbird (2020)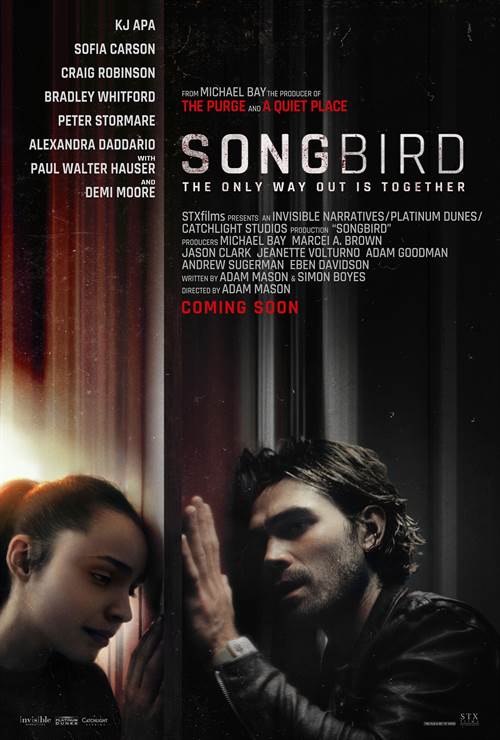 | | |
| --- | --- |
| Director: | |
| Writers: | |
| Cast: | |
| Released: | Friday, December 11, 2020 |
| Length: | 90 minutes |
| Studio: | STX Entertainment |
| Genre: | Thriller |
| Rating: | Some material may be inappropriate for children under 13. |
Synopsis
Four years into quarantine the virus has changed and so have we…
In the terrifying thriller SONGBIRD, the COVID-23 virus has mutated and the world is in its fourth year of lockdown. Infected Americans are ripped from their homes and forced into quarantine camps known as Q-Zones, from which there is no escape, as a few brave souls fight back against the forces of oppression. Amid this dystopian landscape, a fearless courier, Nico (KJ Apa), who's immune to the deadly pathogen, finds hope and love with Sara (Sofia Carson), though her lockdown prohibits them from physical contact. When Sara is believed to have become infected, Nico races desperately across the barren streets of Los Angeles in search of the only thing that can save her from imprisonment ... or worse.
The first feature film to be made during COVID-19 in Los Angeles, and about the pandemic itself, SONGBIRD also stars Bradley Whitford and Demi Moore as a wealthy couple who may hold the key to Nico's mission; Alexandra Daddario as a singer enmeshed in a messy and forbidden affair; Paul Walter Hauser as a disabled veteran whose best friend – a drone named Max – is his eyes and ears to a world that has left him behind; Craig Robinson as Nico's boss; and Peter Stormare as the corrupt head of the city's "sanitation" department, which seizes those infected and transports them to the Q-Zone.

Purchase DVD/Blu-ray/4K UHD physical copy of Songbird today at Amazon.com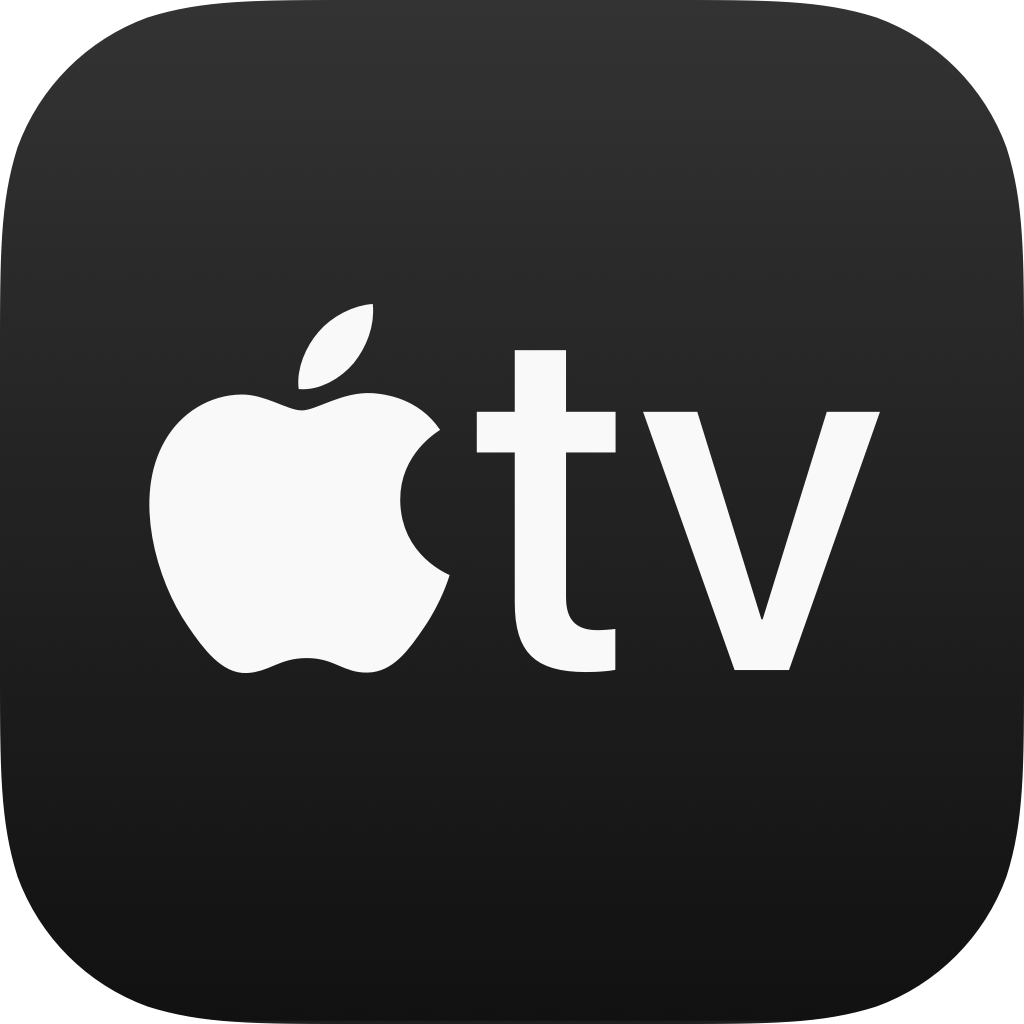 Download Songbird in Digital HD/4K from the iTunes store.
Listen to the Songbird soundtrack on Apple Music.
Songbird images are © STX Entertainment. All Rights Reserved.
Art (sort of) imitates real life in STX's PVOD Feature, SONGBIRD...
12/3/2020 10:40 PM EST
By Mid- March of this year, our world drastically changed.  Countries were on "lockdown" and cleaning supplies/disinfectants/ toilet paper, etc. were flying off the shelves. Playing on our fears and the drama it creates, Hollywood filmed a movie about the pandemic in downtown Los Angeles, the Pandemic.  The end result, a movie entitled SONGBIRD, will premiere via PVOD  on December 11, 2020.  STX F...
More>>
Songbird Theatrical Review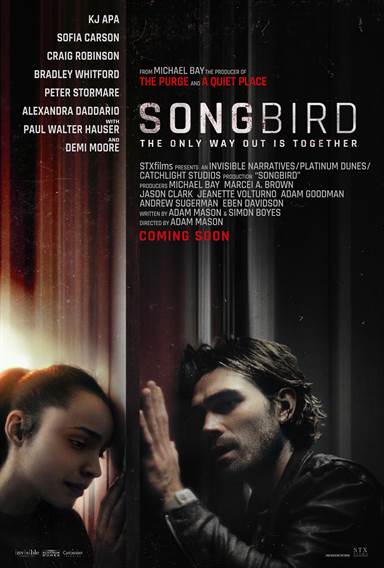 What would be the best time to film and release a movie about a pandemic? In the middle of a pandemic, of course. That is exactly what director Adam Mason (The Devil's Chair) did this past summer while Los Angeles was on lockdown. Songbird, which is being distributed this month by STX Films, is the result of this venture. Written by Mason and Simon Boyes (Broken), the films stars K.J. Apa (Riverdale), Sofia Carson (Descendants), Demi Moore (G.I. Jane), Bradley Whitford (Get Out), Craig Robinson (Hot Tub Time Machine), and Alexandra Daddario (Baywatch). With so much talent, one would expect an excellent product but, alas, Songbird falls short.
The year is 2024 and COVID-23 is killing people at alarming rates. Everyone is quarantined beside a few lucky soles who are immune. Nico (Apa) is one of the latter and works as a messenger for Lester (Robinson), shuttling packages all over the city. In his free time, Nico video chats with his girlfriend, Sara (Carlson), whom he has never actually met. Sara lives in an apartment with her grandmother, Lita (Elpidia Carrillo; Predator) where she spends her day painting and face-timing with Nico. However, when one of Sara and Lita's neighbors tests positive for COVID, the "sanitation worker, comes and takes her away to the "Q" zone.
The next day Lita gets sick and Sara knows that the workers will be coming for both of them. Nico, suddenly desperate, begs Lester to tell him a contact who can make Nico fake immunity bracelets. When Lester tells Nico one of his "clients", William (Whitford) and Piper (Moore) Griffin are dealers, Nico goes to them for help. William and Piper play dumb and Nico leaves empty-handed. Piper then contacts a Sanitation Worker named Emmett (Peter Stormare; Constantine) to kill Nico but when Emmett doesn't succeed Nico returns to Piper, breaks into her house, and threatens her until she gives him an immunity bracelet for Sara.
For Apa, this is a more mature role than what we are used to seeing from him on Riverdale. He is grittier both in appearance and demeanor and this transformation looks good on him. The same can be said for Carlson, who has made a name for herself mainly on the Disney Channel. Moore and Whitford are seasoned professionals which comes across on screen. Perhaps. The most challenging role belongs to Daddario, who goes from cheery to sadness to disgust to anger at various moments throughout the movie.
Mason's direction offers an intimate view of Nico and Sara while, at the same time, inviting the viewer into a larger space, depicted through overhead shots (sometimes from a drone). The Marshall law aspect of the movie, as well as the utter isolation of the devastating effect of a global pandemic, are both chilling and sobering considering the world we are living in right now. It is also a reminder of the lengths people will go to for survival for themselves and/or a loved one.
From the production aspect to the chaotic storyline, with numerous subplots thrown in, Songbird isn't a masterpiece. It also doesn't help anyone who is freaked out by our current health situation as the film's timeline makes everything seem more desperate and isolated and offers additional safety procedures than we are experiencing right now. In the film, it is interesting to watch how different people navigate the lockdown, as well as how the United States Government deals with it.
Songbird is not a great film and is all over the place as far as the plot is concerned. It is also scary to think that unless we get this virus under control, this could conceivably be our future. Watch it if you must but take it with a grain of salt.
Grade: C-
For more reviews please visit our film/television review section.
For today's home review, FlickDirect's Austin Putnam discusses the COVID-19 movie, SONGBIRD...

Four years into quarantine the virus has changed and so have we…In the terrifying thriller SONGBIRD,...
SPONSORED LINKS