Nobody (2021)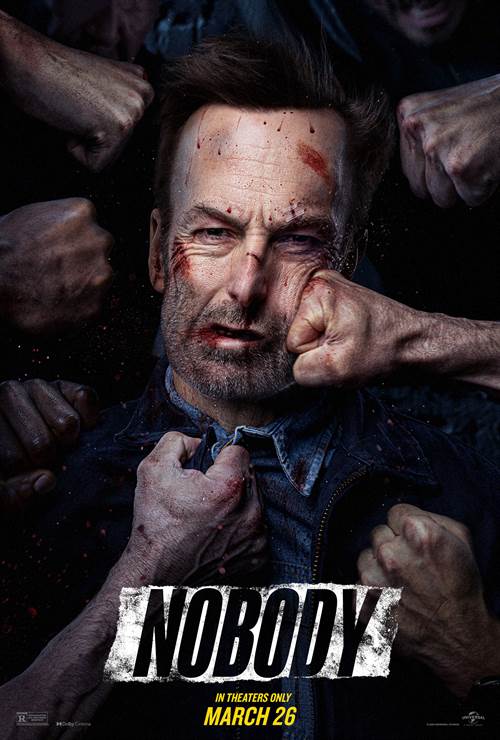 Share this:
| | |
| --- | --- |
| Director: | |
| Writers: | Derek Kolstad |
| Cast: | |
| Released: | Friday, March 26, 2021 |
| Length: | 92 minutes |
| Studio: | Universal Pictures |
| Genre: | Thriller |
| Rating: | Under 17 requires accompanying parent or adult guardian. |
This film contains a scene during or after the credits.
Synopsis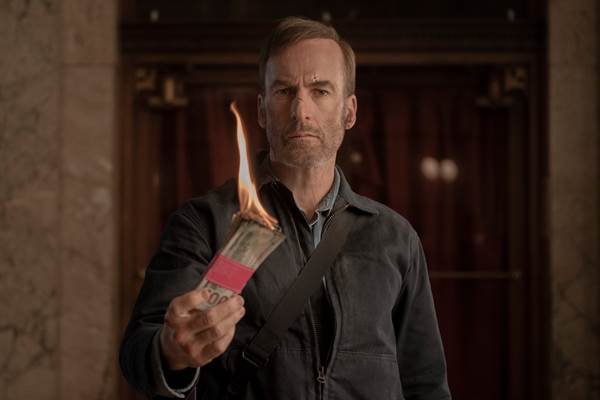 Emmy winner Bob Odenkirk (Better Call Saul, The Post, Nebraska) stars as Hutch Mansell, an underestimated and overlooked dad and husband, taking life's indignities on the chin and never pushing back. A nobody.
When two thieves break into his suburban home one night, Hutch declines to defend himself or his family, hoping to prevent serious violence. His teenage son, Blake (Gage Munroe, The Shack), is disappointed in him and his wife, Becca (Connie Nielsen, Wonder Woman), seems to pull only further away.

The aftermath of the incident strikes a match to Hutch's long-simmering rage, triggering dormant instincts and propelling him on a brutal path that will surface dark secrets and lethal skills. In a barrage of fists, gunfire and squealing tires, Hutch must save his family from a dangerous adversary (famed Russian actor Aleksey Serebryakov, Amazon's McMafia)—and ensure that he will never be underestimated as a nobody again.
Nobody is directed by acclaimed filmmaker Ilya Naishuller (Hardcore Henry), from a script by Derek Kolstad, the narrative architect of the John Wick franchise, and co-stars legendary Emmy winner Christopher Lloyd as Hutch's father and multi-hyphenate musician-actor RZA as Hutch's brother, whose own hidden talents aid Hutch in his quest for vengeance.

Pre-order DVD/Blu-ray/4K UHD physical copy of Nobody today at Amazon.com
Nobody images are © Universal Pictures. All Rights Reserved.


Win a Premium Video-On-Demand Code To Stream NOBODY Beginning Ap...
4/7/2021 4:50 PM EDT
What if your life became routine and mundane?  Every day is pretty much the same.  Go to work, clock in, clock out, go home, take out the garbage, etc. Nothing is ever exciting and even your own family treats you like you are invisible.  That is Hutch Mansell's life until one event changed everything.  NOBODY is a glimpse of who Hutch is and how it affects everyone around him.  To celebrate the pr...
More>>
Nobody Theatrical Review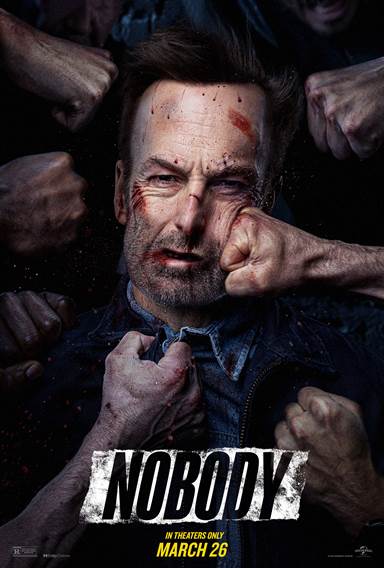 Have you ever felt as if your life was mundane and monotonous? Have you felt invisible or expendable around your family and friends? Have you ever been ignored at work? Nothing exciting ever happens? You live the same routine day in and day out with nothing thrilling ever happening? You're caught in a rut? A Hamster running on a wheel? For Hutch Mansell (Bob Odenkirk; Better Call Saul) this scenario has become his life. Living in Suburbia, going to work for his Father-in-Law, taking out the garbage, etc. is Hutch's life. He is a Nobody…until he isn't.
Hutch's wife, Becca (Connie Nielsen; Wonder Woman) has become distant and his teenage son, Blake (Gage Munroe; Brotherhood), no longer looks up to him. Only Hutch's young daughter, Abby (newcomer Paisley Cadorath) still idolizes him. Late one night, burglars break into the Mansell home, and Becca and Blake watch as Hutch stands by and does nothing to stop them. His inaction only serves to strengthen their belief that he is a nobody, and he senses their disappointment. However, Hutch isn't as mild-mannered as he seems and led a different life before he decided to settle down and become domesticated.
Angry about the break-in and looking to reclaim his stolen watch, Hutch scours the local tattoo parlors searching for the person that inked the female robber. After learning the information he wanted, Hutch finds the burglars and, discovering the truth, takes his watch back and leaves. However, now wound up, Hutch goes to take the bus home when he suddenly finds himself in a fight and injuring members of a Russian mob leading him to become the most wanted on the Mob's hit list. For almost anyone else, this might seem problematic, but for Hutch, it merely becomes a mild inconvenience.
We've become so used to seeing Odenkirk in a suit and tie that it is a little disconcerting to see him in anything else. Hutch is such a different character for him that exhibits his range as an actor, not only from other roles he's played but also within the various emotions he portrays as Hutch. Nielsen is decent as Hutch's disillusioned wife and Munroe does a good job as Hutch's moody, teenage son. Cadorath is adorable and she and Odenkirk have a true father/daughter connection, one that would Hutch do anything for his little girl.
Nobody's action sequences are well-choreographed but gruesome and bloody. Many who have seen the film compare the action to the scenes found in the three John Wick movies. If you happen to love that type of movie, you will love Nobody. However, if the blood and gore isn't your cup of tea you may want to steer clear, or at least shield your eyes when the fighting starts. Odenkirk does a convincing job of making the audience believe he has a skill set that has, thus far, kept him alive. However, Hutch isn't as young as he used to be and Odenkirk plays that fact up a little to elicit a laugh or two.
While Nobody isn't a comedy per se, it has a few very funny moments, most of them courtesy of Hutch's father, David (Christopher Lloyd, Back to the Future Trilogy). Lloyd makes killing a bunch of mobsters look easy and fun. He brings most of the laugh-out-loud moments to the movie.
However, there are a few problems with Nobody. First, the twist comes within the first ten minutes of the movie and is rather easy to figure out. Second, the writer, Derek Kolstad (John Wick), obviously is hoping for a sequel because he left out so many details about who and what Hutch is that a second film could easily be Hutch's origin story. Finally, the pizza box holding up the garage door, in the beginning, is HIGHLY improbable, which would then blow the entire plot.
Nobody is too short, lacks details, and offers quite a bit of action and blood. By comparison, the Keanu Reeves' trilogy provides the action and the drama as well.


Grade: B
Read More Nobody Reviews
For more reviews please visit our film/television review section.
Emmy winner Bob Odenkirk (Better Call Saul, The Post, Nebraska) stars as Hutch Mansell, an unde...
SPONSORED LINKS