The Midnight Sky (2020)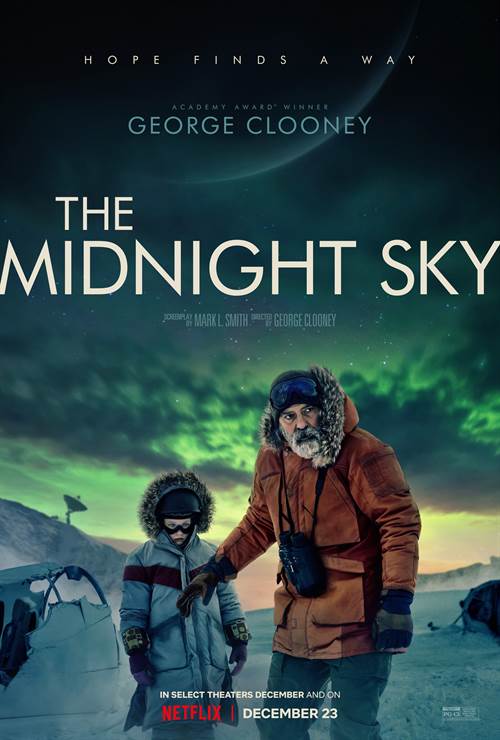 Share this:
| | |
| --- | --- |
| Director: | |
| Writers: | |
| Cast: | |
| Released: | Wednesday, December 23, 2020 |
| Length: | 122 minutes |
| Studio: | Netflix |
| Genre: | Drama |
| Rating: | Some material may be inappropriate for children under 13. |
Synopsis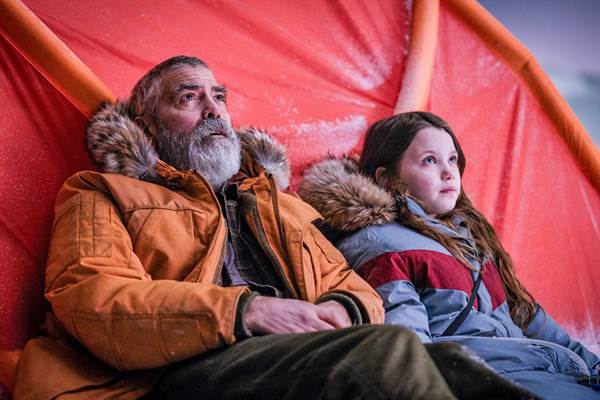 This post-apocalyptic tale follows Augustine (George Clooney), a lonely scientist in the Arctic, as he races to stop Sully (Felicity Jones) and her fellow astronauts from returning home to a mysterious global catastrophe. Clooney directs the adaptation of Lily Brooks-Dalton's acclaimed novel Good Morning, Midnight, co-starring David Oyelowo, Kyle Chandler, Demián Bichir and Tiffany Boone.
Listen to the The Midnight Sky soundtrack on Apple Music.
The Midnight Sky images are © Netflix. All Rights Reserved.
The Midnight Sky Review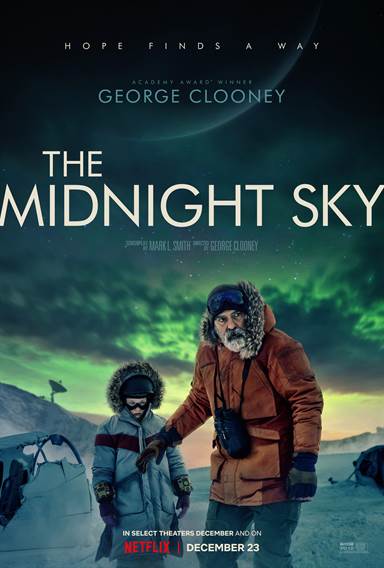 In 2016 Random House published the first novel by author Lily Brooks-Dalton entitled Good Morning, Midnight. Fast forward four years and, in the middle of a global pandemic, the film adaptation, The Midnight Sky, is being released by Netflix. With a limited theatrical run beginning on December 11, 2020, the streaming service decided to also offer it on their channel this week.
The film is directed by and stars George Clooney (Up in the Air) as Augustine Lofthouse, a scientist who has spent his life looking for other planets to inhabit. Currently working in the Arctic Circle, he remains behind when everyone else evacuates due to cataclysmic events which causes radiation to spread worldwide. Knowing he is dying from cancer; Augustine stays to contact any of the space missions currently in space to warn them about the earth.
Meanwhile, the spacecraft Æther, unaware of the devastation on Earth, is planning to return home after a successful mission to one of Jupiter's Moons, which they find habitable. At the same time, Augustine discovers a young girl left at the station and, though she refuses to speak, he discovers her name is Iris. Realizing the station antennae is too weak to contact Æther, Augustine makes the dangerous trek across the frozen land of the North pole to another base to try and reach the ship, which he finally does.
Unfortunately, Æther encounters a meteor strike which damages their communications systems. Seeing no other way, the crew ventures out to fix the system, only to be hit with a Second meteor shower. Vulnerable, the crew manages to finally fix it but not before one member of the team suffers fatal injuries. Back online, Æther once again makes contact with Augustine and Iris and is told not to return to Earth as there is no safe way for them to come back with all the radiation in the air. Upon making the decision to turn around, one of Æther's crew, Sully (Felicity Jones; Rogue One: A Star Wars Story) tells Augustine he is the reason she decided to become an astronaut and that her mother knew him. Augustine suddenly realizes who Sully is and her connection to the little girl named Iris (Newcomer Caoilinn Springall).
As a director, Clooney has some strong moments followed by some less than stellar ones (pun intended). His visuals of the frozen North Pole (filmed in Iceland) and the view from outside the Æther are incredible but perhaps last a bit too long. The silent awe displayed by the crew when they venture outside the ship to fix the system is stunning and impactful but should have been shorter. His role as Augustine, though, is classic Clooney; somewhat aloof yet caring in an inconvenienced kind of way. Jones, along with David Oyelowo (Selma), Kyle Chandler (Friday Night Lights), Demian Bicher (The Nun), and Tiffany Boone (The Following), have good chemistry as if they have been traveling in space together for a few years.
The biggest issue with The Midnight Sky is the lack of empathy the viewer feels towards any of the characters. There is very little development and the small amount the film offers doesn't make you want to root for any of them or even understand them. This aspect is where Clooney didn't do the movie justice. Since I was not personally invested in these characters, it didn't matter to me where they ended up at the end of the film.
I suspect The Midnight Sky (or Good Morning, Midnight) is a better read than it is to watch but all in all it could have been a lot worse.
Grade: C+
For more reviews please visit our film/television review section.
SPONSORED LINKS