Tom Clancy's Without Remorse (2021)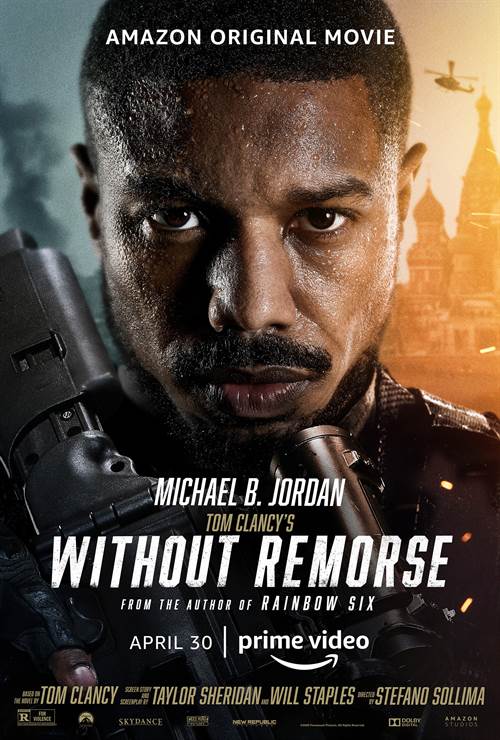 Share this:
| | |
| --- | --- |
| Director: | |
| Writers: | |
| Cast: | |
| Released: | Friday, April 30, 2021 |
| Length: | 150 minutes |
| Studio: | Amazon Studios |
| Genre: | Action/Adventure |
| Rating: | Under 17 requires accompanying parent or adult guardian. |
Synopsis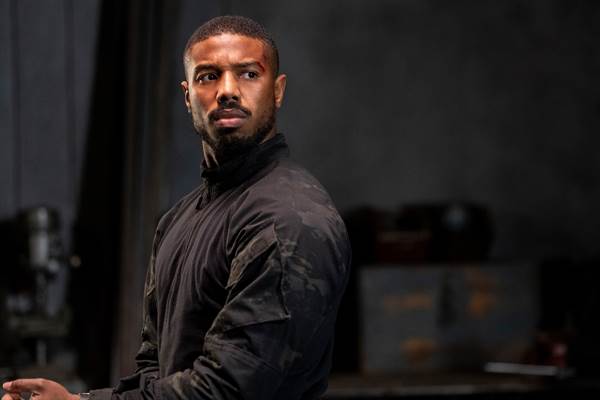 An elite Navy SEAL uncovers an international conspiracy while seeking justice for the murder of his pregnant wife in Tom Clancy's Without Remorse, the explosive origin story of action hero John Clark – one of the most popular characters in author Tom Clancy's Jack Ryan universe. When a squad of Russian soldiers kills his family in retaliation for his role in a top-secret op, Sr. Chief John Kelly (Michael B. Jordan) pursues the assassins at all costs. Joining forces with a fellow SEAL (Jodie Turner-Smith) and a shadowy CIA agent (Jamie Bell), Kelly's mission unwittingly exposes a covert plot that threatens to engulf the U.S. and Russia in an all-out war. Torn between personal honor and loyalty to his country, Kelly must fight his enemies without remorse if he hopes to avert disaster and reveal the powerful figures behind the conspiracy.
Tom Clancy's Without Remorse images are © Amazon Studios. All Rights Reserved.
Get The Inside Track From The Cast of Tom Clancy's Without Remorse
4/30/2021 10:11 AM EST
Originally published in 1993, Tom Clancy's Without Remorse became an instant bestseller and offered fans of the "Ryanverse" an origin story of John (Kelly) Clark (Michael B. Jordan; Black Panther).  Over twenty-five years later, this novel has finally been adapted into a full-length movie.  While first produced by Paramount Pictures for a theatrical release, Amazon Studios acquired the rights allo...
More>>
Tom Clancy's Without Remorse Review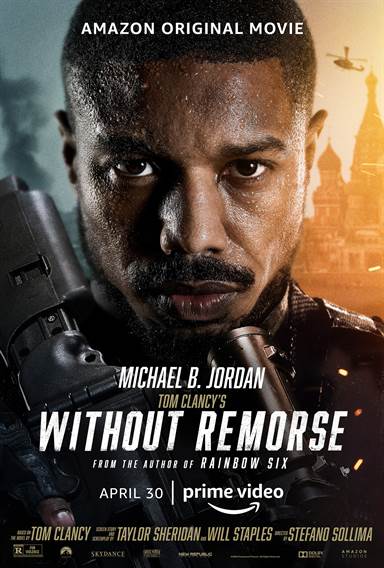 Author Tom Clancy (The Hunt for Red October) is known for his thrilling, International / United States security stories, many of which center around one character – Jack Ryan. Twenty-one novels were written by or mostly by Clancy and the character of Ryan has been portrayed by five different actors - Alec Baldwin (Boss Baby), Harrison Ford (The Star Wars series), Ben Affleck (Gone Girl), Chris Pine (Star Trek) and John Krasinski (The Office) in the film and television adaptations of the books. However, Clancy also wrote about a special ops soldier named John Kelly/Clark. In his 1993 novel, Without Remorse, Clancy established Kelly's persona and back story, and this month Amazon Studios will release the film adaptation on its streaming service.
John Kelly (Michael B. Jordan; Black Panther) was sent, along with his team, to Syria on a mission to rescue a CIA operative being held hostage by former members of the Russian military. Three months after the mission several of Kelly's team have been murdered and Kelly awakens to find intruders in his house. After Kelly has been shot and left for dead, he finds his pregnant wife, Pam (Lauren London; This Christmas) was killed.
Once recovered from his injuries, Kelly "goes rogue" and hunts down a Russian diplomat who helped the assassins come into the United States, to find out the name of the remaining assassin. Kelly then kills the Diplomat and is sent to jail. As tensions between the United States and Russia escalate, Lt. Commander Karen Greer (Jodie Turner-Smith; Queen & Slim) discusses the situation with Secretary of Defense, Thomas Clay (Guy Pearce; L.A. Confidential) and decide to let Kelly out of jail to go with Greer and a team of former operatives to Murmansk, Russia to find the remaining assassin.
Taking on a film based on a best-selling novel is both a blessing and a curse. On the one hand, there is a built-in audience – those who have read the book and loved it – while on the other hand, those same devoted fans will be the harshest critics and biggest opponents of any details they find were left out from the book or any plot and character changes, added or missing from the film. Therefore, it should come as no surprise to anyone that screenwriters Taylor Sheridan (Hell or High Water) and Will Staples (Shooter) and director Stefano Sallima (Sicario: Day of the Soldado) have come under fire from fans for not only completely changing the plot from the book but also changing the gender of Lt. Commander Greer in an attempt to be more "diverse and inclusive".
Regardless of those controversial changes, the cast makes the best of a somewhat disjointed script. Jordan is great, juggling the physicality of the role with the emotional rollercoaster Kelly finds himself on. Turner-Smith has played the tough as nails female before and she does it once again here in a stunning display of female empowerment. Pearce is always a favorite and he does nothing in the film to lessen my opinion of him. The rest of the cast is solid, but no one stands out amongst the others.
Sadly, Without Remorse won't leave you feeling that way. The story becomes muddled, and the political undertones are never truly fleshed out. I'm sure the novel - which has a different plot – develops the characters and environs on a deeper than surface level. However, the fight choreography is impressive and rivals the movements of a John Wick movie.
Of course, the ending sets up the story for a sequel (what action movies these days don't?) but I'm not sure Without Remorse should get one. There would need to be a number of changes in order to lure audiences to the theaters.
Grade: C+
For more reviews please visit our film/television review section.
An elite Navy SEAL uncovers an international conspiracy while seeking justice for the murder of his...
SPONSORED LINKS