Lawless (2012)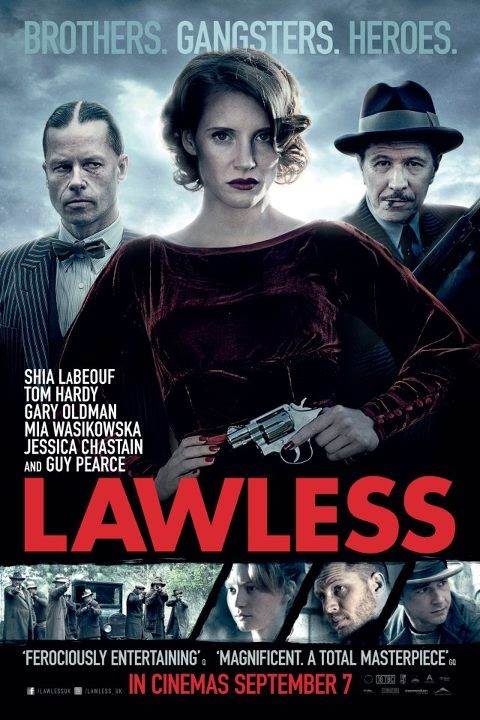 Share this:
| | |
| --- | --- |
| Director: | |
| Writers: | |
| Cast: | |
| Released: | Wednesday, August 29, 2012 |
| Length: | 115 minutes |
| Studio: | Weinstein Company, The |
| Genre: | Drama |
| Rating: | Under 17 requires accompanying parent or adult guardian. |
Synopsis
They were brothers who became outlaws, and outlaws who became heroes...The three Bondurant boys (Shia LaBeouf, Tom Hardy, Jason Clarke), along with their sultry new hire (Jessica Chastain), command the most lucrative bootlegging operation in Franklin County, Virginia. The locals consider them "indestructible." But the law—in the form of a corrupt special deputy (Guy Pearce)—wants a cut of their action, at any cost. When youngest brother Jack (LaBeouf) gets a taste of power with a deadly gangster (Gary Oldman) the whole business blows sky high. Based on the astonishing true story, the Bondurant brotherhood is the stuff of legend.

Purchase DVD/Blu-ray/4K UHD physical copy of Lawless today at Amazon.com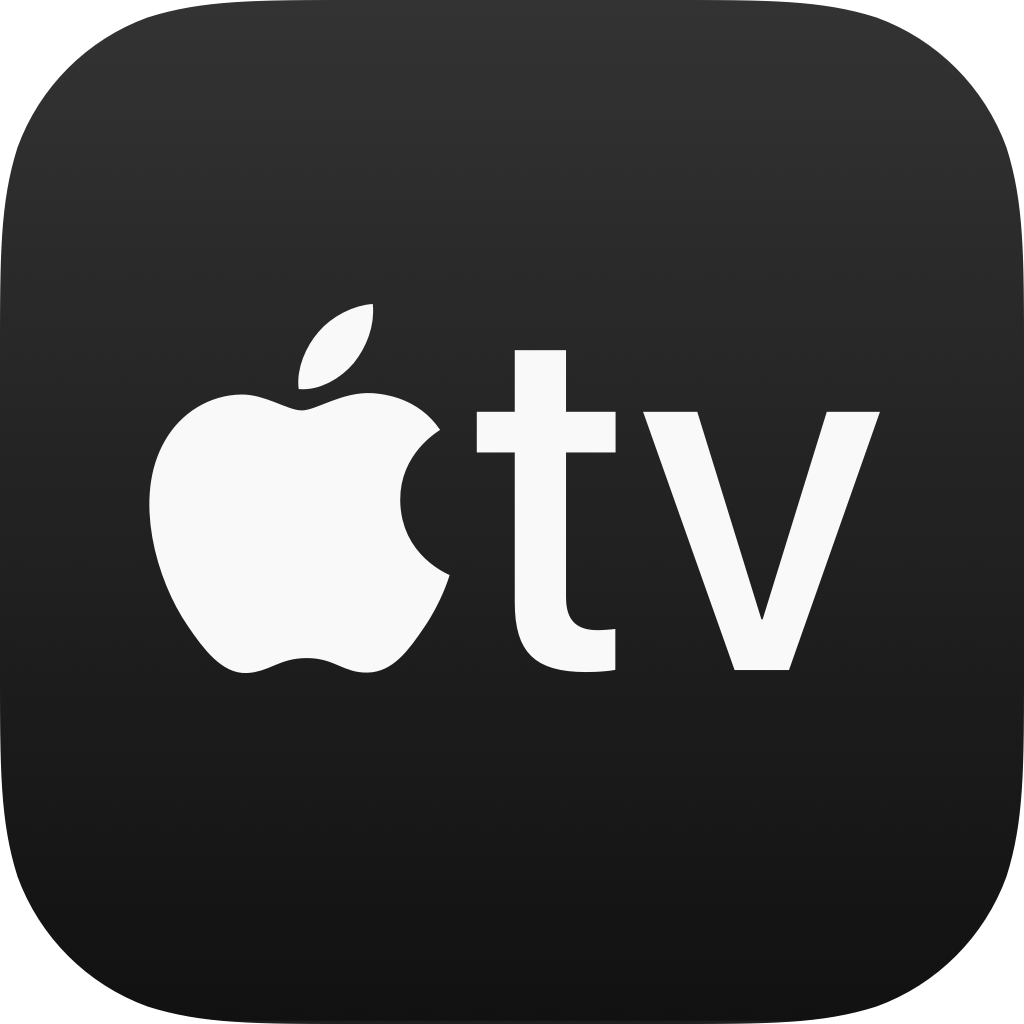 Download Lawless in Digital HD/4K from the iTunes store.
Lawless images are © Weinstein Company, The. All Rights Reserved.
Lawless Theatrical Review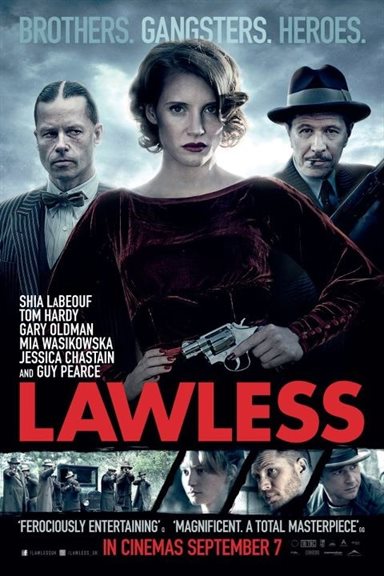 Totally out of control, the Bondurant brothers were a part of history that could only have been called Lawless. The movie that opens today builds on the almost true story of bootleggers in Virginia from a recollection by Matt Bondurant, the grandson of one of the three main characters. Lawless 'shines' in all departments including acting, script, direction and production value. For those who like gritty action filled films, this creative crime story should not be missed.
Check in with friends
to
Lawless
with the Movie Clock app.
Get it now for FREE!
The story involves the notorious Bondurant Brothers who live in the hills of Virginia and make their livelihood producing and selling moonshine whisky. Now at the height of prohibition, the mountainous homes are strongholds against the feds who have been slowly infiltrating the area. Still on top of their game, Howard (Jason Clarke) the eldest of the three brothers manages the business and calls all the shots. His brother, tough hardheaded Forrest (Tom Hardy), makes sure that no one harms the family.
Amidst all this toughness, youngest brother Jack (Shia LaBeouf) learns the ways of the hillbilly lifestyle and aspires to get more involved, possibly taking over the business one day. He's smart yet easily influenced, but can hold his own in a fight or debate over family matters. Jack's one weakness is his eye for the ladies and he has set his sights on the preacher's daughter Bertha (Mia Wasikowska). After making headway of sorts with Bertha, Jack decides that she's the one with which he'll start his own family. When the Franklin County Police are assigned Special Deputy Charlie Rakes (Guy Pearce) from Chicago, a no-nonsense lawman hell bent on bringing the Boundurants to justice, things start unraveling for the hill people.
Lawless has the perfect cast for the film. Tough yet good-looking faces of Clarke, Hardy and LaBeouf are the basis of the clan. Their characters are out of control, determined and invincible letting nothing stand in their way. Clarke plays brother Howard with a slight aloofness believing he's indestructible and runs the family with one motto "We control the fear…without the fear, we are all good as dead".
Brother Forrest played aptly by Hardy backs up the eldest and will defend the honor of the family even if it means facing his own death. Hardy makes his character tough and rowdy facing down anyone who may even look like they may harm a Bondurant. For the youngest brother LaBeouf creates Jack as a learner, a boy who looks up to his older brothers waiting for his chance to lead. An important character, Jack's the one who represents loyalty and courage when the chips are down. His smart mind sees around trouble, but under the spell of Bertha no one stands in his way of achieving that goal even if it may hurt everyone involved.
But the best performance in the film comes from Guy Pierce as the bizarre lawman with an insidious determination to bring the Boundurants to justice even if it means killing county police who may get in his way. The brilliant performance had me cringing during some death-defying standoffs and wincing with his torturous ways. He's my 'bad guy' of the year as far as acting goes.
Lawless director John Hillcoat (The Road) produces a perfect movie injecting all the right measures to motivate his audience into believing what they see is realistic enough to convince. He sets up his characters making them likeable although criminal, inventive yet destructive, and lovable although brutal. They represent loyalty and family trying to carve out a livelihood passed on by their fathers before them and Hillcoat makes it work in his favor.
The movie has been rated R by the MPAA for strong bloody violence, language and some sexuality/nudity. The special effects make the brutality seem real and sickening at times, so if you are even a bit timid Lawless may not be your cup of white lightning.
FINAL ANALYSIS: An excellent crime action film with fine acting and direction. (A)
-- John Delia
For more reviews please visit our film/television review section.
SPONSORED LINKS