The Perks of Being a Wallflower (2012)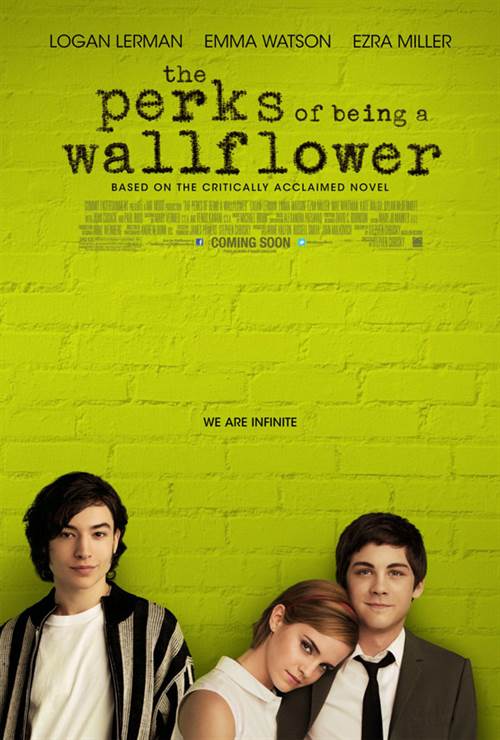 | | |
| --- | --- |
| Director: | |
| Cast: | |
| Released: | Friday, September 21, 2012 |
| Length: | 103 minutes |
| Studio: | Summit Entertainment |
| Genre: | Drama |
| Rating: | Some material may be inappropriate for children under 13. |
The Perks of Being a Wallflower Synopsis
A funny and touching coming-of-age story based on the beloved best-selling novel by Stephen Chbosky, THE PERKS OF BEING A WALLFLOWER is a modern classic that captures the dizzying highs and crushing lows of growing up. Starring Logan Lerman, Emma Watson and Ezra Miller, THE PERKS OF BEING A WALLFLOWER is a moving tale of love, loss, fear and hope-and the unforgettable friends that help us through life.

Purchase DVD/Blu-ray/4K UHD physical copy of The Perks of Being a Wallflower today at Amazon.com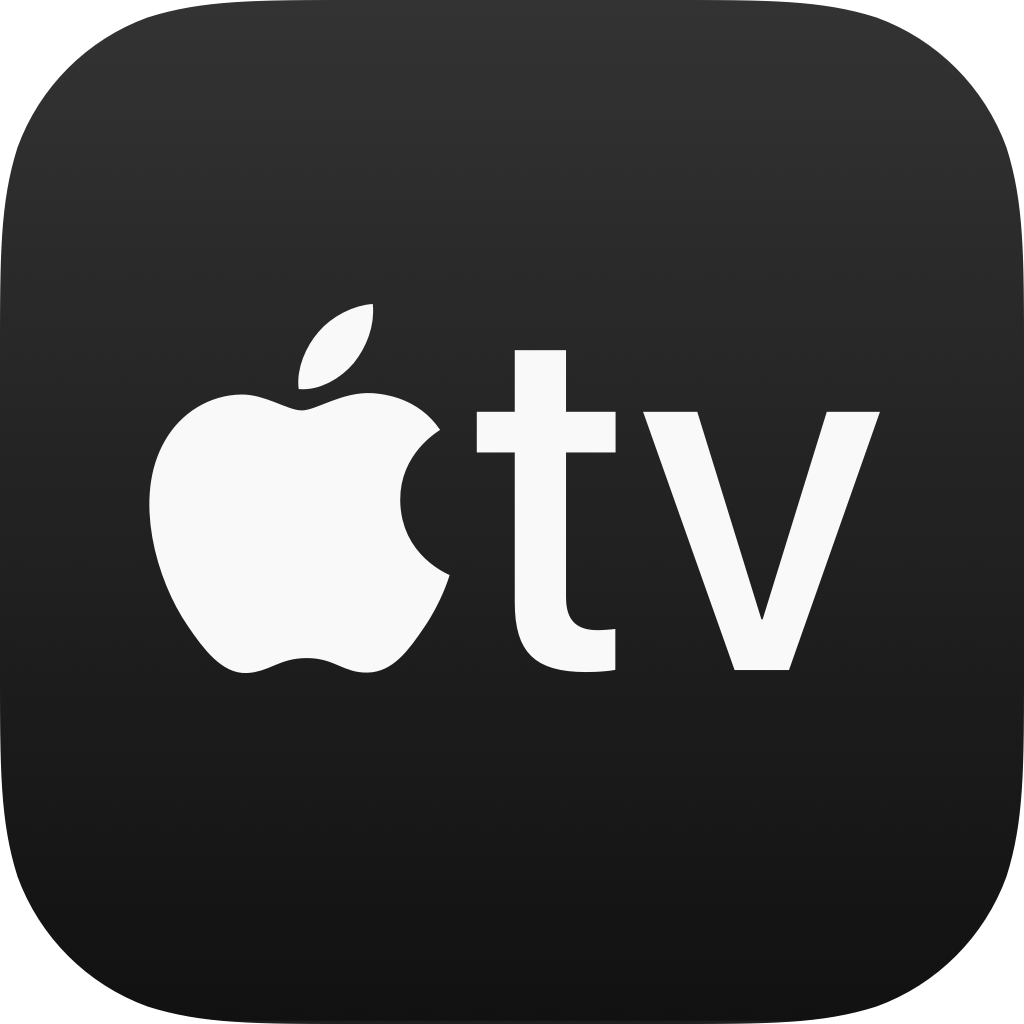 Download The Perks of Being a Wallflower in Digital HD/4K from the iTunes store.
The Perks of Being a Wallflower images are © Summit Entertainment. All Rights Reserved.
The Perks of Being a Wallflower Theatrical Review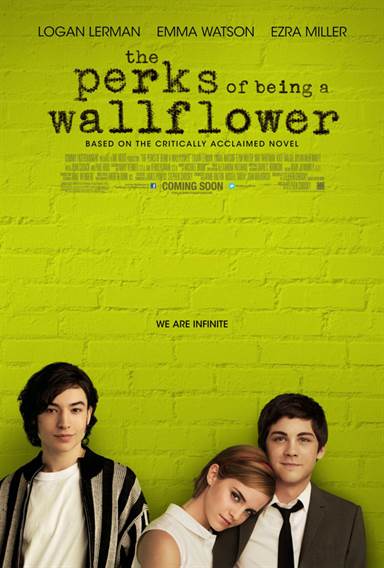 Films about teens are scarce in 2012 so other than Hunger Games that came out in March the pickings have been thin for that genre. With the teen movie Perks of Being a Wallflower opening in a very slow month mostly devoted to horror flicks, hopefully it won't be overlooked as its pretty darn good. Able to touch a finger to the pulse of what makes teens tick, this film has all the trappings of a possible adolescent box-office coup.

Other things going for the movie include the young and beautiful Emma Watson's first lead screen appearance since Harry Potter, the handsome Logan Lerman (D'Artagnon in The Three Musketeers) and upcoming 19-year-old Esra Miller (City Island) all totally eye appealing and potential heartthrobs. In addition to this very fine lead cast Dylan McDermott (The Campaign), Kate Walsh (TV's Private Practice), Paul Rudd (I Love You Man), and Melanie Lansky (Ever After) work hard in support.

Well the cast is defiantly worthy, but how about the plot? The film has the fortunate appeal of being based on a million copy best-selling young adult novel by Stephen Chbosky for starters. So most teens will already know the story, have probably related to the characters and most likely want to see the film of the book acted on the big screen. Parents of teen children should certainly view the film to get some keen insight into the inner sanctum of today's adolescent lifestyles.

Socially shy Charlie (Lerman) enters Mill Grove High School as a freshman after moving into the neighborhood. He's got a lot NOT going for him, in addition to his shyness and a stranger to the middle school kids moving up to the big show, as he's as he's trying to ditch some past bad memories. A gifted learner and lover of books, Charlie tries to fit in with the fast moving younger pack, but they're too busy trying to get accepted themselves. His sister even deserts him when she gets accepted into a click.

One day Charlie gets introduced to Patrick (Miller), a senior and the center of the football team's gay jokes, who gets him out to a football game and invites him to a party at his house. At the party he spots Patrick's half sister Sam (Emma Watson) for whom he already has a mini-crush after seeing her in his English class. The party people start to draw Charlie out of his shell and he gets more comfortable with his fellow students. When Patrick and Sam take him under their wings, an unusual coming of age story unfolds.

Perks of Being a Wallflower tends to take on bits and pieces of some of the older scripts that came out in the 1980's like Pretty in Pink, Sixteen Candles, and The Breakfast Club that feature outcast students who want to make it into the 'in crowd'. But, Wallflower rises above those with the right ingredients to overshadow the teeny boppers, update relationships to today's promiscuous world and make it an intriguing misfit romance between friends.

Book writer, screenwriter and director Stephen Chbosky does an admirable job with his story. Drawing a good heaping of chemistry between the three leads, his characters are likeable and loveable. They're enough to keep the film interesting, realistic and clever keeping his teen audience infatuated and amused, especially the ladies.

I like Emma Watson in this new kind of roll where she has to let loose some of her inhibitions and show more of her untamed side. Under Chbosky's direction she makes her Sam uninhibited, care free and engaging. It's a major start to becoming a more sought after actor and one that should make a lot of her future directors very happy.

Getting a PG-13 rating by the MPAA for mature thematic material, drug and alcohol use, sexual content including references, and a fight - all involving teens will help drive Chbosky's target audience into the theaters.

FINAL ANALYSIS: A creative unusual teen film that entertains. (B)

-- John Delia
For more reviews please visit our film/television review section.
SPONSORED LINKS