Rush (2013)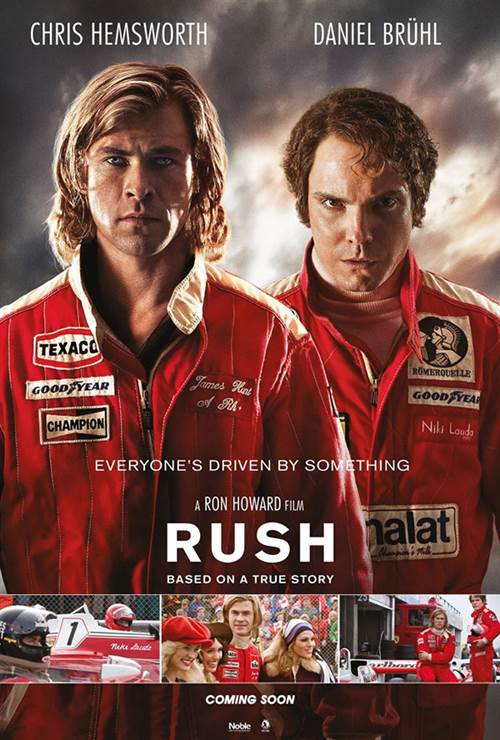 Share this:
| | |
| --- | --- |
| Director: | |
| Writers: | Peter Morgan |
| Cast: | |
| Released: | Friday, September 27, 2013 |
| Length: | 123 minutes |
| Studio: | Universal Pictures |
| Genre: | Drama |
| Rating: | Under 17 requires accompanying parent or adult guardian. |
Synopsis
Set against the sexy and glamorous golden age of Formula 1 racing, Rush portrays the exhilarating true story of two of the greatest rivals the world has ever witnessed— handsome English playboy James Hunt (Chris Hemsworth) and his methodical, brilliant opponent, Niki Lauda (Daniel Brühl). Taking us into their personal lives on and off the track, Rush follows the two drivers as they push themselves to the breaking point of physical and psychological endurance, where there is no shortcut to victory and no margin for error. If you make one mistake, you die.
Purchase DVD/Blu-ray/4K physical copy of Rush today at
Download Rush in Digital HD/4K from the iTunes store.
Rush images are © Universal Pictures. All Rights Reserved.


Rush Theatrical Review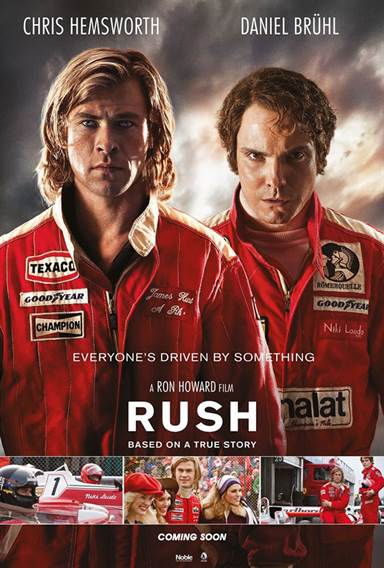 Auto Racing takes center stage with a duel of wits, willpower and pride in the film Rush. The film takes its audience up close while two men vie for the top prize and fame in a sport that captivates with its test of endurance and agility. The direction by Ron Howard of this documentary feel true story makes the theme work in spite of its lack of a 'Hollywood' plot and featuring generally unknown sports figures.
The world of motorsports comes alive with this story of two car racing rivals, Englishman James Hunt (Chris Hemsworth) and emerging Austrian driver Niki Lauda (Daniel Brühl). Both headstrong and looking for fame, they face off for the world championship in formula 1 racing. The men awakened the racing world in 1978 with a racing competition that surprised fans around the globe. Facing off at nearly every race that year with top pole positions found Niki Lauda leading in points with Hunt on the prowl for top driver. When one racer meets with disaster midway through the season, it's the determination to make a comeback versus opportunity that decides the final reward.
While the attractive Hunt shows off his daunting reckless persona by taking chances on nearly every turn of the track, Lauda uses his skill and mental ability to keep his car on the speedway. Director Ron Howard keeps his actors intriguing with Hemsworth's Hunt showing his daredevil spirit while working his attractiveness to live the high life with women. Although he shows that Hunt's a womanizer, Howard takes us to a romantic interval where Hunt meets the beautiful Suzy Miller (Oliva Wilde), falls for her and tries to settle down.
Howard brings a different personality to the screen with Lauda played admirably by Daniel Brühl. The cunning, crafty and unwavering Lauda with the brain of an obsessed mechanic knows his cars and focuses on winning through discipline and a well tuned machine. He's a nerd when it comes to relationships, but when he finds intelligent Marlene (Alexandra Maria Lara) a romance blossoms. Bruhl plays the auto track star as a fighter on and off the track with a relentless fortitude.
Although Howard does bring a good rivalry to the screen if you are not a big fan of the drama that goes into auto racing, the thrills fade quickly. Even if you are a big fan of the zip and roar of the high performance cars the amount of it here is lacking, the romance drags the story and the popularity of the subjects lessens the likability (It's not Mario Andretti, A.J. Foyt or Richard Petty).
The excitement and build up to the event with a lot of wrecks, near miss thrills and winning by inches would have been more fun had Howard been able to make a 'Hollywood' action sports movie. It's this need for speed in the face of danger that most racing enthusiasts crave and fill seats at a raceway. But, I'm afraid the lack of it here will not fill movie auditoriums after the first weekend. Unfortunately there's more drama off the track than on the oval and in the pits.
The upside for Ron Howard's Rush comes with the documentary style true story that may earn him a nod for Best Picture Oscar contention. The acting is surely impressive, the cinematography amazing and the direction top notch. Rush is more than just putting the audience into a race car in films like Days of Thunder, Driven and Le Mans. His is a fact motivated story that tests the courage, determination and tenacity of man versus machines.
Rush has been rated R by the MPAA for sexual content, nudity, language, some disturbing images and brief drug use. Be cautious when deciding to allow immature children tag along to see the film as it does have scenes that may be very inappropriate for youngsters.
FINAL ANALYSIS: A reawakening of a spirited sport. (C+)
-- John Delia
For more reviews please visit our film/television review section.
Set against the sexy and glamorous golden age of Formula 1 racing, Rush portrays the exhilarating tr...
SPONSORED LINKS
Comments

Courtesy of
Movie Hype App
mav3310
While Jeremy hand writes his texts on his phone
2/12/2014 10:41 PM EDT
number_18
Looking forward to this. Don't let me down Ron Howard!
10/12/2013 5:34 AM EDT
number_18
Looking forward to ths
10/12/2013 5:33 AM EDT
vson
No way!
10/9/2013 6:28 PM EDT
georgettttt
Awesome
10/7/2013 4:53 AM EDT
georgettttt
Good stuff
10/7/2013 4:52 AM EDT
georgettttt
It's amazing
10/7/2013 4:51 AM EDT
clive
When is it on DVD
10/4/2013 5:47 PM EDT
abhishikth
Good one
9/28/2013 9:30 PM EDT
kemlin
Looking forward to this one. Especially as a Dan of F1 racing.
9/22/2013 10:31 AM EDT
simplefate
Definitely gotta see this. Looks intense!
9/21/2013 8:33 PM EDT
paul
A must see movie
9/21/2013 12:11 PM EDT
jacksooonnnn
Ahh gunnabe awesome
9/18/2013 9:27 PM EDT
stella
Chris is the man! OY OY OY!
9/16/2013 11:35 PM EDT
chinaski5
Can't wait!!!
8/17/2013 9:37 AM EDT