The Lottery (2014)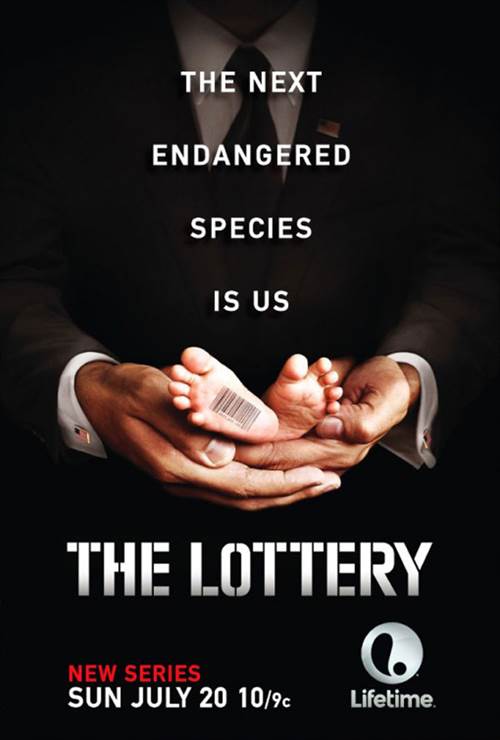 | | |
| --- | --- |
| Created By: | |
| Cast: | |
| Air Date: | Sunday, July 20, 2014 |
| Studio: | Warner Horizon Television |
| Genre: | Television |
| Rating: | |
The Lottery Synopsis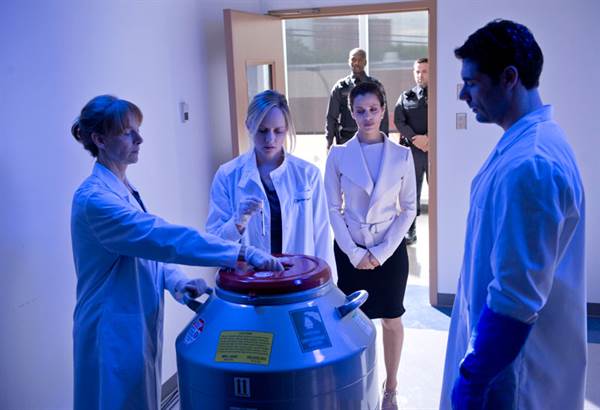 Set within a dystopian future driven by a global fertility crisis, The Lottery reveals a world staring down the barrel of impending extinction as women have mysteriously stopped bearing children. After years of research, Dr. Alison Lennon (Shelton) and her team remarkably fertilize 100 embryos. However, her victory is short-lived when the Director of the U.S. Fertility Commission, Darius Hayes (Donovan), takes government control of the lab and informs the President (Vazquez) of the monumental scientific breakthrough. To determine which women will carry the prized embryos to term, Chief of Staff Vanessa Keller (Karkanis) convinces the President to hold a national lottery and a battle over the control of the 100 embryos begins. Michael Graziadei stars as Kyle, a recovering alcoholic and single father of one of the last children born in the country, while David Alpay stars as James, Alison's colleague and lab assistant. Shelley Conn portrays Gabrielle, the First Lady of the United States.
The Lottery images are © Warner Horizon Television. All Rights Reserved.
An In-depth Conversation With The Cast of Lifetime's New Dystopi...
8/6/2014 11:05 AM EST
On August 1, we had the privilege of participating in a press conference with two of the stars from Lifetime's dystopian suspense thriller drama, The Lottery.  Athena Karkanis (Chief of Staff Vanessa Keller) and Yul Vázquez (President Thomas Westwood) share some insight into their new show while avoiding any spoilers.  They were only slightly concerned about revealing too much about the storyline ...
More>>
The Lottery Series Review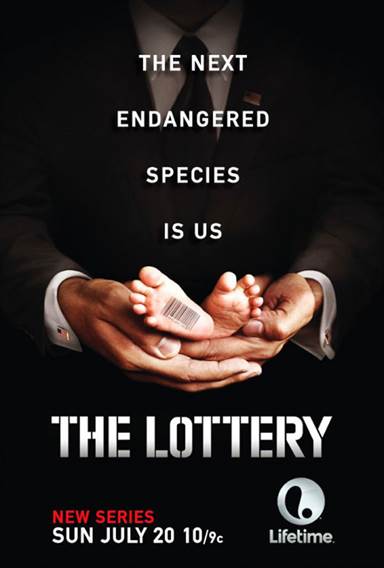 Marley Shelton (Eleventh hour) stars as Dr. Alison Lennon, a scientist who has successfully fertilized human eggs in a laboratory. Nothing special about that, you're thinking? Except it's 2025 and women world-wide have mysteriously stopped having the ability to conceive and bare children threatening extinction of the human race. This is the premise of the new conspiracy thriller, "The Lottery", premiering on Lifetime July 20th. The world has gone into crisis mode attempting to find ways to restart reproduction and Dr. Lennon's experiment is the first sign of any new growth in 6 years.

Dr. Lennon works for a government lab and once the discovery is made that she has managed to create viable embryos, she is immediately let go and shut out of her lab, which doesn't sit well with her. Meanwhile, Kyle, played by Michael Graziadei (Agents of S.H.I.E.L.D.), managed to father one of the only naturally born children in the last six years and is raising the child as a single parent. When the Government steps in and tries to take his child, he removes his son from a hospital and runs. Where these two lives intertwine is Kyle's sperm was injected into one of the 100 eggs Dr. Lennon fertilized. Meanwhile, the United States Government decides to use these embryos as a symbol of hope, as well as for their own political gain and the White House chief of staff, Vanessa Keller played by Athena Karkanis (Low Winter Sun), suggests a Lottery to find women who will be impregnated with these embryos; hence the title of the show.

I assume the series will follow the trials and tribulations of trying to find these lucky "human incubators" while certain forces will work to try and prevent any of this from happening. While I do think the characters will hint at what caused the infertility to begin with, I don't think the writers will tell us outright as that is part of the mystery and intrigue of the show. I do feel the writers were setting us up to create intertwining stories between the scientist, the father and the chief of staff; but after the first episode, I couldn't really tell you how they will all be interconnected and I'm not sure I plan on sticking around to find out.
The Lottery combines drama, suspense, a glimpse into an alternate future, hope and a bit of "big brother is watching" to make for an interesting premise.

However, I wonder if one episode isn't enough to really judge the success of this new series. I found the show to be a little boring and confusing. I wasn't always sure what day the characters were in or if they were in the same day at the same time (might make the show more interesting if they actually weren't –some parallel universe type of thing). I was not invested in any of these characters as of the first episode and didn't find myself "waiting" with anticipation to see what will happen next. I felt it had a solid beginning and could potentially grow into something unique and interesting, but I don't see it as of yet.

The Lottery preimers Sunday, July 20th, 2014 on Lifetime.
For more reviews please visit our film/television review section.
SPONSORED LINKS