My Bloody Valentine (2009)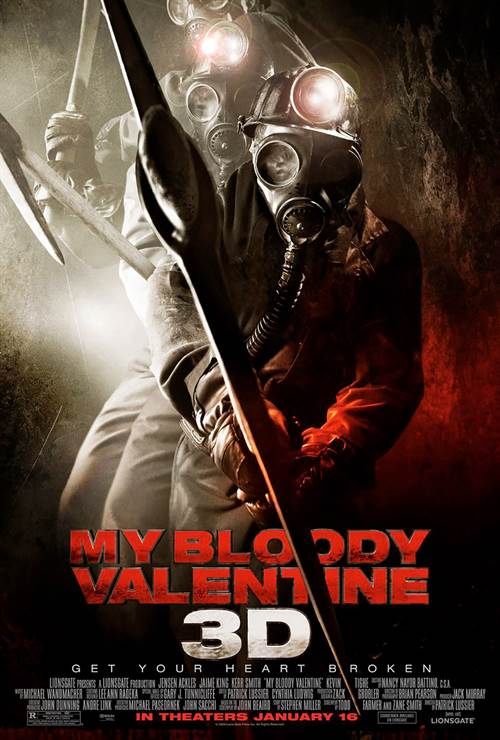 | | |
| --- | --- |
| Director: | |
| Writers: | |
| Cast: | |
| Released: | Friday, January 16, 2009 |
| Length: | 101 minutes |
| Studio: | Lionsgate |
| Genre: | Horror |
| Rating: | Under 17 requires accompanying parent or adult guardian. |
My Bloody Valentine Synopsis
Ten years ago, a tragedy changed the town of Harmony forever. Tom Hanniger, an inexperienced coal miner, caused an accident in the tunnels that trapped and killed five men and sent the only survivor, Harry Warden, into a permanent coma. But Harry Warden wanted revenge. Exactly one year later, on Valentine's Day, he woke up...and brutally murdered twenty-two people with a pickaxe before being killed.

Ten years later, Tom Hanniger returns to Harmony on Valentine's Day, still haunted by the deaths he caused. Struggling to make amends with his past, he grapples with unresolved feelings for his ex-girlfriend, Sarah, who is now married to his best friend, Axel, the town sheriff. But tonight, after years of peace, something from Harmony's dark past has returned. Wearing a miner's mask and armed with a pickaxe, an unstoppable killer is on the loose. And as his footsteps come ever closer, Tom, Sarah and Axel realize in terror that it just might be Harry Warden who's come back to claim them...

Purchase DVD/Blu-ray/4K UHD physical copy of My Bloody Valentine today at Amazon.com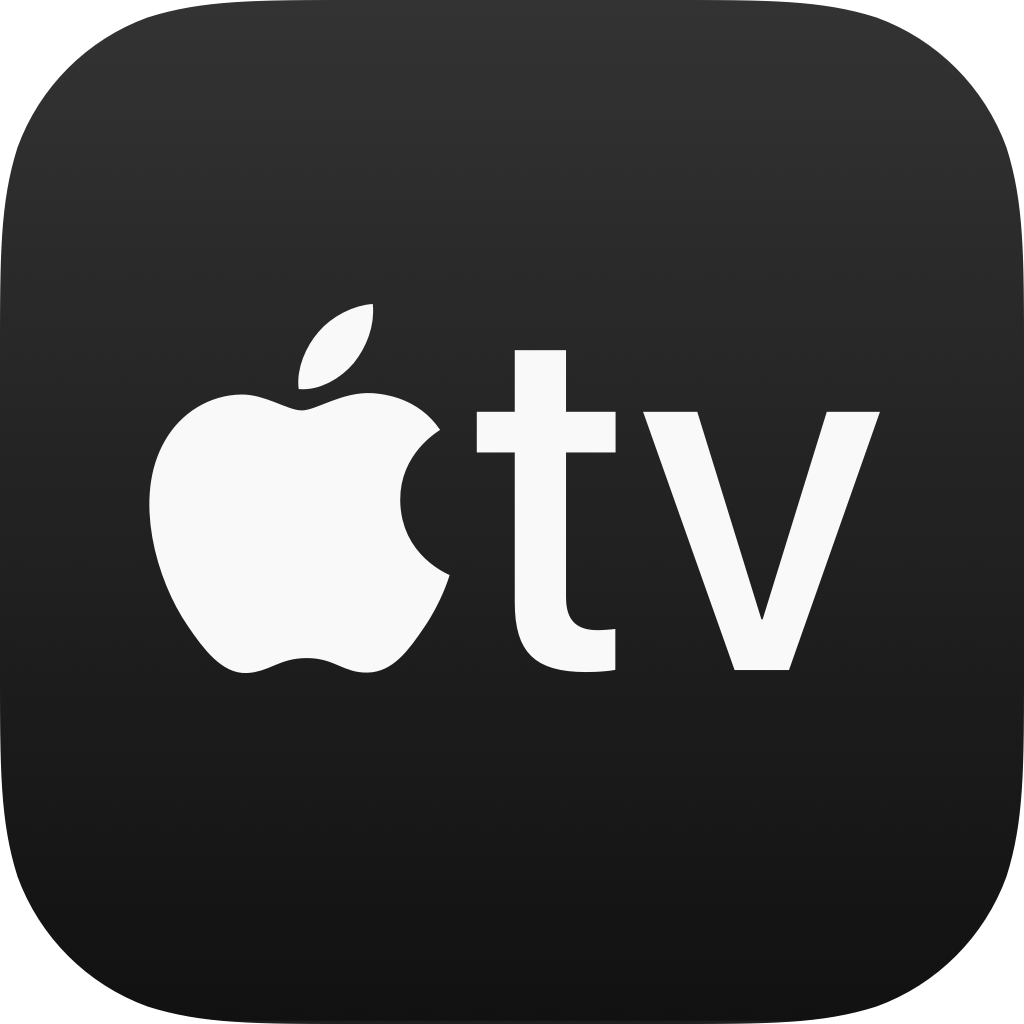 Stream My Bloody Valentine in Digital HD/4K from the AppleTV store.
My Bloody Valentine images are © Lionsgate. All Rights Reserved.
My Bloody Valentine Theatrical Review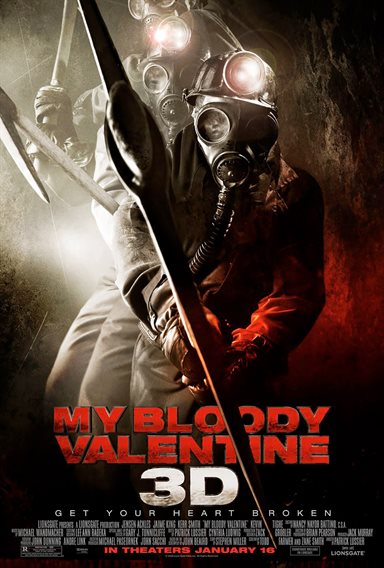 As the first R-rated film shot in 3D (modern 3D: 'Real D' technology), it is definitely worth at least a second glance. For starters, it is a perfect application -- sharp things, gory things, and surprising things leap out of the screen at you; this is one of the things 3D was made for -- in fact, it was the first thing 3D was made for. Having a 3D technology that simply "enhances the experience" is a modern phenomena. The original 1981 movie was about a small mining town (Valentine Bluffs, Nova Scotia). A decade ago a now-dead psychotic killer warned the town against Valentine's day dances; and when, in modern times, the kids decide to have one, bodies start piling up!
Apparently the producers were searching for a holiday that hadn't been used by the slasher-killer genre and went straight for and settled on Valentine's day! The movie was notable due to excessive gore, it had to have several minutes slashed from it -- yes, slashed -- to get it down to an R-rating. However, it didn't do well at the box office, and the studio refused a sequel. It did, however, have the moderately interesting concept of the audience (and the actors) not knowing who the killer was who was a main character until the end.
In the 2009 My Bloody Valentine 3D, the story, is not a continuation of this so much as a riffing on it. The town's name is Harmony (thankfully not 'Valentine Bluff'), and yes, there was a spate of psycho-killings a decade ago when a miner went crazy in a mine and killed his fellow miners. He was recovered in a coma; but a year later, on Valentine 's Day, awoke and slaughtered 22 people in one of the movies most gruesome scenes you have seen the aftermath of a truly brutal spree killing in a hospital. He was chased back into the mine where the police shot and wounded him, and claim he was buried in a cave-in...but was he?
Now, 10 years later, killings have started again. The main characters are the then-teen survivors of a party at the mine-shaft that the psycho entered. One of them, Tom Hanniger, played by
Jensen Ackles
, has been away from town, but has returned to sell the mine, the economic life's-blood of the citizens, after the death of his father. Another is the bad-boy turned sheriff, Axel Palmer (
Kerr Smith
), who after he was a little braver 10 years ago, got the girl Sarah (
Jaime King
) when Tom froze up. Today Sarah and Axel are married, have a kid, and Axel is cheatin' on her.
So there is a lot going on for a slasher-flick!
The movie is punctuated by pick-axe executions by "the miner," a dark figure with a head-lamp and gas-mask…and the axe. He slaughters people and cuts their hearts out; they appear in Valentine's Day chocolate boxes -- which is goofy -- but somehow not as goofy as it sounds. The body count for the film itself is only moderate; the police investigate, suspicion is cast, and while some people believe the original guy, who is reportedly dead now, has returned either from the grave, or just as a survivor. The sheriff, Axel, doesn't believe it for a second. Does he know something that we don't?
While MBV is no stellar piece of police procedural, for a blood-bath cinema it does, in fact, a pretty good job of delivering character, motivation, and a few tense chase scenes. It relies less on "boo" moments than Friday the 13th and has only a few points where the killer seems to have access to perhaps either the script so he knows where the victims will be or maybe one of those Predator drones the army uses to hunt terrorists in Pakistan. More or less, My Bloody Valentine plays fair, and is a good deal the better for it.
It was released three weeks before Valentine's Day because it didn't want to compete with
Friday the 13th Remake
and
Michael Bay
. This was probably a good idea because Friday the 13th would have killed it head-to-head, but that is unfortunate. While not cinematic art, Valentine is a much smarter movie (although in a "multiplying by zero" kind of way) than 13th. In fact, although I admit I haven't seen it, I think it's kind of a shame that it got beat by Paul Blart: Mall Cop.
-- Marco Chacon
For more reviews please visit our film/television review section.
SPONSORED LINKS