Brüno (2009)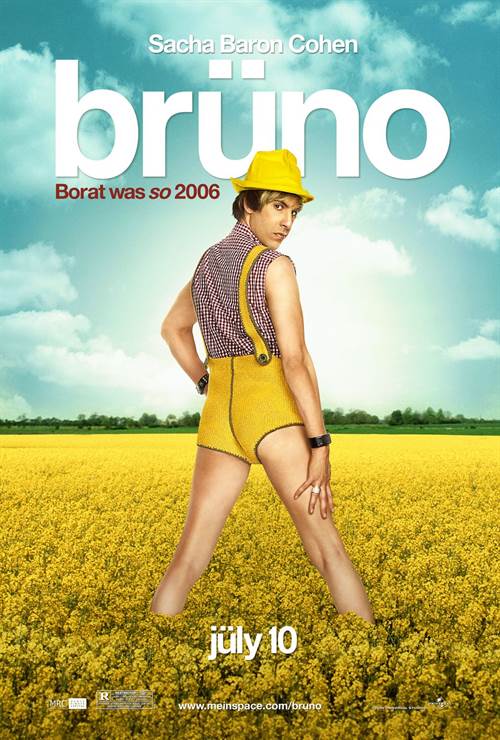 Share this:
| | |
| --- | --- |
| Director: | |
| Writers: | Dan Mazer, Anthony Hines, Jeff Schaffer |
| Cast: | |
| Released: | Friday, July 10, 2009 |
| Length: | 81 minutes |
| Studio: | Universal Pictures |
| Genre: | Comedy |
| Rating: | Under 17 requires accompanying parent or adult guardian. |
Synopsis
Oscar® nominee and Golden Globe® winner Sacha Baron Cohen (Borat, Da Ali G Show and Talladega Nights) brings you the comedy that has started more conversations, generated more controversy and dared to go further than ever before! As brüno travels the world in search of fame, everyone he encounters — celebrities, politicians, Hasidic Jews, terrorists and cage fighters — becomes a stepping-stone to stardom, with hilarious results! So prepare yourself for nonstop laughs in the film Peter Travers of Rolling Stone says should be "Numero uno on your funny-time list!"
Purchase DVD/Blu-ray/4K physical copy of Brüno today at
Download Brüno in Digital HD/4K from the iTunes store.
Brüno images are © Universal Pictures. All Rights Reserved.


Win A Copy of Bruno On DVD
11/9/2009 7:55 PM EDT
In association with Universal Studios Home Entertainment, FlickDirect is giving away 10 copies of Bruno on DVD. Please send your name and email address to contest@flickdirect.com . This contest will run through November 17th, 2009, and only California residents may participate.  Ten random winners will be picked!Comic genius Sacha Baron Cohen stars as BRUNO, an Austrian TV host searching for fame ...
More>>
Brüno DVD Review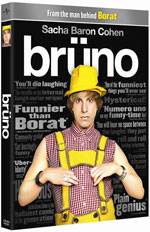 Sacha (Noam) Baron Cohen who goes by SBC, usually has his shtick of adopting a fictional persona and then interviewing a real celebrity under false pretenses. He uses that persona and does things to put them in impossibly embarrassing situations, e.g. coming on to Ron Paul in a homosexual romantic bedroom scene. In Borat, he did this as a Kazakhstan native (Kazakhstan sued). In Brüno, he is a flamboyant gay Austrian who is intent on becoming famous by any means necessary.
He attempts to become famous by trying to get close to celebrities in some way, and he mistakes Presidential candidate, Ron Paul, for drag queen, RuPaul, in an attempt to make a career-launching sex-tape. As these attempts fail, he also goes in and out of love with Lutz (Gustaf Hammarsten), makes an attempt to become straight, and variously humiliates anyone foolish enough to accept an interview with him.
Needless to say, a lot of people find this hilarious. I listened to an NPR interview with the Brüno crew in which they were asked how they felt about duping people. The answer from SBC, and I believe his producer, was that they weren't 'really deceiving people because while in the encounter they were so totally immersed in the character that it was as if it were real. They also felt that they were trying to make a funny movie -- so fair is fair!
I doubt anyone will find these answers very convincing, but they get legal rights to use the people they film and put them on a movie screen against their will. I do not find it an especially moral way to make a movie, but it can be funny. I am also torn because people like Ron Paul have to be vigilant against pranksters -- also see Sarah Palin getting as part of a prank on an infamous phone call in which she thought she was talking to Nicholas Sarkozy. I am more sympathetic to the "normal people" he pulls stunts on -- although they too are responsible for any homophobic stuff that comes out of their mouths.
In the end, Brüno is, if nothing else, almost unique; and it is mainly because of Borat is all I can think of. It is reasonably funny, however, allegedly some of it is staged, so it leaves you wondering; but then again, a lot of it clearly is not. The character arc is absurd. Brüno dumps Lutz claiming carb-goggles. He had eaten a bunch of carbs so his initial judgment was impaired, but isn't entirely heartless. Some of it is sketchy but in the end, it holds together pretty well.
If you like SBC, it is a must see. If you liked Borat, I think the general consensus is that this is not as good, but it is roughly equivalent. I didn't see Borat so I can't say. If you just want a comedy – it is as off-beat as they come; and the chance to see real high-profile people squirm has never been better realized. I am going to give it a B as long as you keep in mind what you are getting into.
After all, the worst thing you can do with SBC is getting caught unaware.
Extras Include:
An hour of Alternative, Deleted and Extended Scenes not shown in theaters
Enhanced Commentary -- Hear in depth stories for selected scenes from Sacha Baron Cohen and director Larry Charles.
An Interview with Hollywood Agent Lloyd Robinson -- Get the story behind Bruno's real
-- Marco Chacon
For more reviews please visit our film/television review section.
SPONSORED LINKS