UglyDolls (2019)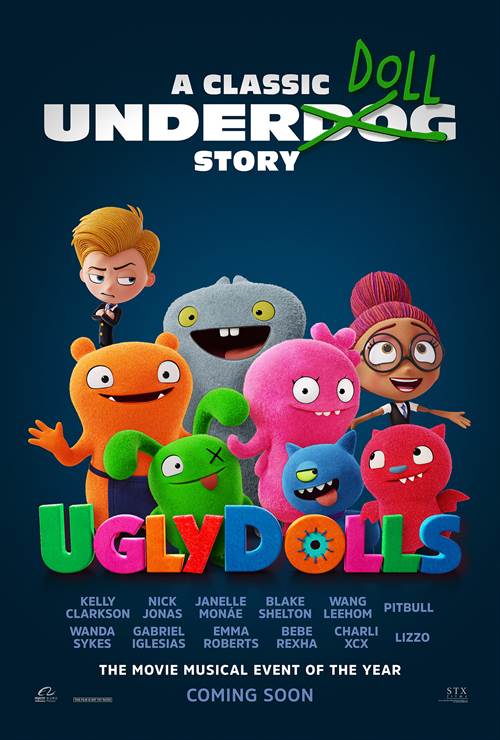 | | |
| --- | --- |
| Director: | |
| Writers: | |
| Cast: | |
| Released: | Friday, May 3, 2019 |
| Length: | 87 minutes |
| Studio: | STX Entertainment |
| Genre: | Family |
| Rating: | Some material may not be suitable for children. |
UglyDolls Synopsis
Unconventionality rules in UGLYDOLLS, STXfilms' new animated musical adventure starring the acting and singing voices of Kelly Clarkson, Nick Jonas, Janelle Monáe, Blake Shelton and Pitbull. The film is inspired by the unique and beloved global plush toy phenomenon launched in 2001. In the adorably different town of Uglyville, weird is celebrated, strange is special and beauty is embraced as more than simply meets the eye. Here, the free-spirited Moxy and her UglyDolls friends live every day in a whirlwind of bliss, letting their freak flags fly in a celebration of life and its endless possibilities, occasionally looking to the sky, where a new UglyDoll will appear and be embraced by the community. Moxy (Kelly Clarkson) loves her square-peg life in this round-hole town, but her curiosity about all things leads her to wonder if there's something - anything - on the other side of the mountain which nestles Uglyville. Moxy gathers a group of her closest friends and sets off to find what's on the other side. They discover another world - Perfection - a town where more conventional dolls are trained in protocols before they graduate and are sent to the "real" world to find the love of a child. In Perfection, Moxy and her crew are subject to the manipulations of Lou (Nick Jonas), the perfect doll in charge of training recruits. Here, the UglyDolls will confront what it means to be different, struggle with their desire to be loved, and ultimately discover that you don't have to be perfect to be amazing because who you truly are is what matters most. Also starring in the voice cast of UGLYDOLLS are Wanda Sykes, Emma Roberts, Gabriel Iglesias, and Wang Leehom.

Purchase DVD/Blu-ray/4K UHD physical copy of UglyDolls today at Amazon.com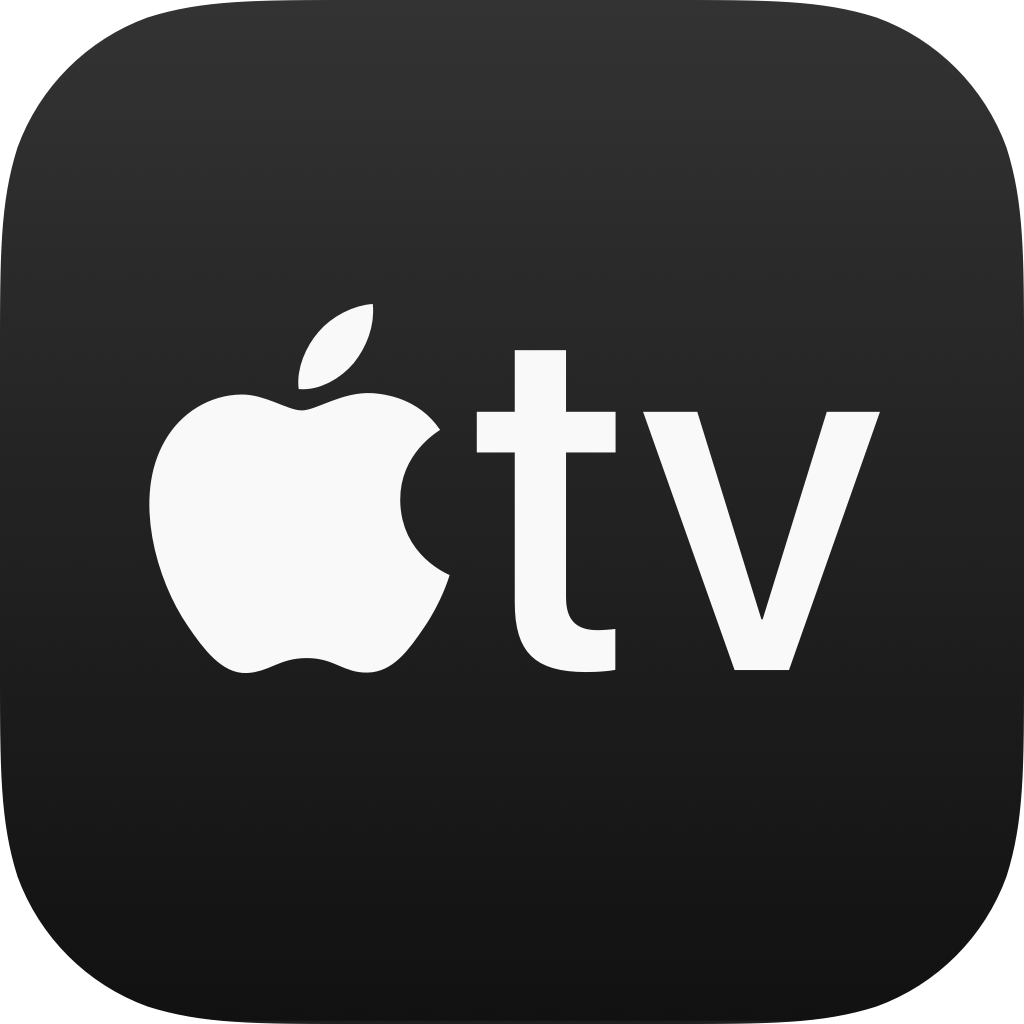 Stream UglyDolls in Digital HD/4K from the AppleTV store.
Listen to the UglyDolls soundtrack on Apple Music.
UglyDolls images are © STX Entertainment. All Rights Reserved.
Get Passes To See An Advanced Screening of UglyDolls
4/21/2019 8:03 PM EST
Uglydoll toys have been around since 2001 after creator David Horvath sent a picture of one to his now wife, Sun-Min Kim.  In 2015 the UGLYDOLLS animated movie was announced and on May 3, 2019 it will come to theaters courtesy of STX Entertainment.  They, along with FlickDirect would like to give some lucky winners the opportunity to see the film On May 1, 2019 in either Jacksonville, Orlando, Mia...
More>>
UglyDolls Theatrical Review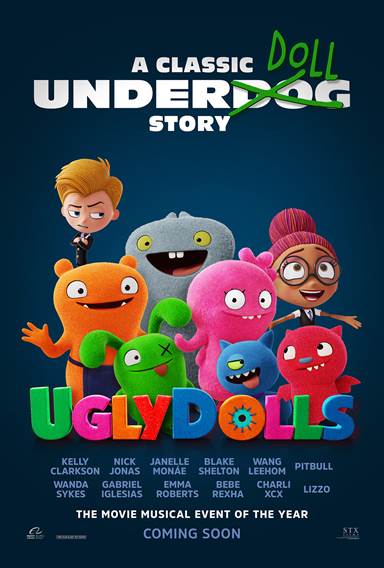 In February 2001 Uglydoll made its way to toy store shelves and was awarded the specialty toy of the year. The concept began because of a long distance relationship between David Horvath and his future wife Sun-Min Kim. The brand became very popular and has now spawned not only an animated feature film but a television series as well. STX Entertainment is bringing their film version complete with several original songs to theaters this month. Along with catchy tunes the film, of course, has a moral message to send and does so in a cute and fun way.
Moxy (Kelly Clarkson; From Justin to Kelly) is an UglyDoll who lives in Uglyville but is waiting for the day she gets chosen to be paired with her human. Uglyville is a happy little place full of misfit dolls and everyone seems content to live there…besides Moxy. Don't get me wrong, she is happy there but simply longs for more and is endlessly waiting, Once day a doll comes through the tunnel into Uglyville and Moxy decides that is where she needs to go in order to find her human, She sets out on an adventure along with Ugly Dog (Pitbull; Epic), Babo (Gabriel Iglesias; Magic Mike XXL), Wage (Wanda Sykes; Bad Moms) and Lucky Bat (Leehom Wang; Forever Young).
The adventure leads Moxy to everything she wants in the way of Perfection, a town where dolls learn to be perfect so they can be matched up with their humans. Of course, Moxy and her friends are different so they are welcomed into Perfection and face adversity at every turn as they try to be "perfect'. The mayor of Perfection, Lou (Nick Jonas; Jumanji: Welcome to the Jungle) seems at first to be an ally but in the end, tries to stop Moxy from getting what she desires most.
There is so much vocal talent in this movie that it has a solid foundation. Clarkson's bubbly personality is perfect for Moxy who is perpetually optimistic. Blake Shelton as Mayor Ox gives a certain southern charm to the character. Jonas is great as the evil and snarky Lou and Sykes have the timing to deliver funny lines has some been written for her. Pitbull brings his swagger and confidence to a one-eyed, blue dog and Janelle Monae (Hidden Figures) is terrific as one of the "perfect" dolls in training who tends to doubt herself.
The animation is very well done and each detail is exact. The fur on the dolls' is meticulously created with various shadings in order to offer depth. The songs are fun for the most part and beautifully performed but the best song of the bunch, Broken and Beautiful, isn't even in the film but shows up as the credits roll. The script is the real issue here because, while the story is cute, the dialogue is sometimes too advanced for younger audiences. I know some adults who don't know the meaning of sycophant or uncouth so I can't imagine how young children could. Also, the moments when characters break into song are awkward and seemed forced rather than flowing smoothly.
The message being sent is beautiful and poignant and the cast does a good job of trying to get it across but the method of delivery is really lacking and choppy. Young children probably won't mind these aspects but as an adult watching the movie, it brought me out of the film.
Cute, colorful, and creative, Uglydolls has a decent foundation but misses the mark in the overall performance. In the end, though, I'm sure stores will be selling plenty of Uglydoll plush toys and children will be dancing and singing along to the tunes.
Grade: C-
For more reviews please visit our film/television review section.
Kelly Clarkson performs the new hit song Broken and Beautiful from the STX Entertainment film UglyDolls live at Cinemacon 2019....

This animated musical is adorable! The music is outstanding, which is no surprise because it has so many amazing singers. The colorful and lively anim...
Unconventionality rules in UGLYDOLLS, STXfilms' new animated musical adventure starring the acting and singing voices of Kelly Clarkson, Nick Jonas, J...

Unconventionality rules in UGLYDOLLS, STXfilms' new animated musical adventure starring the acting and singing voices of Kelly Clarkson, Nick Jonas, J...
SPONSORED LINKS