UglyDolls (2019)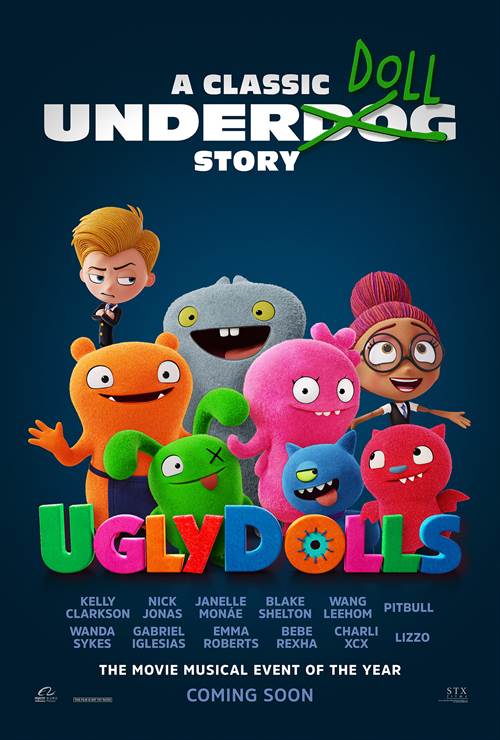 | | |
| --- | --- |
| Director: | |
| Writers: | |
| Cast: | |
| Released: | Friday, May 3, 2019 |
| Length: | 87 minutes |
| Studio: | STX Entertainment |
| Genre: | Family |
| Rating: | Some material may not be suitable for children. |
UglyDolls Synopsis
Unconventionality rules in UGLYDOLLS, STXfilms' new animated musical adventure starring the acting and singing voices of Kelly Clarkson, Nick Jonas, Janelle Monáe, Blake Shelton and Pitbull. The film is inspired by the unique and beloved global plush toy phenomenon launched in 2001. In the adorably different town of Uglyville, weird is celebrated, strange is special and beauty is embraced as more than simply meets the eye. Here, the free-spirited Moxy and her UglyDolls friends live every day in a whirlwind of bliss, letting their freak flags fly in a celebration of life and its endless possibilities, occasionally looking to the sky, where a new UglyDoll will appear and be embraced by the community. Moxy (Kelly Clarkson) loves her square-peg life in this round-hole town, but her curiosity about all things leads her to wonder if there's something - anything - on the other side of the mountain which nestles Uglyville. Moxy gathers a group of her closest friends and sets off to find what's on the other side. They discover another world - Perfection - a town where more conventional dolls are trained in protocols before they graduate and are sent to the "real" world to find the love of a child. In Perfection, Moxy and her crew are subject to the manipulations of Lou (Nick Jonas), the perfect doll in charge of training recruits. Here, the UglyDolls will confront what it means to be different, struggle with their desire to be loved, and ultimately discover that you don't have to be perfect to be amazing because who you truly are is what matters most. Also starring in the voice cast of UGLYDOLLS are Wanda Sykes, Emma Roberts, Gabriel Iglesias, and Wang Leehom.
UglyDolls images are © STX Entertainment. All Rights Reserved.
This animated musical is adorable! The music is outstanding, which is no surprise because it has so many amazing singers. The colorful and lively animation makes you feel as if you are in a wonderful world of dolls.In the film, we first see how happy everyone is in Uglyville, where the ugly dolls live and actually embrace all of their different appearances. Even though the protagonist Moxy (voiced by Kelly Clarkson) is happy in Uglyville, she wants to be with a real kid. So Moxy sets out with some friends to find a way to get to the real world. After going through a spooky tunnel, they find themselves in Perfection where dolls try to get a home in the real world. They soon realize that living in "Perfection" is not that easy.In addition to Kelly Clarkson, there are so many other incredible voice actors including Nick Jonas, Janelle Monae, Blake Shelton, and Pitbull. My favorite characters are Ox (voiced by Blake Shelton) and Moxy because Ox is the absolute nicest mayor of any town and Moxy is always happy and believes in herself.The message of this movie is that no one is perfect and you should follow your dreams. This movie has no bad language, but it does have a scary robot dog and a dark tunnel. And of course, there is some negative behavior such as calling things ugly.I give this movie 4 out of 5 stars and recommend it for ages 6 to 10. By Katherine S., KIDS FIRST! Film Critic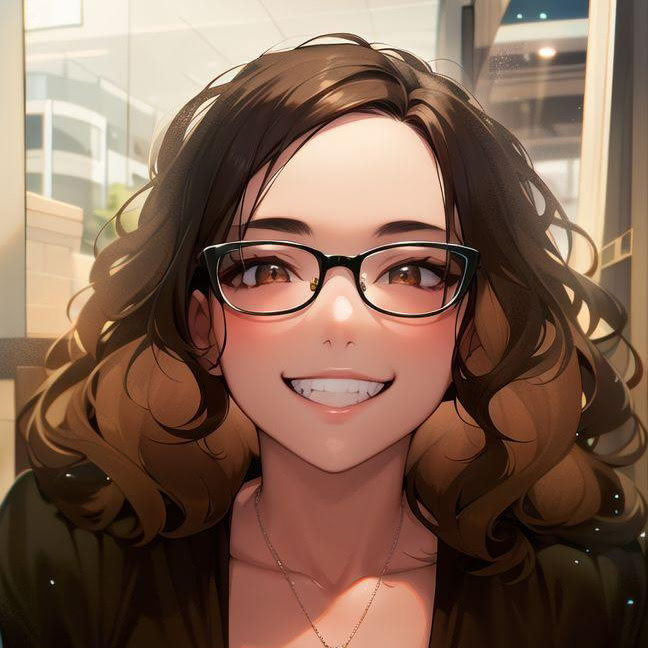 Movie / Film Review
There is so much vocal talent in UglyDolls that it has a solid foundation. Kelly Clarkson's bubbly personality is perfect for Moxy who is perpetually optimistic.
SPONSORED LINKS