November Criminals (2017)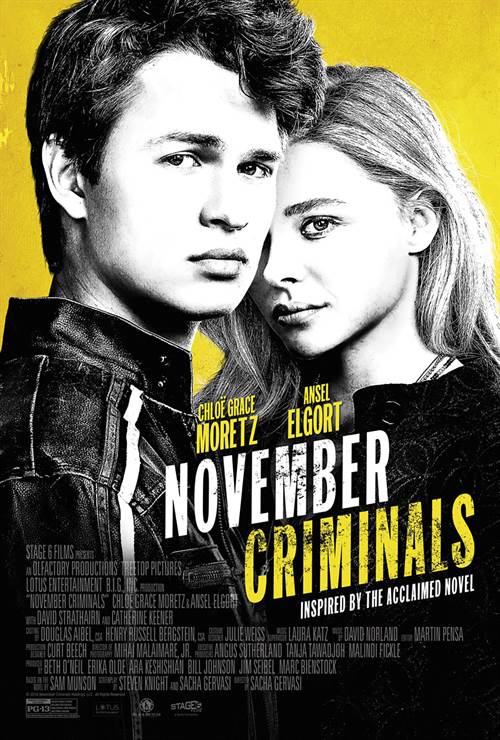 | | |
| --- | --- |
| Director: | |
| Writers: | |
| Cast: | |
| Released: | Tuesday, November 7, 2017 |
| Length: | 85 minutes |
| Studio: | Lotus Entertainment |
| Genre: | Drama |
| Rating: | Some material may be inappropriate for children under 13. |
November Criminals Synopsis
A pair of college bound friends find themselves falling for one another, but after the mysterious murder of their classmate, they must defy the authorities to uncover the truth.

Purchase DVD/Blu-ray/4K UHD physical copy of November Criminals today at Amazon.com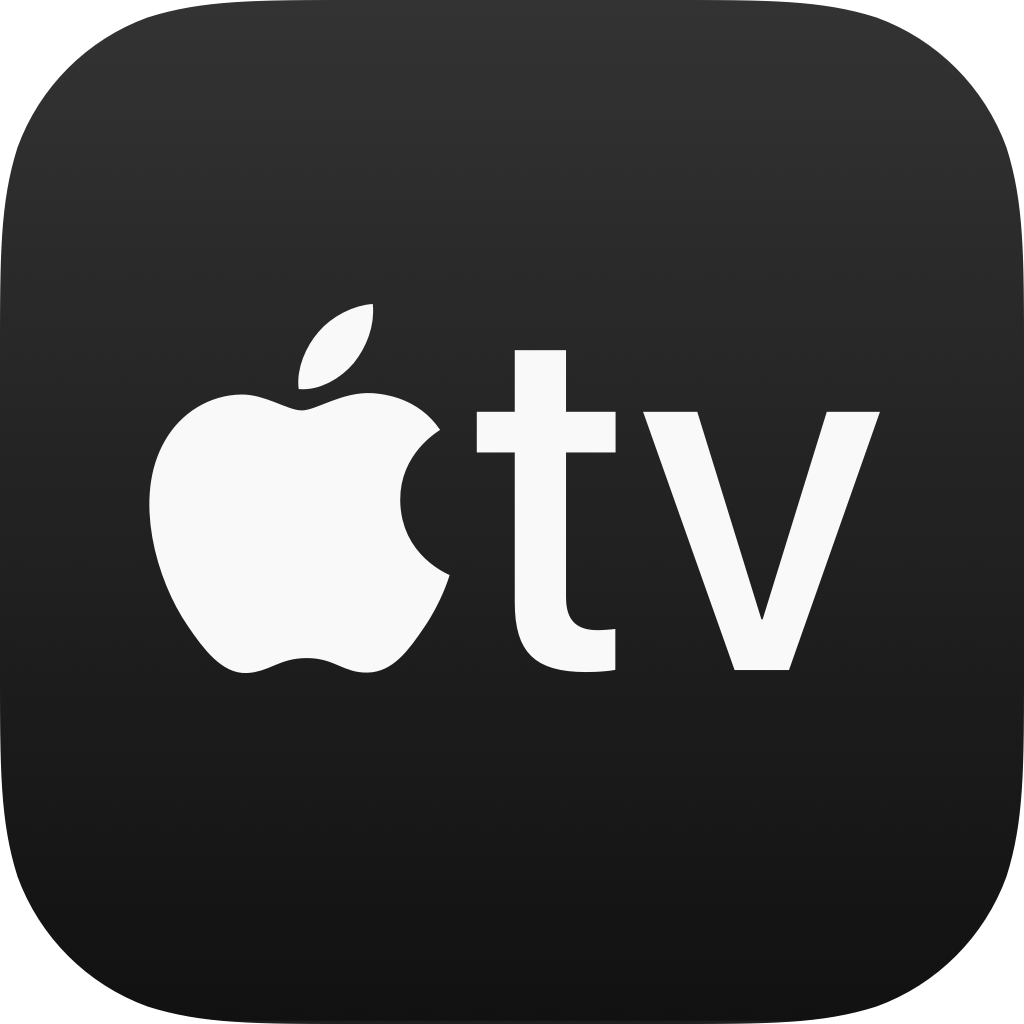 Stream November Criminals in Digital HD/4K from the AppleTV store.
November Criminals images are © Lotus Entertainment. All Rights Reserved.
November Criminals Blu-ray Review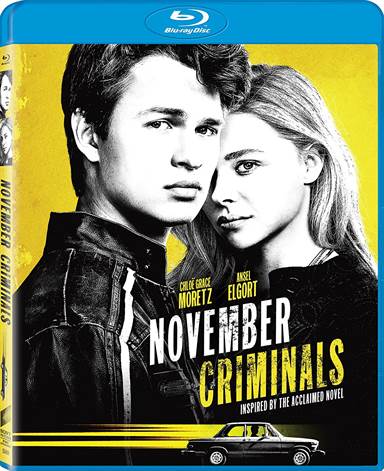 Take a coming of age/teenage angst movie, add a murder mystery, stir vigorously, throw it against the wall and see what sticks. Throw in some the best, young talent Hollywood has to offer right now. Finally, give it some obscure name and you have the formula for November Criminals. Starring Ansel Elgort (The Fault In Our Stars) and Chloe Grace Moretz (If I Stay), this feature film give the viewer a unique look of life in the D.C. area and how one young man refuses to simply accept "the easy way out".

Addison (Elgort) is an awkward teen with not that many friends. Phoebe (Moretz) is one of those few. Kevin (Jared Kemp; The Purge: Election Year), who works at the corner coffee shop, is another one. They are worried about Addison since his mother's sudden death 6 months earlier. Although he seems to be holding things together his grades have slipped and his quirkiness becomes even more apparent. This all becomes aggravated when Kevin is gunned down at work in what police are calling a gang killing. This sets something off in Addison as he is adamant that Kevin wasn't in a gang. He suddenly becomes determined to prove the police wrong and find out who killed Kevin.

As Addison and Phoebe become physically and emotionally closer, his single-mindedness to solve Kevin's murder pushes her away and alienates everyone around him. He learns things about Kevin that seem hard for Addison to reconcile with the jazz musician, the intellectual teenager he knew. Addison spirals out of control but when a new lead appears he finds himself in a world of drugs and violence. Of course, his true underlying motivation is to try and deal with the grief and helplessness he feels over his mother's death.

Elgort is an immensely talented actor so his portrayal of the hormonal/distraught Addison is very well done. Factoring in his "baby face" looks into the equation and he gives the character a certain naiveté that helps make his performance believable. Moretz is also a strong actor and the two of them have a chemistry that can't be faked. David Strathairn (Good Night, and Good Luck) and Catherine Keener (Get Out) as Addison's father and Phoebe's mother (respectively, obviously) are seasoned veteran's who add another dimension to the overall feel of the film. They are both strong talents who portray parents that are genuinely worried about their children.

Unfortunately, there are numerous issues with the movie beginning with the plot and the script. For starters, the film a bit on the short side so there is very little character or story development, Kevin is shot in the first ten minutes so we never really get to know him or sense the friendship he has with Addison. There is also not much of an explanation as to what Kevin was involved in and more of the motivation behind his shooting. Other aspects, of the film, make no sense as well such as why Pheobe lives in such an affluent area but goes to a run-down inner-city school. I mean her mother has her getting tutoring to learn Mandarin for goodness sakes, there is no way she would have Phoebe attend a school like that one. Addison's family's descent from affluence to middle-class is also never explained either.

There is also a "whodunit caper" slapped smack dab into the middle of what amounts to a 1980's John Hughes film. Phoebe and Addison losing their virginity together before they head off to college and struggling with the expectation of their parents belong elsewhere. The only genuine moments of the movie were when Addison acts out as a means to try and come to terms with his mother's untimely death.

The 1080p high definition video presented in a 1.78 aspect ratio is excellent and even the drab winter weather of D.C. looks sharp on the screen. The DTS-HD Master Audio 5.1 highlights the eclectic soundtrack and showcases the dialogue throughout. The combo pack only offers one extra – a 6-minute look at the making of called Taking care- Making November Criminals.

The movie was depressing and unfulfilling and the only saving graces for me were the actors involved and the soundtrack.

Grade: C
For more reviews please visit our film/television review section.
SPONSORED LINKS