The Grinch (2018)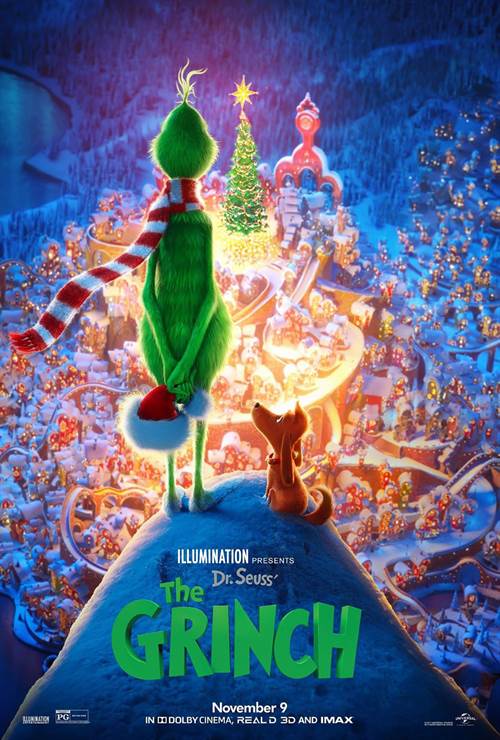 Share this:
| | |
| --- | --- |
| Director: | |
| Writers: | Michael LeSieur, Dr. Seuss |
| Cast: | |
| Released: | Friday, November 9, 2018 |
| Length: | 90 minutes |
| Studio: | Universal Pictures |
| Genre: | Family |
| Rating: | Some material may not be suitable for children. |
Synopsis
For their eighth fully animated feature, Illumination and Universal Pictures present The Grinch, based on Dr. Seuss' beloved holiday classic. The Grinch tells the story of a cynical grump who goes on a mission to steal Christmas, only to have his heart changed by a young girl's generous holiday spirit. Funny, heartwarming and visually stunning, it's a universal story about the spirit of Christmas and the indomitable power of optimism.

Academy Award® nominee Benedict Cumberbatch lends his voice to the infamous Grinch, who lives a solitary life inside a cave on Mt. Crumpet with only his loyal dog, Max, for company. With a cave rigged with inventions and contraptions for his day-to-day needs, the Grinch only sees his neighbors in Who-ville when he runs out of food.

Each year at Christmas they disrupt his tranquil solitude with their increasingly bigger, brighter and louder celebrations. When the Whos declare they are going to make Christmas three times bigger this year, the Grinch realizes there is only one way for him to gain some peace and quiet: he must steal Christmas. To do so, he decides he will pose as Santa Claus on Christmas Eve, even going so far as to trap a lackadaisical misfit reindeer to pull his sleigh.

Meanwhile, down in Who-ville, Cindy-Lou Who—a young girl overflowing with holiday cheer—plots with her gang of friends to trap Santa Claus as he makes his Christmas Eve rounds so that she can thank him for help for her overworked single mother. As Christmas approaches, however, her good-natured scheme threatens to collide with the Grinch's more nefarious one. Will Cindy-Lou achieve her goal of finally meeting Santa Claus? Will the Grinch succeed in silencing the Whos' holiday cheer once and for all?

Find out, Christmas season 2018.
Purchase DVD/Blu-ray/4K physical copy of The Grinch today at
Download The Grinch in Digital HD/4K from the iTunes store.
Listen to the The Grinch soundtrack on Apple Music.
The Grinch images are © Universal Pictures. All Rights Reserved.


The Grinch Brings Holiday Cheer To a Special Group of Kids
12/3/2018 9:33 AM EST
To help spread a message of kindness and love during the holiday season, Universal Pictures and Lollipop Theater Network will conduct a private screening of DR. SEUSS' THE GRINCH.  The event is one of 17 screenings taking place at children's hospitals and health facilities across the country this week for children confined to hospitals due to chronic or life-threatening illnesses.Jim Orr,  Preside...
More>>
Win Complimentary Passes For Two To An Advance Screening of Univ...
11/2/2018 10:24 AM EST
It's that time of year again…the weather is getting colder, the leaves are changing color (well if you live in the northern part of the United States anyway) and people are gearing up for the holiday season including the influx of holiday movies hitting theaters.  One of the animated ones coming this year is Illumination's Dr. Seuss' THE GRINCH and Universal Pictures, in conjunction with FlickDire...
More>>
The Grinch Theatrical Review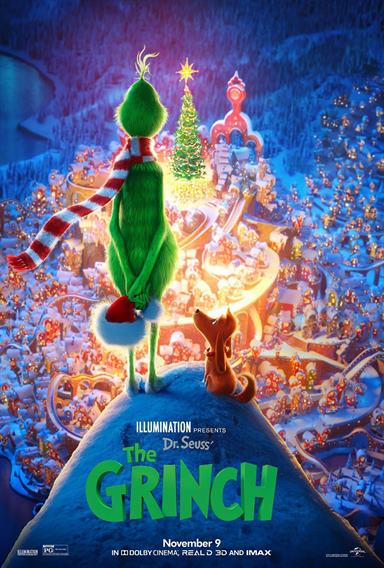 In 1957 Random House published Dr. Seuss'
How the Grinch Stole Christmas.
It told the story of a green, furry creature who hated Christmas - can you believe that!?! Over the past sixty-one years, it has been made into several movies both animated and live-action. This holiday season Illuminations has taken on the challenge with its own twist on the classic tale in
The Grinch
. This version keeps the bare bones of the original but slightly alters some of the details and characters in a delightful tale that will be fun for audiences of all ages.
The Grinch (Benedict Cumberbatch; The Imitation Game) is a lonely person who lives in a cave at the top of a mountain. There he would sit looking down on Whoville and all the Whos who live there. Every year in December he cringes as he watches the Whos decorate and celebrate the Christmas Holiday. Interestingly, this iteration of the story attempts to explain why the Grinch hates this holiday so much. As the movie shows, the Grinch was an orphan and every year at Christmas he would watch the happy families decorate and exchange presents – something he never got to do.
This year, however, he formulates a plan to rob them of their joy and happiness as he steals their Christmas. He spends several days logistically figuring out how to remove all their lights, trees and presents so they wake up on Christmas morning to nothing. Unfortunately, he crosses paths with Cindy Lu Who (Cameron Seely; The Greatest Showman) who, thinking he is Santa Claus, wishes her mother can get some time off to relax. This simple, unselfish wish along with all the whos singing, despite having everything stolen, cause The Grinch to have a change of heart (literally) and he returns all their presents.
Cumberbatch is a smart choice to play this iconic character as his tonal performance portrays just the right blend of sarcasm with earnest hate while offering just a touch of sadness that makes you want to pity the mean, old guy. The supporting cast includes not only Seely but Rashida Jones (Park and Recreation), Kenan Thompson (Snakes on a Plan), Pharrell Williams (Pitch Perfect 2) and Angela Lansbury (Murder, She Wrote). Williams' smooth voice is soothing as the narrator and Thompson ads some well placed comedic moments with his quick timing. The rest of the cast compliments Cumberbatch well and vocally blend well together.
The real treats here are the script and the animation. The former is smart with some witty jokes and well placed emotional moments while the latter is exceptional. This film offers some of the best animation I have seen in a long time. Every strand of hair or fur moves effortlessly and the colors are so vibrant they leap off the screen (even in the 2D version). Illumination Entertainment did a wonderful job bringing these characters to life and making the film visual masterful.
It will be interesting to see if the audience will embrace the changes to the original story or if they will feel Illumination should have stuck with the more traditional tale. Regardless, this is a fun, family movie that will do well this holiday season as all ages can enjoy it together and while the merchandising possibilities are endless I, for one, hope they make a Fred stuffed reindeer.
As this is the season for family moviegoing, The Grinch throws its hat in the ring as a solid offering to spend one's hard earned money on.
Grade: B-
For more reviews please visit our film/television review section.
FlickDirect's Austin Putnam reviews THE GRINCH in 4K Ultra Hi-Def! Grab your 4K UHD copy...

For their eighth fully animated feature, Illumination and Universal Pictures present The Grinch, bas...

For their eighth fully animated feature, Illumination and Universal Pictures present The Grinch, bas...
For their eighth fully animated feature, Illumination and Universal Pictures present The Grinch, bas...
SPONSORED LINKS
Comments

Courtesy of
Movie Hype App
xxyoungsally
I love it
2/28/2019 1:15 AM EST
maken_davis09
It was so awesome
2/14/2019 8:23 PM EST
keonnad
It was awesome
2/12/2019 11:20 PM EST
highlandbrush97
I love it
1/29/2019 10:02 PM EST
myasia1
Awesome 💯💯😍
1/10/2019 5:42 PM EST
xjaxxyx
I BELIEVE THIS MOVIE IS AN AMAZING CHRISTMAS MOVIE, although i have no idea because i've never seen it!
1/7/2019 8:10 PM EST
nermin
Love this movie
1/6/2019 7:05 PM EST
ninjasavage806
It's good
1/4/2019 9:58 PM EST
chanteberna19
Favorite Christmas movie😂❤️
12/29/2018 8:05 PM EST
taisha_ladyshay
Haha😂😂😂
12/27/2018 1:15 PM EST
taisha_ladyshay
This movie funny
12/27/2018 1:15 PM EST
queenellena20
Cool and luv it
12/26/2018 9:35 PM EST
analisia54
Love it
12/16/2018 12:55 PM EST
kalem46
Love it
12/13/2018 12:37 AM EST
lilyfere
It's awesome
12/1/2018 10:23 PM EST