Search Results For Ted Kotcheff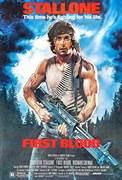 First Blood (1982)
After being arrested for a crime which he did not commit, a Green Beret survivor of the Vietnam War begins having terrible nightmares. This gripping, action-packed tale demonstrates the tragic...
Weekend at Bernie's (1989)
Brace yourself for "a hectic and fun Weekend" (Los Angeles Times) filled with mayhem misadventure and murder! Hilarious performances from Andrew McCarthy and Jonathan Silverman make this fatally funny...