Valeria Golino
Escape From L.A. (1996)
Snake Plissken (Kurt Russell) resurfaces fifteen years after his escape from New York into Los Angeles to find little hope after a devastating earthquake has left the city an island inhabited only by warring...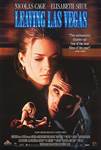 Leaving Las Vegas (1995)
Ben Sanderson (Cage) is a hopeless alcoholic who goes to Vegas to drink himself to death, which is where he meets Sera (Shue), a lonely hooker who loves him enough not to stop him. Definitely as depressing...
Rain Man (1988)
Following the death of their father, Charlie Babbitt (Tom Cruise, Valkyrie) discovers he has an autistic brother named Raymond (Dustin Hoffman, Tootsie) and now the two are on the cross-country trip of...