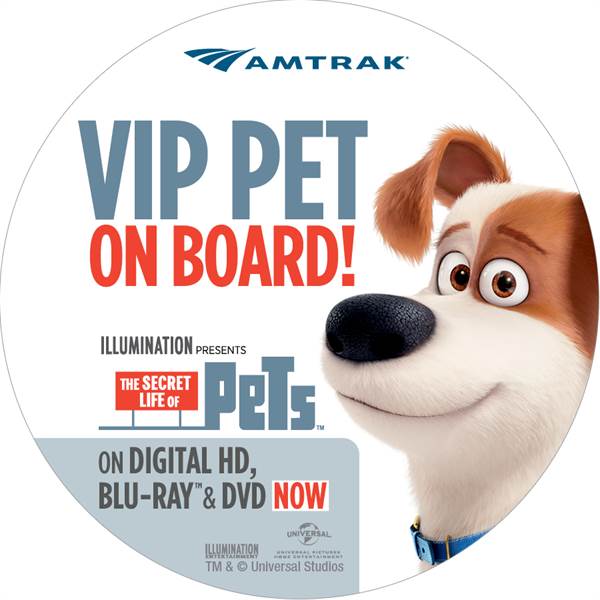 Amtrak and Universal Pictures have issued a press release to announce that they will be holding a "Pets Ride Free" promotion, which is to commemorate the release of Universal's upcoming Blu-ray release of "The Secret Life of Pets". The release is as follows:

Universal City, California, November 29, 2016 - Riding the rails with a beloved four-legged friend will come with an extra special treat during this holiday season, in which "Pets Ride Free." Universal Pictures Home Entertainment (UPHE) and Amtrak are teaming up for a first of its kind promotion in celebration of the December 6 home entertainment release of Illumination's blockbuster film, The Secret Life of Pets. The "Pets Ride Free" offer, available for trips booked December 6 through December 11, 2016 or while supplies last, allows pets to ride at no additional cost on participating Amtrak routes from December 9 through March 31, 2017.

During the first year of Amtrak's pet program, more than 15, 000 dogs and cats traveled with their owners on select Amtrak trains across the country. Information on the "Pets Ride Free" offer is available at Amtrak.com/secretlifeofpets, at select ticket counters and stations, and on trains, including AmtrakConnect Wi-Fi portals. In addition, a limited number The Secret Life of Pets prizes will be available to customers at select stations. The program will be supported in 40 Amtrak markets nationwide including New York City, Los Angeles, Chicago, Boston, Washington, D.C., Philadelphia, Minneapolis, San Francisco, Oakland, Dallas, Baltimore, Cleveland, Portland, Seattle, St. Louis, New Orleans, Pittsburgh, Orlando, Miami, Jacksonville, Charleston and others.

Universal Pictures Home Entertainment will release The Secret Life of Pets, America's top-grossing original film of the year, on Digital HD beginning on November 22, 2016. The film will be available on 4K Ultra HD™, Blu-ray™ 3D, Blu-ray™, and DVD with nearly an hour of bonus content, including three mini-movies, on December 6, 2016. The film will be available On Demand on December 6, 2016.

In their fifth fully animated feature-film collaboration, Illumination Entertainment and Universal Pictures present The Secret Life of Pets, a comedy about the lives our pets lead when we leave for work or school, which has grossed more than $873 million in global ticket sales. Max, voiced by Louis C.K., is a loyal terrier living a perfectly happy existence until his owner, Katie (Ellie Kemper) brings home Duke (Eric Stonestreet) a big, boisterous mutt she finds at the shelter. When Max and his unruly new "roommate" slip away from their dog-walker, they find themselves lost in the urban jungle of New York City. In an attempt to stay ahead of animal control and a rebel band of abandoned pets led by an unhinged bunny named Snowball (Kevin Hart), they put aside their differences to survive the epic journey back home.

The film features an all-star voice cast including Louis C.K. (TV's Louie), Eric Stonestreet (TV's Modern Family), Kevin Hart (Ride Along Series), Jenny Slate (Zootopia), Ellie Kemper (Unbreakable Kimmy Schmidt), Lake Bell (TV's Children's Hospital), Dana Carvey (Wayne's World), Hannibal Buress (Neighbors series), Bobby Moynihan (TV's "Saturday Night Live"), Steve Coogan (Minions) and Albert Brooks (Finding Dory). The film is directed by Chris Renaud (Despicable Me franchise, Dr. Seuss' the Lorax) and co-directed by Yarrow Cheney (Despicable Me franchise).

To travel with a small dog or cat, tickets must be purchased at least three days prior to travel and are valid for up to March 31, 2017. Only one cat or one small dog are allowed in an enclosed carrier on trips up to seven hours in length. Both pet and carrier must be a combined weight of 20 pounds. To learn more about the Amtrak pet program visit Amtrak.com/pets. To make a pet inclusive reservation, please call 1-800-USA-RAIL or visit a staffed station.