The Secret Life of Pets (2016)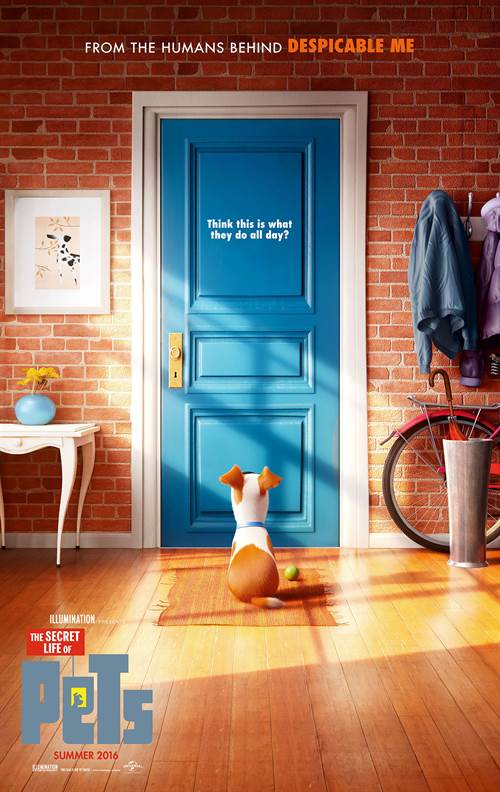 | | |
| --- | --- |
| Director: | |
| Writers: | |
| Cast: | |
| Released: | Friday, July 8, 2016 |
| Length: | 90 minutes |
| Studio: | Universal Pictures |
| Genre: | Family |
| Rating: | Some material may not be suitable for children. |
The Secret Life of Pets Synopsis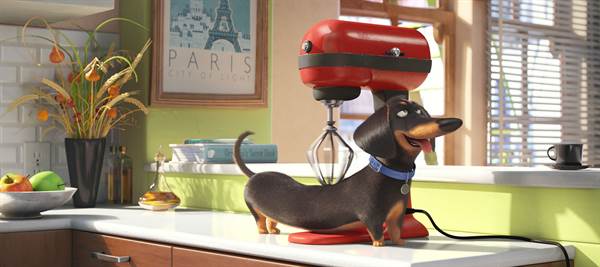 For their fifth fully-animated feature-film collaboration, Illumination Entertainment and Universal Pictures present The Secret Life of Pets, a comedy about the lives our pets lead after we leave for work or school each day.

Purchase DVD/Blu-ray/4K UHD physical copy of The Secret Life of Pets today at Amazon.com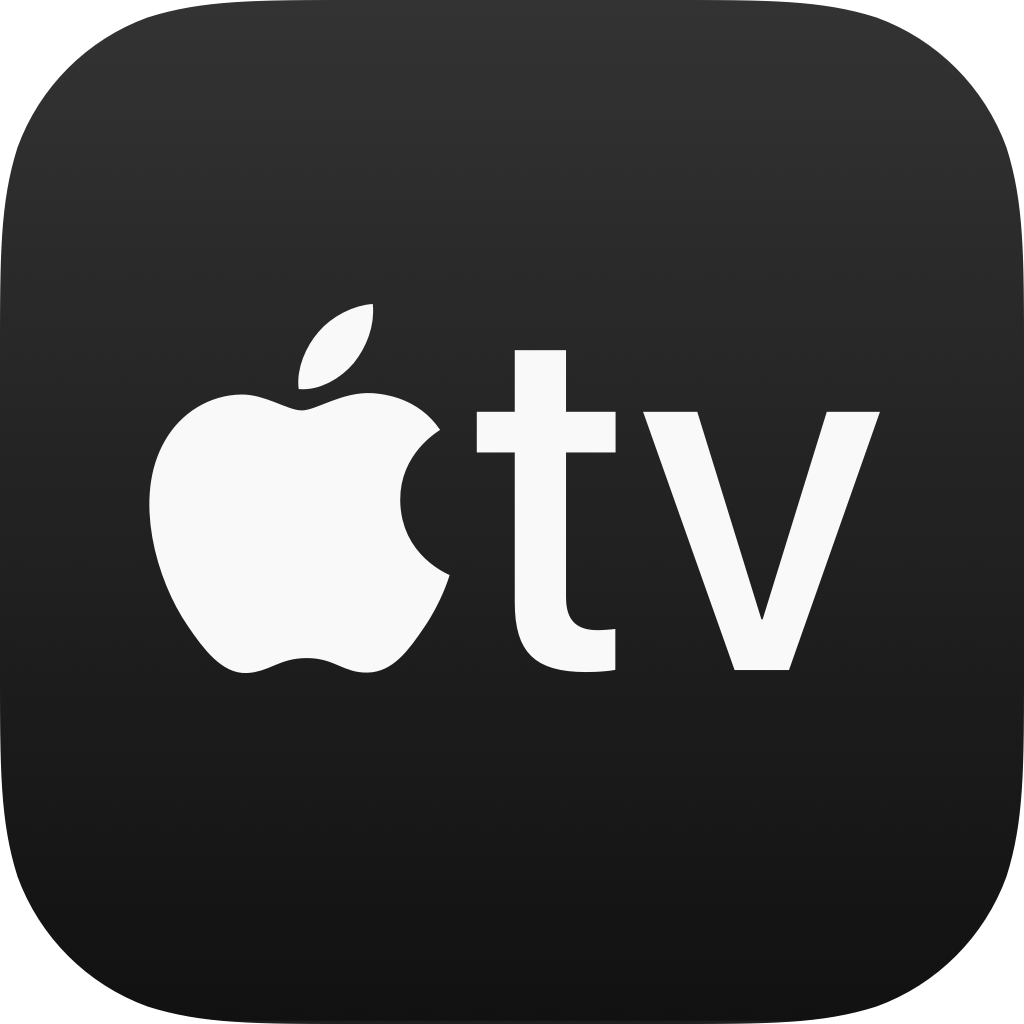 Stream The Secret Life of Pets in Digital HD/4K from the AppleTV store.
The Secret Life of Pets images are © Universal Pictures. All Rights Reserved.
Amtrak and Universal Holding Pets Ride for Free Promotion
12/1/2016 4:02 PM EST
Amtrak and Universal Pictures have issued a press release to announce that they will be holding a "Pets Ride Free" promotion, which is to commemorate the release of Universal's upcoming Blu-ray release of "The Secret Life of Pets".  The release is as follows:Universal City, California, November 29, 2016 - Riding the rails with a beloved four-legged friend will come with an extra special treat duri...
More>>
Secret Life of Pets Sequel in the Works
8/2/2016 3:18 PM EST
A sequel to "The Secret Life of Pets" is currently in development over at Illumination Entertainment and Universal Pictures.  Chris Meledandri, Illumination founder and CEO, along with Janet Healy will be producing the film and Chris Renaud will return to direct.  Brian Lynch will also be returning to pen the script."The Secret Life of Pets" includes a voice cast of Louis C.K., Eric Stonestreet, K...
More>>
Universal Launches PETMOJI Character Creator for The Secret Life...
6/21/2016 9:53 AM EST
Are you a personal pet lover or know someone who is? Universal Pictures has launched a really fun website that allows you to create a custom PetMoji of your dog or cat that you can then download and share on social media. Simply go to www.mypetmoji.com and have fun creating your PetMoji!The process is super easy, and a lot of fun!  Once you are done customizing your pet, you can share your PetMoji...
More>>
The Secret Life of Pets 4K Review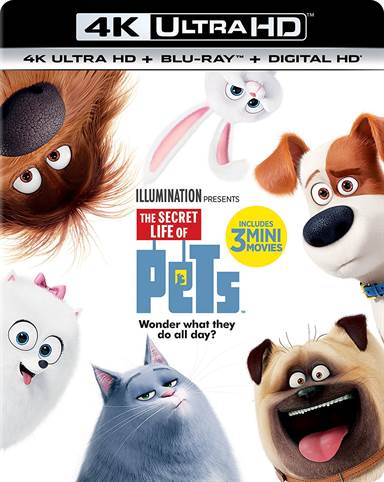 Illumination Entertainment, currently owned by Universal, has released yet another gem,
The Secret Life of Pets
. Beginning with
Despicable Me
in 2010,
Hop
(2011
), The Lorax
(2012),
Despicable Me 2
(2013), Illumination waited two years until released
Minions
in 2015. Following the continuation of their prior brightly animated, humorous characters, in 2016, they released
The Secret Life of Pets
, which became a huge hit with people of all ages. The Secret Life of Pets opens with a bang, keeping your interest from the very moment the movie begins until the very end.
Max, voiced by Louis C.K. (best known for his writing work on Late Night with Conan O'Brian; The Chris Rock Show), is a dog who loves his human, Katie, played by Elie Kemper (Unbreakable Kimmy Schmidt). While he doesn't quite understand why Katie must leave every day, he has a whole gang of dogs and cats to play with and keep him occupied all day long. That all changes one day when Katie brings home another homeless dog, Duke (Eric Stonestreet; Modern Family), to be part of the family. Jealous to the bone, Max does everything in his power to make Duke feel unwelcome, in trouble, and unloved and Duke treats Max the same, until one day, they both get lost while playing in the park and caught by Animal Control.
Max and Duke then go on an incredible adventure together, rescued by a street gang of former pets lead by what strikes me as the Evil Easter Bunny, Snowball (Kevin Hart; Ride Along). Lying to the gang to obtain their help, when Max and Duke are found out, they must do everything in their power to escape, but in doing so, end up far away from home. Luckily, their furry friends from Katie's apartment building have set off to find Max and Duke, and when they all reunite, they manage to make their way home back to their owners and their comfy home life. And, of course, the adventure brings Max and Duke closer together, understanding each other. They can finally learn to share not only the apartment with each other, but Katie's love and affection, as well.
I have to echo my colleague's theatrical review when she says that Illumination does everything right. The humor is funny for the younger children, but there is clearly subtle sarcasm appreciated by the adults. Illuminations films have been a success since they started with Despicable Me. They have managed to take what could be a repetitive story and twisted it into something that can become a successful franchise. I can definitely see a spin-off from The Secret Life of Pets, as the writers developed the supporting characters well enough that they are memorable to all watching the film.
My eyes almost jumped out of my head watching this Blu-ray. At 2160p, with an aspect ratio of 1.85:1, the details are brilliant and full of life. The colors absolutely pop off the screen, the details impeccably crisp and clear. While other reviews say there is not much difference between the 2k and 4k version, I have to disagree - maybe because I am not used to watching movies in 4k or maybe because the animation, to me, just made the 4k experience so much more impressive. The Dolby Atmos/TrueHD 7.1 (48kHz, 24-bit) is as perfect as you can get. As in most animations, the music is vibrant and lively and in this film, even reminiscent in some parts (think Grease, 1978). In Pets, I could clearly hear the dialogue over the background music without having to adjust the volume.
If you've ever read my reviews before, you would know that I love the Bonus Features on the Blu-ray, and in this case, it is no different, except that the Bonus Features are not on the 4k disc, although they are on the Blu-ray 2k version and the Digital downloads. The Secret Life of Pets has so much to offer in the form of Bonus Content, that for the sake of brevity, I am listing out the Bonus Features without too much detail- you will just have to buy the Blu-ray to find out more!
The Humans That Brought You Pets: Interviews with Directors Yarrow Cheney and Chris Renaud, Producers Chris Meledandri and Janey Healy, and Writer Brian Lynch
Animals Can Talk: Meet the Actors: Cute interviews with the cast
All About Pets: Watch Animal Trainer Molly O'Neill help Actors Eric Stonestreet and Kevin Hart get hands-y with some animals.
Hairstylist to the Dogs: Heads up for some tips from Stylist Jess Rona
Anatomy of a Scene: Another four minutes of what goes into making a scene
The Best of Snowball: Get to know the evil furry protagonist in Pets
"Lovely Day" Lyric Video
Hot Dog Sing Along
GoPro The Secret Lives of Pets: See how Go Pro helped make the scenes
Sing Trailer: Watch a trailer of the upcoming Illumination movie Sing, coming to theaters soon
Besides the Extras listed above (like that wasn't enough), Illumination included three mini movies plus The Making of the Mini-Movies: Norman TV, Weenie , Mower Minions
As a fan of Universal, I can only applaud their foresight into acquiring and owning Illumination Entertainment and ensuring that Chris Meledandri continues with every one of the Illumination projects. The storyline was light, but meaningful, for humans of all ages, the lesson taught can easily be understood by even the youngest of viewers, and the plot was deep enough to provide all the necessary background details, but not too much that you were overwhelmed or even itched to glance at your watch during the movie. This is a movie that can be watched over and over and will never grow old. Fingers crossed that there will be a sequel to continue the next escapades of Max, Duke, and their furry friends.

Grade: A+
Read More The Secret Life of Pets Reviews
For more reviews please visit our film/television review section.
For their fifth fully-animated feature-film collaboration, Illumination Entertainment and Universal Pictures present The Secret Life of Pets, a comedy...

For their fifth fully-animated feature-film collaboration, Illumination Entertainment and Universal Pictures present The Secret Life of Pets, a comedy...
SPONSORED LINKS