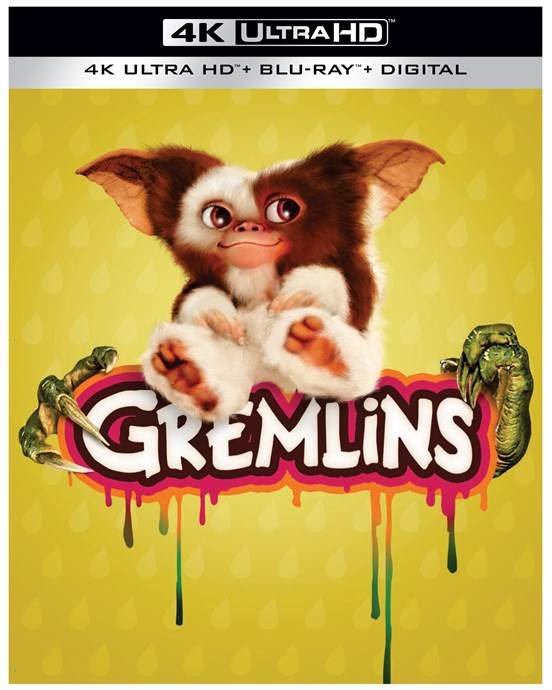 Warner Bros. Home Entertainment has announced that they will be releasing the iconic horror film Gremlins on Ultra HD Blu-ray and digital formats on October 1. The release is to commemorate the 35th anniversary of the 1984 classic.

Gremlins stars Zach Galligan as Billy Peltzer, Phoebe Cates as Kate Beringer, and Hoyt Axton and Randall Peltzer, along with the voices of Frank Welker as Stripe and Howie Mandel as Gizmo. The film was directed by Joe Dante (Innerspace, The 'Burbs)) and written by Chris Columbus (The Goonies, Young Sherlock Holmes), produced by Michael Finnell, and executive produced by Kathleen Kennedy, Frank Marshall, and Steven Spielberg.

The Gremlins Ultra HD Blu-ray Combo Pack will cost $41.99 and will include an Ultra HD Blu-ray disc with the feature film in 4K with HDR and a Blu-ray disc with the feature film and special features. Fans can also own Gremlins in 4K Ultra HD via purchase from select digital retailers.

The release will include the following special features:
Filmmakers' Commentary with Director Joe Dante, Producer Michael Finnell and Special Effects Artist Chris Walas
Cast Commentary with Director Joe Dante, Zack Galligan, Phoebe Cates, Dick Miller, and Howie Mandel
Gremlins: Behind the Scenes Featurette
Additional Scenes with Commentary
Photo Gallery
Theatrical Trailers
Additional Scenes
Cute. Clever. Mischievous. Intelligent: Making Gremlins
Gremlins: The Gift of the Mogwai (motion comic)
The Last Gremlin (motion comic)
From Gizmo to Gremlins: Creating the Creatures
Hangin' with Hoyt on the set of Gremlins

Be sure to grab this iconic release for your home entertainment collection! Pre-order is available now at Amazon.com, just remember if you ever find any Mogwai, DON'T FEED THEM AFTER MIDNIGHT!!!