Gremlins (1984)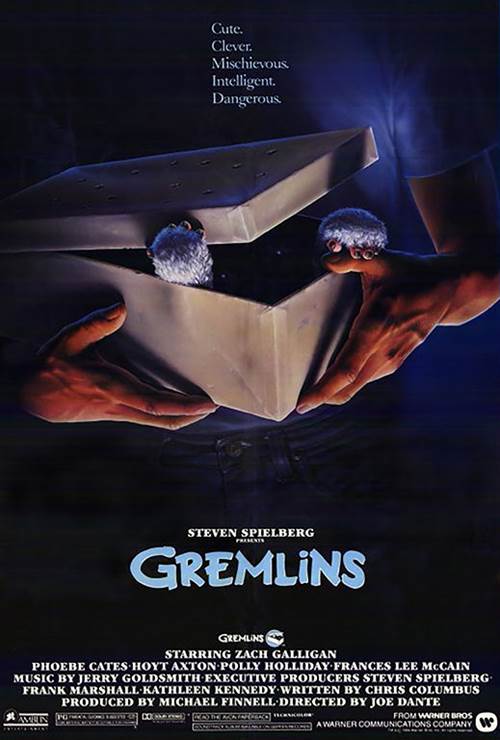 | | |
| --- | --- |
| Director: | |
| Writers: | |
| Cast: | |
| Released: | Friday, June 8, 1984 |
| Length: | 106 minutes |
| Studio: | Warner Bros. |
| Genre: | Sci-Fi/Fantasy, Horror |
| Rating: | Some material may not be suitable for children. |
Gremlins Synopsis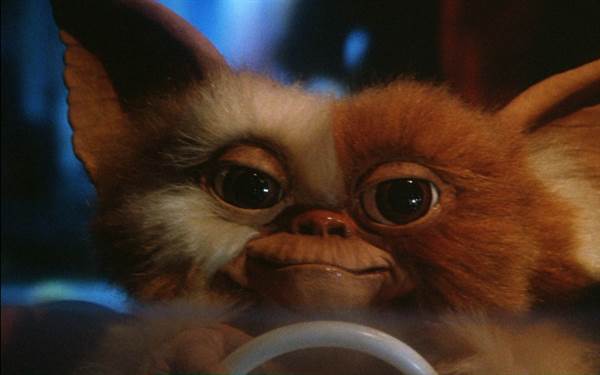 Minature green monsters tear through the small town of Kingston Falls. Hijinks ensue as a mild-mannered bank teller releases these hideous loonies after gaining a new pet and violating two of three simple rules: No water (violated), no food after midnight (violated), and no bright light. Hilarious mayhem and destruction in a town straight out of Norman Rockwell. So, when your washing machine blows up or your TV goes on the fritz, before you call the repair man, turn on all the lights and look under all the beds. 'Cause you never can tell, there just might be a gremlin in your house.

Purchase DVD/Blu-ray/4K UHD physical copy of Gremlins today at Amazon.com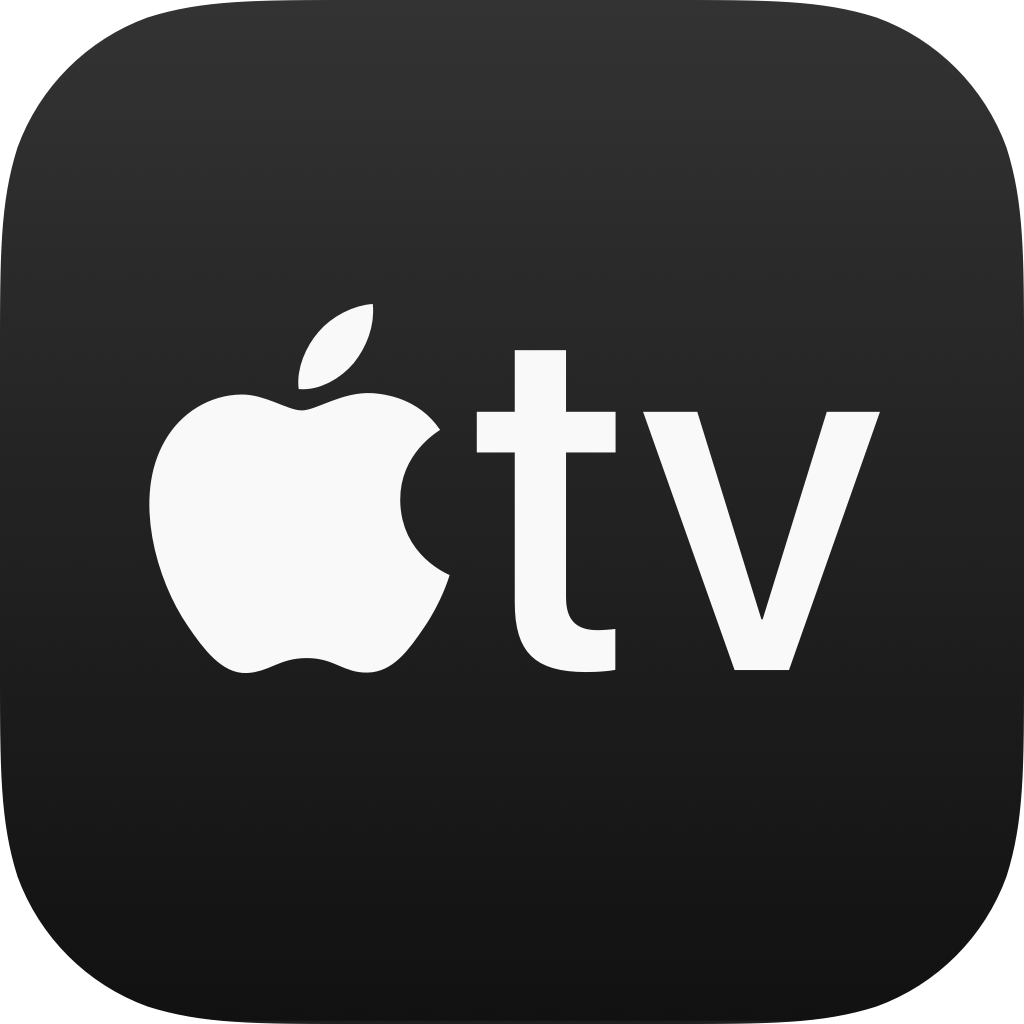 Stream Gremlins in Digital HD/4K from the AppleTV store.
Listen to the Gremlins soundtrack on Apple Music.
Gremlins images are © Warner Bros.. All Rights Reserved.
Animated Gremlins Series Given 10-Episode Order
7/2/2019 3:32 PM EST
WarnerMedia has announced that they have given a 10-episode series order to "Gremlins: Secrets of the Mogwai". The series will be based on 1984's "Gremlins".The new series will be a half-hour animated show and will be a prequel to the story of the original film. It will tell the story of Mr. Sam Wing, the shop owner in the film, as a young boy and his meeting Gizmo in 1920's Shanghai. The pair, al...
More>>
Gremlins To Receive 4K Treatment this October
6/5/2019 10:06 AM EST
Warner Bros. Home Entertainment has announced that they will be releasing the iconic horror film Gremlins on Ultra HD Blu-ray and digital formats on October 1. The release is to commemorate the 35th anniversary of the 1984 classic. Gremlins stars Zach Galligan as Billy Peltzer, Phoebe Cates as Kate Beringer, and Hoyt Axton and Randall Peltzer, along with the voices of Frank Welker as Stripe and Ho...
More>>
Gremlins Reboot in the Works?
1/17/2013 9:42 AM EST
The 1984 film "Gremlins" could be seeing a reboot.  Warner Bros. is reportedly in negotiations with Amblin Entertainment about the project.Nothing is confirmed yet, as a Spielberg spokesman said that the appropriate contacts weren't available for comment.  Vulture, the site that reported the news, added a caveat, saying,  "negotiations of this sort have happened several times over the years, but m...
More>>
Gremlins 4K Review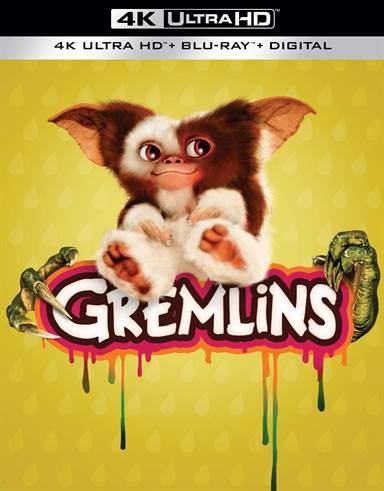 The 1980s were a great time to grow up. There were plenty of movies that one could take their kids to but that everyone of any age could enjoy. E.T. : The Extra-Terrestrial, Raiders of the Lost Ark, Back to the Future and Ghostbusters to name a few. In 1984 Warner Bros. brought a different kind of creature to the screen in the Chris Columbus (The Goonies) penned/Joe Dante (The Howling) directed feature film, Gremlins. The film was released in June but centered around Christmas as snow fell on the ground and trees were lit up with holiday lights and decorations. Gremlins is the latest to get the 4K treatment and is set to be released this week in stores.
Randall Peltzer (Hoyt Axton; The Rousters) is an inventor who makes things that don't exactly work well. However, while he is on a business trip in Chinatown, he finds an adorable Mogwai, a cute little creature, that he wants to buy as a Christmas present for his son, Billy (Zach Galligan; Surviving). The young boy who sneaks the Mogwai away from his grandfather and sells it to Peltzer gives him only three rules: 1) Don't get it wet, 2) it doesn't like bright light and 3) whatever you do, don't feed it after midnight.
Of course, Billy accidentally gets the Mogwai, which he has named Gizmo, wet and finds out that water makes the creature multiple. He now has four new Mogwai's to take care of. Unfortunately, unlike Gizmo, they are mischievous and stop Billy's clock one night so he will feed them after midnight while thinking it is only 11:30om. He wakes up in the morning to find they have hit the pupa stage and are in cocoons. However, once they hatch they are ugly, little, green monsters that are dangerous and wreak havoc throughout town.
Galligan is pretty good for the young man trying to warn everyone that his "pet" has multiplied and turned into evil little creatures. He is smitten (do people still use that word?) with Kate played by Phoebe Cates (Fast Times At Ridgemont High) and together they try to save the town while "falling in love" (if that really happens to teenagers). Axton is perfect as the inventor trying to sell his wares. He has that "used car salesman" persona perfected down to a T. The supporting cast is good too with Polly Holliday (Alice) excellently portraying Ruby Deagle; the Peltzer's nasty old neighbor who doesn't like teenagers or dogs.
The 2160p video quality on the 4K Disc is hit or miss. Many of the later scenes are clear and detailed while the opening scene in Chinatown is dark and grainy. The DTS-HD Master Audio 5.1 fares better with effects assaulting the viewer from every speaker while the dialogue sits nicely upfront and center. The extras are housed on the Blu-ray disc and include: Making of, Clever. Mischievous. Intelligent. Dangerous. – Making Gremlin, Hanging with Hoyt on the set of Gremlins, From Gizmo to Gremlins: Creating the Creatures, Motion Comics: Gremlins – The Gift of the Mogwai, Additional Scenes and the Theatrical Trailer. Sadly none of these are new as they were previously released on the previous Blu-ray editions.
If you grew up in the '80s and remember a simpler time without cell phones or you want to introduce your kids to the "magic" of 1980's films then Gremlins is a great place to start. With so much pop cultural references and a timeless innocence, the movie will be sure to put a smile on anyone's face, young or old. Do yourself a favor and pick up a copy! You won't be disappointed.
Grade: B+
For more reviews please visit our film/television review section.
SPONSORED LINKS