Entertainment News Archive
Entertainment News Before 5/3/2019

Ethan Hawke Joins "Total Recall" Cast
Joining the cast of the "Total Recall" remake is Ethan Hawke, according to Heat Vision.The film already stars Colin Farrell as Dennis Quaid, man who has a recurring dream of journeying to Mars and eventually buys a dream vacation from a company that sells memories....

"Peter Pan", Kidnapper?
According to Screen Daily, the classic "Peter Pan" story will be retold as a dark, kidnap thriller.Aaron Eckhart will star as Captain Hook, who, in this version, is a former detective who is investigating a childlike kidnapper. Anna Sophia Robb will play Wendy, who...
Disney and Jerry Bruckheimer Present "A Pirate's Life For You"...
Pirates' fans can help celebrate the 5/7 Disneyland World Premiere of Pirates of the Caribbean: On Stranger tides by connecting nationwide on Mobile, Twitter and SCVNGR to win a trove of treasure, including a Disney Cruise to the Mexican Riviera! WHAT: Pirates fans...

Depp Wants Time Before Next "Pirates" Film
According to The Hollywood Reporter, a fifth "Pirates of the Caribbean" film is in the works. The script has already been handed in by Terry Rossio, and now it's a waiting game to see when Disney will give the go-ahead.One person hoping it isn't too soon ti...

Coraline Partners Focus Features and Laika Reteam For Two-Pict...
NEW YORK and PORTLAND, OR, May 4, 2011 - Focus Features and LAIKA, the two companies behind the Academy Award-nominated animated feature Coraline are reteaming for LAIKA's next two projects. The first of the duo, ParaNorman, will be released nationwide on...

Marvel The Avengers: Earth's Mightiest Heroes, Vol. 2
Now that Avengers: Earth's Mightiest Heroes has finished up on television it isn't surprising to see them arrive on DVD. First up was Vol.1 which introduced the main team members in isolated short stories culminating in a final two-part episode that saw the main group...

Marvel The Avengers: Earth's Mightiest Heroes, Vol. 1
Now that the comic book movie has proven to be not only a financial windfall at the box office, but also a new way to deliver solid stories to skeptical audiences there have been an influx of new mediums reaching kids and adults these days. The newest to enter the fra...

"Fast Five" 3D Version is Out
"Fast Five", the latest installment of the "Fast and the Furious" franchise, almost had a 3D version released, according to The Los Angeles Times.While the film was never meant to be in 3D format originally, they did try to take a scene from the film and...

Zorro Getting a Makeover
Zorro may be getting a makeover.According to Dark Horizons, 20th Century Fox is giving the classic story and updated look, and taking the famous swordsman out of Spanish Colonial California and putting him in an "apocalyptic wasteland" setting. The new film will be...

Schwarzenegger Looking to Make Another "Terminator" Film
Arnold Schwarzenegger is said to be shopping, along with his reps at CAA, are said to be shopping around to get another "Terminator" sequel made.According to 24 Frames, the film will be directed by "Fast Five" director Justin Lin, and produced by Robert C...
SPONSORED LINKS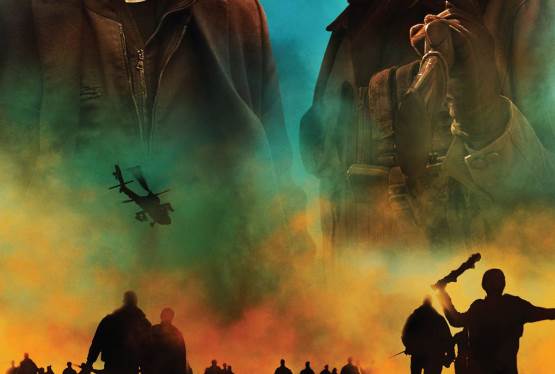 Cell
WAS: $19.99
NOW: $9.99