Entertainment News Archive
Entertainment News Before 9/13/2019

Marvel Studios Thor: Ragnarok Superpower of Stem Challenge
Disney, Marvel Studios, Dolby Laboratories, Synchrony Bank, American Association for the Advancement of Science, Broadcom MASTERS and Society for Science & the Public are pleased to present the nationwide MARVEL STUDIOS' THOR: RAGNAROK SUPERPOWER OF STEM CHALLENGE in...

Hangover Director Todd Phillips Working on Joker Origin Film
Rumors have been swirling about a possible Joker origin film being in the works. According to reports, "The Hangover" director Todd Phillips is currently in talks to direct and co-write the film. It is also said that Martin Scorcese could be involved with the...

Morgan Freeman to Receive SAG Lifetime Achievement Award
Esteemed actor Morgan Freeman has been named the 54th recipient of the SAG Life Achievement award for career achievement and humanitarian accomplishment."I am thrilled to announce Morgan Freeman as this year's recipient of the SAG Life Achievement Award. Some actors spe...

STARZ DEVELOPING A SERIES UNDER THE WORKING TITLE "BLACK SAMUR...
Starz has announced that they are developing "Black Samurai", an action-drama series with Jerry Bruckheimer. The show will star Academy Award® winner Common (John Wick 2, Suicide Squad, Selma), who will also executive produce under his Freedom Road Product...

Midnight, Texas: Hightower's Revenge
Helllloooooooo Midnighters!!!!! How is everyone? Excited for another new episode? What did we all think of the succubus? She was pretty beautiful but boy the teeth were killer! And speaking of killer, Manfred seems pretty desperate as Hightower...

The Jetsons to Become Live Action TV Series for ABC
The Jetson, the 1960s Hanna-Barbera cartoon classic, will be coming back to life. A new live-action series has been developed and has been given a pilot from ABC. The show, like the original, will be set 100 years in the future. Robert Zemeckis will be executive...

Disney Developing Obi-Wan Kenobi Film
It has been reported that Disney is currently developing an Obi-Wan Kenobi stand alone film with the hope that "Billy Elliot's" Stephen Daldry will direct. There isn't any word on who the writer will be or plot details.Disney is also currently working on a...

Universal Orlando Halloween Horror Nights Releases Scare Zone Details
Universal Orlando has released details about the scare zones that will be in place at their resort this season. Halloween Horror Nights will welcome zones based on the films Trick 'r Treat and The Purge, along with two live shows.Halloween Horror Nights begins on...

Daniel Craig Confirms His Return for Bond 25
Daniel Craig, who once said that he would "rather break this glass and slash my wrists" than reprise his role of James Bond, has officially confirmed that he will indeed be doing just that. The actor made the announcement on "The Late Show With Ste...

Anya Taylor-Joy and Robert Eggers Reunite for Nosferatu
Anya Taylor-Joy will once again be teaming up with "The Witch" director Robert Eggers. The duo will be working on an updated version of the classic film "Nosferatu." Eggers will also be writing the script.After her breakthrough performance in "...
SPONSORED LINKS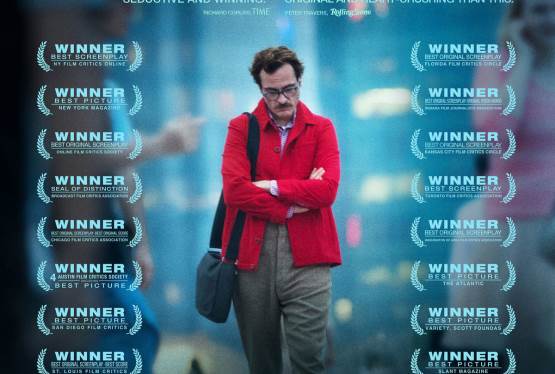 Her
WAS: $14.99
NOW: $12.99