Safe Haven Blu-ray Review
Safe Haven Is A very good film for romantics and thriller lover's alike.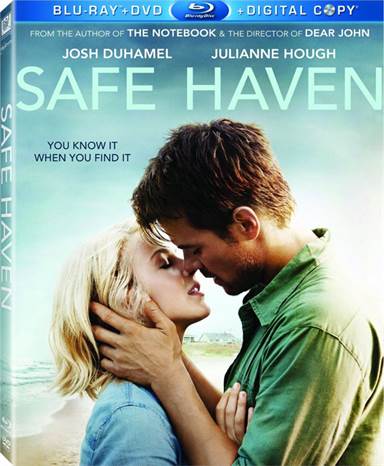 This mysterious and romantic film Safe Haven does a good job of twisting and turning through a very good script featuring stellar actors. The plot starts with action and ends in a thriller under the fine direction of Lasse Hallström who's noted for the recent Salmon Fishing in Yemen. The chemistry between actors Josh Duhamel and Julianne Hough makes the film an adult winner. Now on Blu-ray in a combo pack that includes the DVD and digital copy it's time to watch this thriller at home.

The film opens in Boston with Katie Feldman (Julianne Hough) running from her house holding a bloody knife and a bag of clothing. The story jumps to Katie trying to get to a bus station with police in pursuit. Narrowly escaping she travels south where she gets off at the small town of South Port, SC, when the bus stops for a quick break. Trying to blend into the town to make it her haven from police, she luckily gets a job at a café and meets Alex (Josh Duhamel) a recent widower with two children Josh (Noah Lomax) Lexie (Mimi Kirkland). She's able to get a cabin in a wooded area close to the village where she walks to work each day. After a while of character build-up, Alex and Katie hit it off and things start to look up for the woman on the run. When Boston cop Kevin Tierney (David Lyons) gets wind of Katie's whereabouts, things start getting dicey for all concerned.

I like the way director Hallström spools out his play based on a novel by Nicholas Sparks (The Notebook) with deliberate patience while he introduces his romance. Putting Katie into a safe 'nest' with a strong local who has a vacancy in his life would feel a little sappy, but Hallstrom doesn't make it that way. He works his magic getting his audience in a position to accept the situation by adding Alex's children as magnets to reel Katie in. He cunningly adds characters in key scenes to keep the audience guessing as to the mystery as it gets more complicated until we find out Katie's motive for fleeing Boston. The twisty little jewel has enough romance and thrills for both sexes, and a little extra sensuality to boot.

The Blu-ray has several special features including:

"Igniting the Romance"- The stars, crew and director Hallstrom talk about their experience in making the film with comments about working with the famous director by the actors. Duhamel talks about his fellow performers and especially how he felt about working with the actors who played the children, Noah Lomax and Mimi Kirkland.
"Josh Duhamel's Lessons in crabbing"- a very funny goof on how Josh took all day to catch a crab.
"Set Tour of South Port"- Safe Haven novelist Nicholas Sparks goes over the locations where the film was shot and how it brought out his book under the direction of Hallstrom.
"Alternate Ending"- I did not really see much difference in both endings. (Important: Do not watch this until AFTER the movie or you will be very disappointed)
"Deleted Scenes & Extended Scenes"

In addition to the special features the Blu-ray combo pack has a DVD + Digital Copy to download the film to your media including computer and even your cell phone providing you have the proper hook ups.

The film quality with the widescreen 2.40:1 presentation played on the Blu-ray or the DVD is excellent if you do not mind the letterbox effect. Played on my 16x9 HD television the colors are vibrant, especially vistas of the small lakeside town and nearby woods. The night time fireworks were nicely displayed and the thriller attack during the finale shows up just right using some very good low light camerawork.

The sound using my audio system with either the DTS-HD Master Audio 5.1 (Blu-ray) or the Dolby Digital 5.1 surround (DVD) is crystal clear. All the dialogue is easy to hear and the special sound effects in several scenes give the film a boost.

Safe Haven has been rated PG-13 by the MPAA for thematic material involving threatening behavior, and for violence and sexuality. Be cautious when deciding to allow immature children see the film as it does have some scenes that may be inappropriate for younger tykes.

FINAL ANALYSIS: A very good film for romantics and thriller lover's alike. (B)

Purchase your copy of Safe Haven today at
Download Safe Haven from the iTunes Store in Digial HD.