Death Race Theatrical Review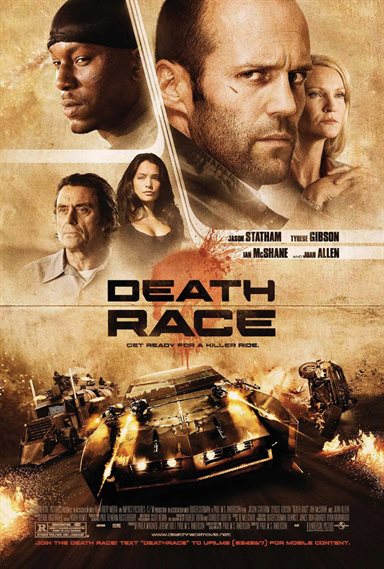 It's the end of summer, families are taking their last vacations, kids are getting ready for school, and the studios start to release the films that didn't make it into their summer schedule, such as Death Race, a remake of the 70's cult classic, Death Race 2000, starring Jason Statham (
The Bank Job
), Joan Allen (
The Bourne Supremacy
), Ian McShane (
Ku Fu Panda
), Tyrese Gibson (
Transformers
), Natalie Martinez (Saints and Sinners). Directed by Paul W.S. Anderson (
Resident Evil
).
Three-time speedway champion, Jensen Ames (Jason Statham), is framed for a gruesome murder he didn't commit. Forced to don the mask of the mythical driver, Frankenstein—a crowd favorite who seems impossible to kill—Ames is given an easy choice by Terminal Island's warden (Joan Allen): "Suit up or rot away in a cell". Driving a monster car outfitted with machine guns, flamethrowers and grenade launchers, Ames must finish the race or die trying to see his daughter again.
Going into Death Race one knows they are not going to get a Shakespearian masterpiece. This film is all flash and no substance. However, that is not necessarily a bad thing. Veteran director
Paul W. S. Anderson knows exactly the audience he is catering to (male audiences who craves pure action and adrenaline films), and gives them exactly what they want. From the scantly clad navigator women drivers, to the tough as nails men who either are unstoppable, or are just so bad they have horrific death scenes.
The cast plays their parts to perfection. Even though each role is cookie-cutter, the actors and actresses add their special touches to their performances to make you root for the hero, and wish that hell would reign down on the villains.
The sets, special effects, and atmosphere is exactly what one expects from Paul W. S. Anderson – glossy, large explosions, and the feel like you are in the middle of a large scale video game.
The only true fault found with this film appears to be it's running time. The story while moving along at a feverish pace, moves a bit too fast, and one can only hope that a director's cut Blu-ray is in the works with a longer run time.
If you are in the mood for a serious or epic film, then Death Race is not for you. However, if you are in the mood for mindless fun and need a quick hour and half break from the real world, then the film succeeds on every level possible.
Purchase your copy of Death Race today at
Download Death Race from the iTunes Store in Digial HD.
About Nathan M Rose
comments powered by

Disqus
Today's iTunes Digital HD Deals