Furious 7 Theatrical Review
By Allison Skornick-Rose,
Apr 03, 2015 09:03 AM EST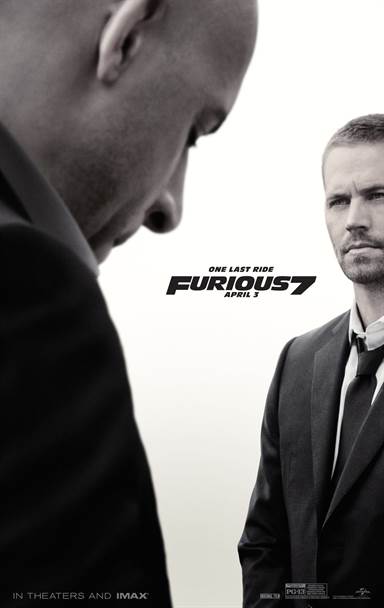 Furious 7 is everything you would expect from the Fast and Furious franchise and so much more. Once again "the family" needs to pull together to fight against others who want to harm them. Interestingly, this time there are two menaces instead of one and a "world domination" pseudo plot is woven into the mix.

In the latest installment, Dom (Vin Diesel; Riddick), Brian(Paul Walker; Running Scared) and the rest of the group are being hunted by a former British "special ops" agent who is the older brother of Shaw; the antagonist from the last film. In his quest for revenge, Deckard Shaw (Jason Statham; The Transporter) does his best to try and kill them all before they can find and kill him, which is where the sub plot factors in.

Dom is recruited by a secret military team to find a hacker named Ramsey (Nathalie Emmanuel; Game of Thrones) who has built a tracking device that can track anyone anywhere in the world. The leader of the team tells Dom if he can find Ramsey and the device, he can use it to hunt Shaw. In rescuing Ramsey, the family angers the hacker's captor which leads them to be hunted by two powerful individuals instead of one.

One of the reasons this franchise works is because of the cast. While there aren't any standouts among the "family", they gel so well together and the chemistry is terrific that you can't not enjoy watching them verbally play off one another. Statham is a great addition playing the stone faced, calm, cool, evil guy that, while we have seen from him in the past, still works. Emmanuel blends into the veteran crew seamlessly. The weak link among the group, for me, is Michelle Rodriguez (Resident Evil, Avatar) as Letty. It may just be reviewer's Bias but I simply don't like her that much and I don't see the chemistry between her and Diesel.

New to the franchise is Director James Wan (Saw). He does a great job keeping the frenetic pace of this film going for over two hours. I rarely felt the film dragging and was engaged for most of the movie. I give him credit for certainly showcasing the cars and the stunning visual effects of the cars (falling out of an airplane, jumping between high rise towers) are breathtaking.

One of my few complaints was that sometimes his use of camera angles and 360 movements could make the view feel a little seasick. It created something different but also made me nauseous. My other complaint was, as a middle aged heterosexual woman, I could do without so many ass shots. Granted I know I wasn't the target audience but after a while I just felt enough was enough.

The overall plot of the film was interesting but some of the stunts were too over the top for me and took away from the believability of the movie. A few times I caught myself thinking, "Give me a break".

Of course one of the gems of this film is the touching tribute to Paul walker at the end. His death was tragic and, in the wrong hands, the memorial could have been cheesy or inadequate. Wan found the perfect way to wrap up Brian's storyline and to remember Paul beautifully. It honored his work in the franchise as well as his real life friendship with Diesel. Bravo, Mr. Wan.

Furious 7 is an entertaining film that, for me, was better than Fast and Furious 6. It engaged me and kept my attention. It had great action scenes and some mind-blowing stunts. It was funny. It had heart that warmed my soul and cause me to shed a few tears. It was entertaining even at 137 minutes long.

Go see it. You won't be sorry. A-
Purchase your copy of Furious 7 today at
Download Furious 7 from the iTunes Store in Digial HD.
MPAA Rating:
PG-13
Running Time:
137 minutes
Distributed By:
Universal Pictures
For more information about Furious 7 visit the FlickDirect Movie Database.
About Allison Skornick-Rose