From Paris With Love Theatrical Review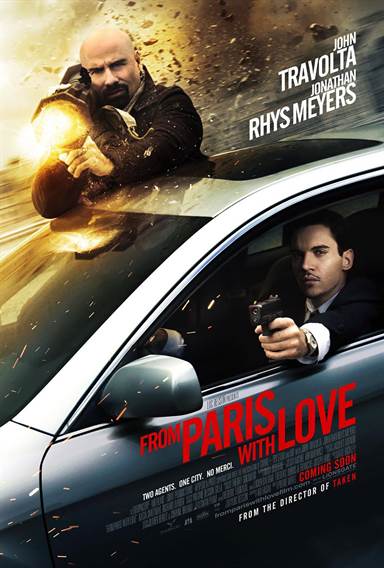 It is that time of year again when the studios drop all of their films that they feel will not make it during the competitive box office seasons of spring, summer or fall. However, once in a while a film comes along that catches everyone off guard and provides the movie-going experience that patrons expect, such is the case with
Pierre Morel
(Taken), latest film, From Paris With Love.
A low-ranking, intelligence operative (Jonathan Rhys Meyers) working in the office of the U.S. Ambassador in France takes on more than he bargained for when he partners with a wisecracking, fast-shooting, high-ranking U.S. agent (John Travolta) who has been sent to Paris to stop a terrorist attack.
These days, most directors and studios feel that a simple, fun, adrenaline- pumping, action movie with just enough story to hold the plot together form action-set to action-set is not enough to green light a film. However, Producer Luc Besson's (The Professional, Fifth Element) and Director Pierre Morel seem to know exactly what an audience does want, and that is entertainment.
As usual, John Travolta is at the top of his game providing a over the top performance as Charlie Wax that is simply amazing. It is simply his best action performance since Face/Off and Broken Arrow. Travolta states he had a fun time playing this role, and it definitely showed through on the film.
Travolta shares most of the screen time with the up-and-coming, Irish-born actor, Jonathan Rhys Meyers. His stoic performance as James Reece perfectly compliments the crazy antics of Travolta.
Director Pierre Morel is at the top of his game, taking what he learned on "Taken" to the next level -- providing over the top action that is simply amazing. He truly has a sense of what makes a good action film and applies those skills masterfully. If there is a director to watch this decade, Pierre Morel is the one.
If you are looking for a fun ride for 90 minutes, or if you are jut tired of Pocahontas in Space (aka Avatar) , then From Paris With Love is the perfect film for you!
Purchase your copy of From Paris With Love today at
Download From Paris With Love from the iTunes Store in Digial HD.
About Nathan M Rose
comments powered by

Disqus
Today's iTunes Digital HD Deals