The American Theatrical Review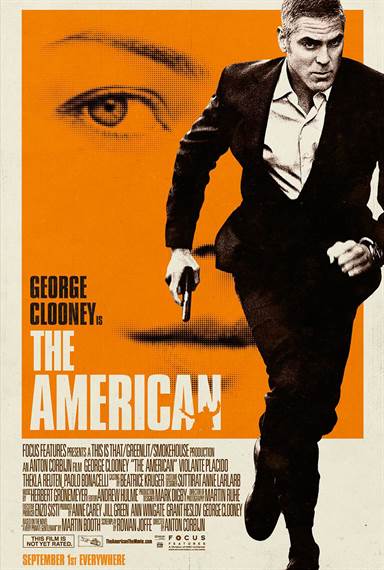 It's fairly typical of Hollywood that once a certain genre of movie catches on we will begin to see similar types being pumped out over the next few years. At the moment we have the "assassin trained in every way possible" character. One of the first movies to really deliver in this area was The Bourne Identity in which a would-be killer tries the figure the mystery of who he is. That movie succeeded on many levels. After that we got an influx of other Hollywood waste, i.e. The Shooter. Our latest foray is called The American starring George Clooney about a lone assassin who hides out in Italy before doing one last mission.

The movie starts out interestingly enough, we watch as Jack (Clooney) is working out in the middle of snowy Sweden. What the director does here is provide very little background noise for the audience to take in. All we are privy to is the wind blowing across the tundra and the sounds of Jack's weapon discharging. For a moment we understand a bit what it would be like to have to work in a profession where stealth is an absolute must. After this unfortunately the movie takes a turn for the slow. Jack is instructed by his boss to lay low for a while so naturally Jack ends up in one of those towns that anyone who is looking to get lost can find. The movie wants to come off as an action movie but it doesn't deliver. What we end up with is Clooney spending a lot of time on his own exercising, walking, sitting at coffee shops and looking over his shoulder.

True, if you were an assassin you would probably spend most of your time doing those things, but again, this movie is trying to fit that niche of tense action and it never does. George Clooney is a good actor; some of his movies really show off his charm and excellent way with dialogue. This movie doesn't do any of that. If you're looking for a fun, edge-of-the-seat action movie then go watch Taken for the millionth time, you'll have more fun and won't have wasted $11.50.

Purchase your copy of The American today at
Download The American from the iTunes Store in Digial HD.