The Hangover Part II Theatrical Review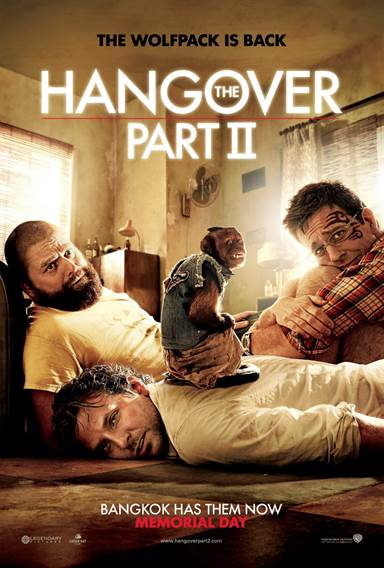 'Holdover Part II' is more like it because The Hangover Part II should be in movie theaters for a very long time. The hilarious comedy uses the same formula as in the original that got the filmmaker an amazing box office return. The writers, cast and crew did an amazing job of bringing one of the funniest movies of the year to the screen. IT'S NOT FOR KIDS.
Stu's about to get married to the lovely Flora a Thailand sweetheart. The bride wants her wedding to be held in her home country where her parents live. With all the wedding plans complete Stu gets on a plane with his best friends Phil, Alan and Doug for the journey to the beautiful land to meet Flora's family for the first time. Flora's parents welcome Stu but he also receives the comment that he's not 'good enough' for daddy's little girl. Bummed out, the guys and Flora's young brother Teddy, take Stu to Bangkok for one last fling.
Crystal, Zach Galifianakis, Bradley Cooper and Ed Helms in THE HANGOVER Part II
The original formula works well here, it's the morning after and we find Stu, Phil and Alan hung over and not remembering the night before. It gets very hilarious from here on out with a missing Teddy, an elderly monk in a wheelchair, a drug peddling monkey and Mr. Chow, the weird oriental from the previous film, all becoming the clues within the bizarre search around Bangkok.
Acting, directing, story and cinematography are on point with the comedy. The returning cast puts on a great show under the able direction of writer/director Todd Phillips. Phillips packages the film nicely and like in the first Hangover executes some wild twists and turns that when you think it's all figured out, throws another fly in the ointment. Never missing a beat, the story flows nicely, comedy sharp and the ending (well you will just have to see that for yourself.)
As I stated in the first paragraph this movie is not for kids, but mature adults. The Hangover Part II is rated R for pervasive language, strong sexual content including graphic nudity, drug use and brief violent images. Warning: The film gets so raunchy at times even a sailor would blush and most of the sexual content is not always socially acceptable. After all it's just a movie, right?
Purchase your copy of The Hangover Part II today at
Download The Hangover Part II from the iTunes Store in Digial HD.
About John Delia
comments powered by

Disqus
Today's iTunes Digital HD Deals