The Thing Theatrical Review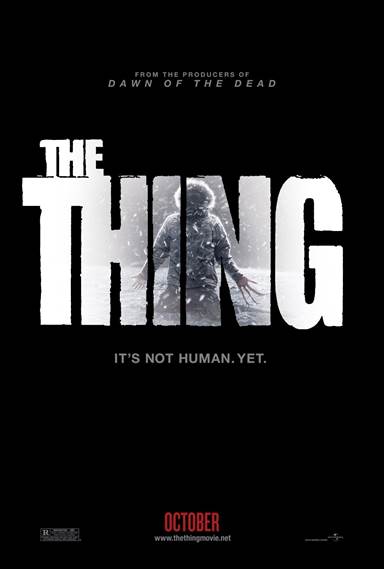 Fans of the film The Thing beware; even though the movie takes you back to the Norwegian outpost providing a beginning to John Carpenter's 1982 film with the same title, it may as well have been a remake. Those that have never seen Carpenter's masterpiece however, will get all the chills and thrills of the original. For fun, why not rent the 1982 horror flick AFTER you see this release for a comparison of alien shape shifting.
A Norwegian snow tractor falls into an abyss in Antarctica and the crew discover an alien frozen in the ice. The mining team moves the creature to their outpost where an American Paleontologist, Kate Lloyd (Mary Elizabeth Winstead) has been flown in to identify their find. A specimen is taken from the now thawing alien and Kate discovers that its cells are replicating those of a human. When members of the mining team start getting attacked, the horror begins.
The 2011 script delivers some new experiences; how the alien may have arrived on Earth, its original form and a way to identify humans from alien made replicas. Beyond that there's nothing more than the same violence, similar shape changes, firefights and ghastly results of vicious attacks.
First time director Matthijs Van Heijningen does his best to make his film better than the classic, but fails miserably. For those that know the extremely suspenseful 1982 iconic scare fest, this one will not have that gripping expectation. Of course due to some extra special computer graphics that weren't available back in the day, we do get treated to an even more ghastly experience. It's hard to remake a classic, but even though the filmmakers will call it a prequel, no dice.
That said, I do recommend the film highly for those who have not seen the original as this shock flick has some nicely placed scare scenes. The mixture of human and alien bodies dart about, shoot out spiked tentacles, have huge teeth…well you get the idea. Guys it's a great flick to take a date, but make sure she doesn't have long finger nails or you'll have to wear long sleeves for a week.
The Thing is rated R for strong creature violence and gore, disturbing images, and language. If your X-Box playing pre-teen has already been playing M rated alien infested games, he should be grabbing at your arm to take him to see the film, but it's not suggested he attend alone.
FINAL ANALYSIS: Terror at it's best for THE THING newbie's (B), veterans (C)
Purchase your copy of The Thing today at
Download The Thing from the iTunes Store in Digial HD.