Wanted Theatrical Review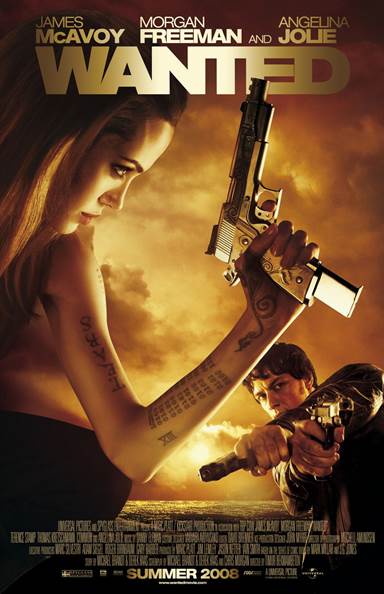 Once in a while, there are movies that break the mold of your typical action genre and define the next few years of action films. In the 1980's, it was Die Hard; in the 1990's, it was the Matrix; in the new millennium, it is Wanted (well I thought it was).
Wanted is based upon Mark Millar's explosive graphic novel series and helmed by stunning visualist director, Timur Bekmambetov -- creator of the most successful Russian film franchise in history, the Night Watch series. Wanted tells the tale of one apathetic nobody's transformation into an unparalleled enforcer of justice. Stars include James McAvoy, Morgan Freeman, Angelina Jolie, Common, Thomas Kretschmann, and Terrance Stamp.
Twenty-five-year-old Wes (James McAvoy) was the most disaffected, cube-dwelling drone the planet had ever known - until he met a woman named Fox (Angelina Jolie). After his estranged father is murdered, the deadly and sexy Fox recruits Wes into the Fraternity, a secret society that trains Wes to avenge his dad's death by unlocking his dormant powers. Wes grows to enjoy all the strength he ever wanted. But, slowly, he begins to realize there is more to his dangerous associates than meets the eye. Wes will come to learn what no one could ever teach him: he alone controls his destiny.
In this day and age action/science fiction genre movies are relatively common and follow the same exact formula. By bringing in Timur Bekmambetov and boldly making a bloody and intense R Rated action movie, Universal Pictures hoped to break the mold. Unfortunately, it just turns out to be a combination of movies we have seen before (Matrix,
Fight Club
, and Office Space).
The script, written by Michael Brandt, Derek Haas, Chris Morgan, is extremely edgy and fits very well with Timur Bekmambetov's dark directional style.
Wanted's cast has its share of hits and misses. The primary characters of Wes (James McAvory), and Fox (Angelina Jolie) are played superbly, along with the rest of the supporting cast. However, Academy Award winner, Morgan Freeman, seems to just be reciting his lines and not really making the audience believe he is the head of a fraternity of assassins.
All in all, Wanted is a good summer ride. Even though it did not live up to expectations, it was still a breath of fresh air from the normal Hollywood action film that goes by a carefully planned recipe.
Purchase your copy of Wanted today at
Download Wanted from the iTunes Store in Digial HD.
About Nathan M Rose
comments powered by

Disqus
Today's iTunes Digital HD Deals