Doctor Sleep (2019)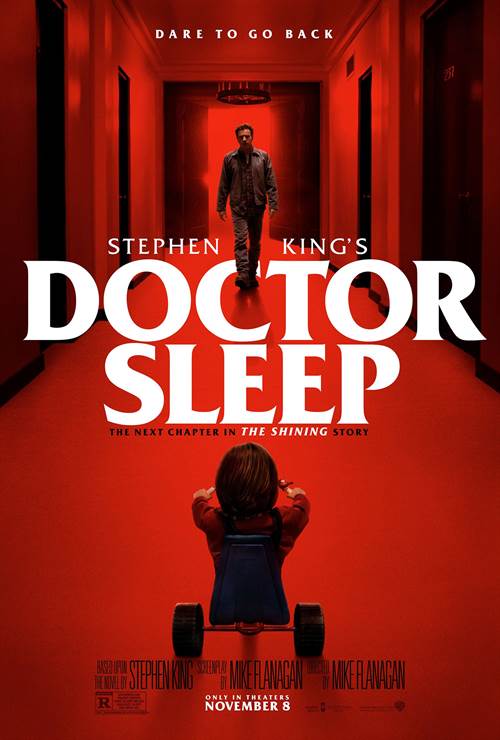 Share this:
| | |
| --- | --- |
| Director: | |
| Writers: | |
| Cast: | |
| Released: | Friday, November 8, 2019 |
| Length: | 151 minutes |
| Studio: | Warner Bros. |
| Genre: | Horror |
| Rating: | Under 17 requires accompanying parent or adult guardian. |
Synopsis
"Doctor Sleep" continues the story of Danny Torrance, 40 years after his terrifying stay at the Overlook Hotel in The Shining. Ewan McGregor, Rebecca Ferguson and newcomer Kyliegh Curran star in the supernatural thriller, directed by Mike Flanagan, from his own screenplay based upon the novel by Stephen King.

Still irrevocably scarred by the trauma he endured as a child at the Overlook, Dan Torrance has fought to find some semblance of peace. But that peace is shattered when he encounters Abra, a courageous teenager with her own powerful extrasensory gift, known as the "shine." Instinctively recognizing that Dan shares her power, Abra has sought him out, desperate for his help against the merciless Rose the Hat and her followers, The True Knot, who feed off the shine of innocents in their quest for immortality.

Forming an unlikely alliance, Dan and Abra engage in a brutal life-or-death battle with Rose. Abra's innocence and fearless embrace of her shine compel Dan to call upon his own powers as never before—at once facing his fears and reawakening the ghosts of the past.

"Doctor Sleep" stars Ewan McGregor ("Star Wars: Episodes I, II & III," "T2 Trainspotting") as Dan Torrance, Rebecca Ferguson (the "Mission: Impossible" films, "The Greatest Showman") as Rose the Hat, and Kyliegh Curran, in her major feature film debut, as Abra. The main ensemble cast also includes Carl Lumbly, Zahn McClarnon, Emily Alyn Lind, Bruce Greenwood, Jocelin Donahue, Alex Essoe and Cliff Curtis.

Trevor Macy and Jon Berg produced the film, with Roy Lee, Scott Lumpkin, Akiva Goldsman and Kevin McCormick serving as executive producers.

Flanagan's behind-the-scene creative team was led by director of photography Michael Fimognari ("The Haunting of Hill House"), production designers Maher Ahmad ("Get Hard") and Elizabeth Boller ("Hush"), and costume designer Terry Anderson ("Den of Thieves"). The music score is composed by The Newton Brothers ("The Haunting of Hill House").

Warner Bros. Pictures presents, An Intrepid Pictures/Vertigo Entertainment Production, A Mike Flanagan Film, "Doctor Sleep." Slated for release in North America on November 8, 2019, and globally beginning on October 30, 2019, "Doctor Sleep" will be distributed worldwide by Warner Bros. Pictures.

Purchase DVD/Blu-ray/4K UHD physical copy of Doctor Sleep today at Amazon.com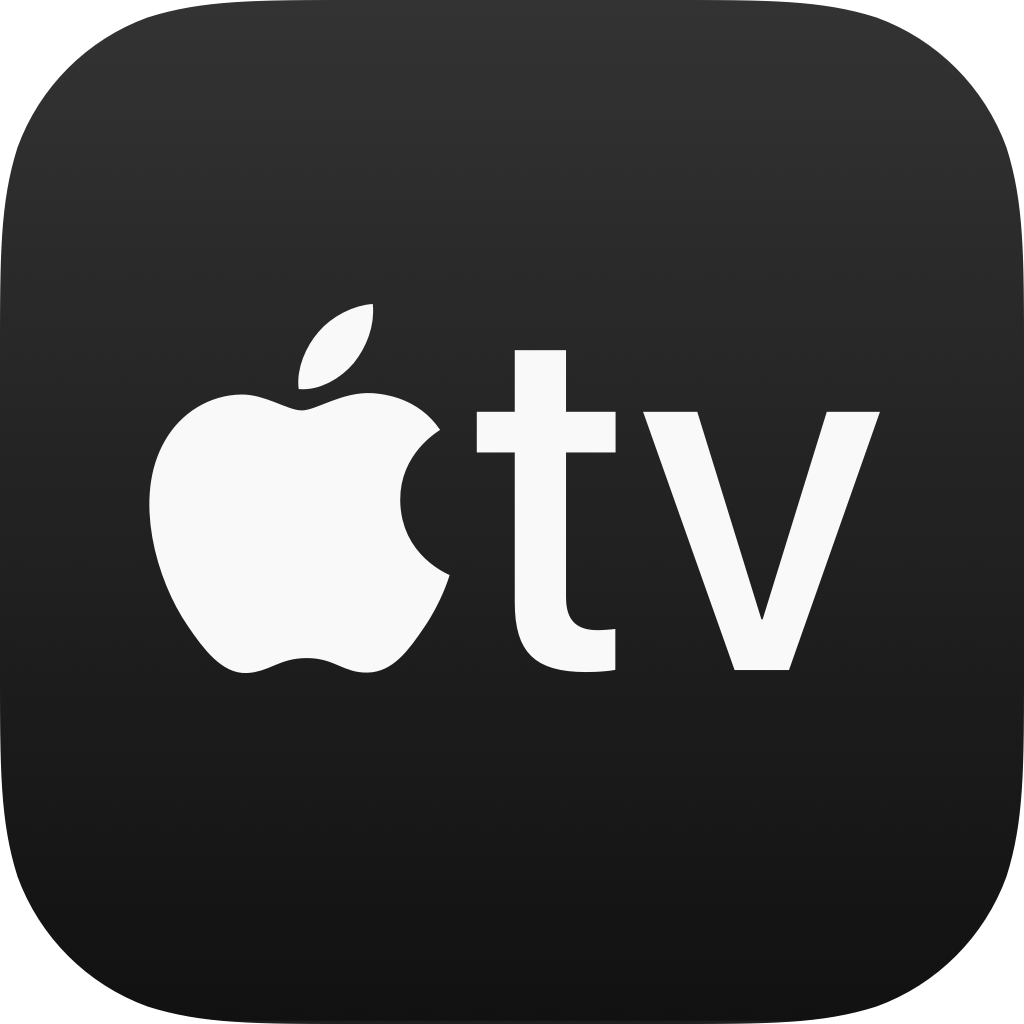 Download Doctor Sleep in Digital HD/4K from the iTunes store.
Listen to the Doctor Sleep soundtrack on Apple Music.
Doctor Sleep images are © Warner Bros.. All Rights Reserved.
Ewan McGregor To Play Doctor Sleep's Danny Torrance
6/14/2018 11:01 AM EST
It looks like old Obi-Wan himself (Ewan McGregor) will take on the role of Danny Torrance in Doctor Sleep. The film is a continuation of the storyline from Stephen King's The Shining.In the film, we will see Danny, now in his 40s, struggling with alcoholism like his father, as well as the trauma from the Overlook Hotel. Once he sobers up, his "shining" powers come back to him and uses his gift to ...
More>>
Mike Flanagan to Direct Doctor Sleep
1/26/2018 5:11 PM EST
Mike Flanagan has been chosen to direct the upcoming sequel to Stephen King's "The Shining". The film, titled "Doctor Sleep" will be based on the 2013 novel.  "Doctor Sleep" follows the story of Torrance dealing with the traumatic events of his time spent at Overlook Hotel as a child. As a recovering alcoholic, his "shining" powers come through, and he uses this ability to help those dying in hosp...
More>>
Doctor Sleep Theatrical Review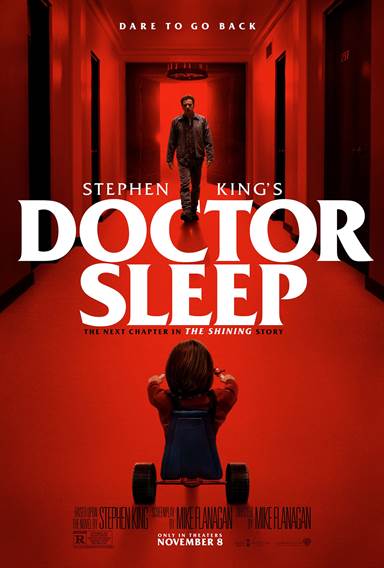 If you are a fan of dark, disturbing and twisted stories then you undoubtedly are a fan of author Stephen King. With best-selling books like Pet Sematary, Carrie, It, Cujo, Misery, etc. he has etched his permanent place in literary society for generations to come. With so many of his novels having been adapted into movies, he has also created a catalog of truly scary and warped films.
Perhaps one of the best movies made from one of his novels was 1983's
The Shining.
Under the eye of the brilliant director Stanley Kubrick (A Clockwork Orange
),
the movie became a classic known for its unsettling images, exceptional performances and haunting soundtrack. Thirty-six years later, King's sequel to The Shining novel, titled
Doctor Sleep
, has been adapted into a major motion picture that is set to be released in early November of this year.
At the end of the Shining, Jack Torrance dies as Danny (played by Ewan McGregor; Moulin Rouge!) and his mother, Wendy (Shelley Duvall; Popeye), take the snowcat and drive away from the overlook hotel. Thirty-plus years later, Danny is a drifter and an alcoholic who ends up in New Hampshire. There he gets and stays sober for a number of years. Suddenly, he starts getting contacted by a little girl named Abra (Kyliegh Curran; I can, I will, I did) who also has the same powers that Danny does…"The Shining".
As Abra and Danny grow closer she witnesses a young boy, who also has "the shine" being kidnapped and murdered by The True Knot, a group of semi-immortal beings who feed of the "steam" (think aura) of those who shine. Their leader, Rose the Hat (Rebecca Ferguson; The Greatest Showman) sees Abra, is in awe of her immense power and decides she wants to have Abra so Rose can drain her steam. As Rose and her group get closer Danny, Abra, and Abra's father must lay a trap for them which gets most of them killed. Seeking revenge and still desiring Abra's steam, Rose follows Danny and Abra to the overlook hotel for a final showdown with the powerful semi-immortal.
McGregor always gives a wonderful performance whether he is a song and dance man or if, in this case, he is a tortured and broken man trying to outrun his past. He is a terrific choice to play the adult Danny. Ferguson is good as Rose, the leader of a band of supernatural gypsies who are little more than kidnappers and murderers. Curran, however, "shines" (pun intended) as the young girl with great power who doesn't seem to fear it but rather embraces her talent.
Supporting cast members Carl Lumbly (Alias), Emily Alyn Lind (Revenge), Cliff Curtis (Whale Rider) and Zahn McClarnon (Longmire) all add to the film with solid and memorable performances.
If one goes into the movie with high expectations and determined to compare it to The Shining, they will be terribly disappointed. First off, The Shining is a masterpiece that will be studied in film classes for generations with Kubrick as the puppet master and second, while The Shining was a psychological thriller with some horror thrown in here and there, Doctor Sleep is more of a supernatural drama.
The Shining is a masterpiece and a brilliant work that deserves its place amongst the best of the best. Doctor Sleep is somewhat entertaining and interesting but cannot, in any way, compare to its predecessor. However, fans of the novel and of the first film should definitely see this movie in order to complete the set.
Doctor Sleep has impossible shoes to fill and could never match The Shining but as a stand-alone film, it is entertaining.
Grade: C+
For more reviews please visit our film/television review section.
For today's home video review, FlickDirect's Austin Putnam reviews DOCTOR SLEEP rated, the a...

"Doctor Sleep" continues the story of Danny Torrance, 40 years after his terrifying stay at the Over...
SPONSORED LINKS