Late Night (2019)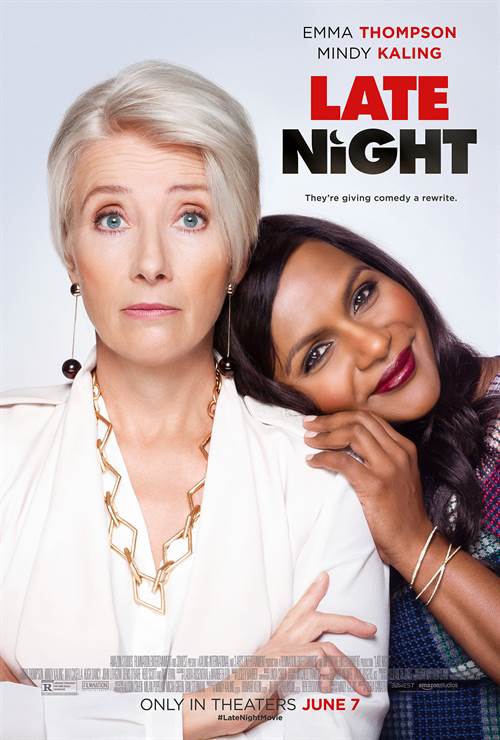 | | |
| --- | --- |
| Director: | |
| Writers: | |
| Cast: | |
| Released: | Friday, June 7, 2019 |
| Length: | 100 minutes |
| Studio: | Amazon Studios |
| Genre: | Comedy |
| Rating: | Under 17 requires accompanying parent or adult guardian. |
Synopsis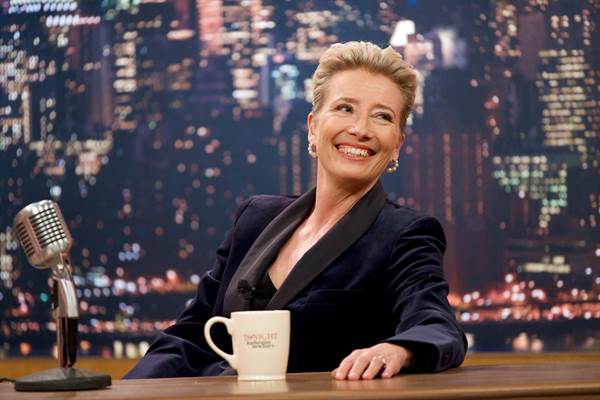 Katherine Newbury (Emma Thompson) is a pioneer and legendary host on the late-night talk-show circuit. When she's accused of being a "woman who hates women," she puts affirmative action on the to-do list, and—presto!—Molly (Mindy Kaling) is hired as the one woman in Katherine's all-male writers' room. But Molly might be too little too late, as the formidable Katherine also faces the reality of low ratings and a network that wants to replace her. Molly, wanting to prove she's not simply a diversity hire who's disrupting the comfort of the brotherhood, is determined to help Katherine by revitalizing her show and career—and possibly effect even bigger change at the same time. LATE NIGHT is in theaters June 7th.
Late Night images are © Amazon Studios. All Rights Reserved.
Late Night Theatrical Review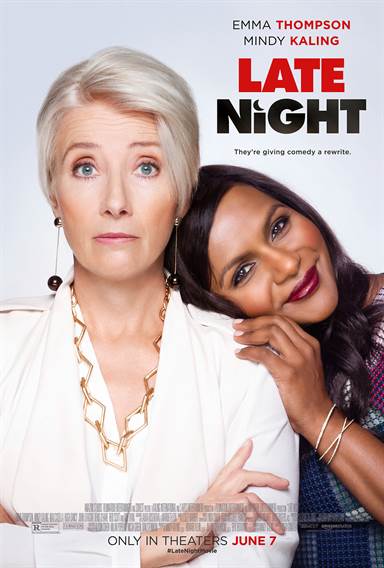 There are numerous late night talks shows out there and each one vies for viewers in the "ratings" wars. We see an engaging and enthusiastic host talking to the audience, home viewers and guests all in an effort to try to win our loyalty. However, we usually don't know what goes on behind the scenes and how hard a team of writers work to come up with ideas that are fun and keep audiences tuning in every night. We also don't know who comes up with the jokes the host tells during their opening monologue. Late Night, the new film by Mindy Kaling (The Office) offers us a fictional look inside that world.
Molly (Kaling) has always wanted to be a comedian. She kills it at the chemical plant she works at getting everyone to laugh. Katherine Newbury (Emma Thompson; Love Actually) is a middle-aged talk show host who has seen a steady decline in her ratings for the last ten years. Accused of discrimination and facing her imminent replacement she tasks her "foreman", Brad (Denis O'Hare; Dallas Buyers Club), to hire a new, funny write - a female one. Call it a case of being at the right place at the right time, he hires Molly.
Molly is instantly hated by the all-male writing staff because she is opinionated and lacks experience. Katherine also doesn't appreciate her constant frankness and bubbly personality but tolerates Molly because on some level she knows she needs her. Together the writing staff brainstorm and come up with new ways to entice viewers to increase Katherine's rating and make her relevant again. Of course, there is always a wrinkle and this one is a doozy, which threatens, not only Katherine's comeback and her marriage but the jobs of everyone who works for her.
Kaling has a way with dialogue and humor that makes Late Night enjoyable from beginning to end. She also is perfect as the always chipper and perky Molly who stands out at every turn while merely trying to fit in. Thompson is a cinematic treasure who has moved into her middle-aged years well and who commands attention every time she is on screen. With a group of talented actors making up the writing team including O'Hare, Hugh Dancy (Hannibal), Reid Scott (Veep), Max Casella (The Marvelous Mrs. Maisel), and Paul Walter Hauser (I,Tonya), Late Night offers some seriously funny men to play off Kaling and Thompson. There is also the wonderful smaller role Katherine's ill husband played beautifully by John Lithgow (3rd Rock From the Sun).
While the storyline is nothing new - aging female boss on the way out, young female colleague discriminated against and hazed by the male veterans, underdogs trying to regain their glory - the delivery is smart and inviting. Kaling's writing is humorous and relevant and Director Nisha Ganatra (Transparent) seamlessly moves the story along well with no gaps or slowdowns in the pacing. The jokes are not always politically correct but that is just a part of the story – another cast member if you will.
Kaling certainly doesn't reinvent the wheel but she addresses several topics in a fun and entertaining way that helps one swallow a rather harsh pill. Thompson and Lithgow were the right people for the job and the actors assembled to become the writing team are also good choices. Late Night is enjoyable and amusing with talent and a good script. Those can all be a lethal combination at the box office these days that translates into profits for the studios and Kaling does well enough to warrant more writing/acting projects in the future. You should go see Late Night for the entertainment factor at a minimum.
Grade: B
For more reviews please visit our film/television review section.
Katherine Newbury (Emma Thompson) is a pioneer and legendary host on the late-night talk-show circui...
SPONSORED LINKS