The Aeronauts (2019)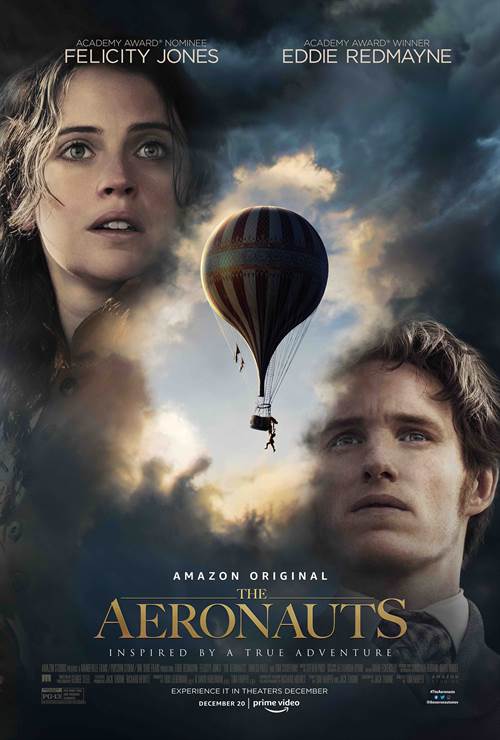 | | |
| --- | --- |
| Director: | |
| Writers: | |
| Cast: | |
| Released: | Friday, December 6, 2019 |
| Length: | 100 minutes |
| Studio: | Amazon Studios |
| Genre: | Drama |
| Rating: | Some material may be inappropriate for children under 13. |
The Aeronauts Synopsis
In 1862, daredevil balloon pilot Amelia Wren (Felicity Jones) teams up with pioneering meteorologist James Glaisher (Eddie Redmayne) to advance human knowledge of the weather and fly higher than anyone in history. While breaking records and advancing scientific discovery, their voyage to the very edge of existence helps the unlikely pair find their place in the world they have left far below them. But they face physical and emotional challenges in the thin air, as the ascent becomes a fight for survival.
The Aeronauts images are © Amazon Studios. All Rights Reserved.
The Aeronauts Theatrical Review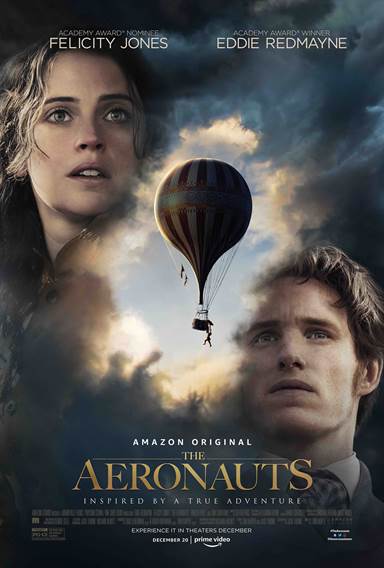 Why do human beings seem so fascinated by the sky and the stars? Long before the Wright Brothers took to the air in the early 1900s, Other experiments with flight in the form of hot air balloons. Many were experimenters or thrill-seekers but a few were scientists working to advance our understanding of what lays above us. One such person, James Glaisher (Eddie Redmayne; The Theory of Everything), believed we could study the sky to predict the weather. In Amazon Studio's latest film, The Aeronauts, they depict Glaisher's historic balloon flight to test his theories.

James Glaisher was an English scientist who chose to consider himself a meteorologist. Largely laughed at by his peers in the Royal Society, he was unable to find anyone to take him up in their hot air balloon to try his experiments on climate and weather. However, at a ball, he purposefully introduces himself to Amelia Rennes (Felicity Jones; Rogue One: A Star Wars Story), the wife of the late balloonist, Pierre Rennes (Vincent Perez; Queen of the Damned) and a talented pilot herself. He begs her to help him with his experiments and pilot a balloon higher than anyone has gone before.

She declines but then relents only to once again back out. Ultimately, though she pilots the balloon and they leave the ground to much fanfare. Once in the air, the two experience a perilous storm, beautiful, clear skies, incredible views, and freezing temperatures that almost kill them as they soared to almost 39,000 feet. Upon their quick descent to Earth, they shared their scientific discoveries and achieved a great deal of fame in the process. While their journey brought about incredible details about the atmosphere, it also proved to be a cathartic trek for Rennes and a life-changing experience for Glaisher.

Redmayne and Jones are individually strong in their performances but together they are unstoppable. They have a natural chemistry that jumps off the screen every time they get close to one another. The film is intriguing but with the two of them in the lead roles, it becomes even more interesting. This is not the first time they have worked together (The Theory of Everything) and I can't imagine that it would be the last. America had Hanks and Ryan in the 1990s and England (well the world really) has Jones and Redmayne. The supporting cast is fine overall but not terribly noteworthy in either a good or bad way.

Director Tom Harper is quickly becoming one of my favorite storytellers as he directed another one of my favorite movies of 2019 – Wild Rose. He has a wonderful way of taking a common movie theme and making it unique. He infuses each scene with heart that helps the audience invest in the lives of his characters. As you can imagine, the cinematography is incredible but one should expect no less from a film about flying a hot air balloon up to the stars.

The Aeronauts takes its audience on a wild ride and blends the correct amount of heart-pounding action and suspense with interludes of calmness and serenity. Sadly, while the story is based upon true events, history has been changed to include a female pilot instead of the real individual who soared with Glashier – Henry Coxwell. Luckily, that female happens to be Jones who has a history of excellent performances and, as I mentioned previously, her chemistry with Redmayne is part of what makes the movie so great.

I hope The Aeronauts not only achieves box office success but garners a few Oscar nominations as well. Entertaining with great acting and visuals, The Aeronauts is worth spending your time and money on.

Grade: B+
For more reviews please visit our film/television review section.
SPONSORED LINKS