Project Power (2020)
Share this:
| | |
| --- | --- |
| Director: | |
| Writers: | |
| Cast: | |
| Released: | Friday, August 14, 2020 |
| Length: | 111 minutes |
| Studio: | Netflix |
| Genre: | Sci-Fi/Fantasy, Action/Adventure |
| Rating: | Under 17 requires accompanying parent or adult guardian. |
Synopsis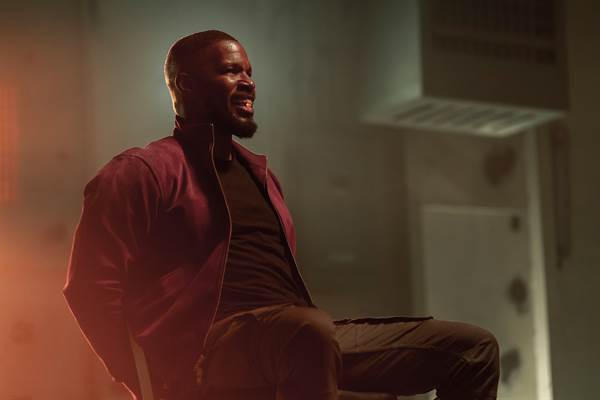 On the streets of New Orleans, word begins to spread about a mysterious new pill that unlocks superpowers unique to each user. The catch: You don't know what will happen until you take it. While some develop bulletproof skin, invisibility, and super strength, others exhibit a deadlier reaction. But when the pill escalates crime within the city to dangerous levels, a local cop (Joseph Gordon-Levitt) teams with a teenage dealer (Dominique Fishback) and a former soldier fueled by a secret vendetta (Jamie Foxx) to fight power with power and risk taking the pill in order to track down and stop the group responsible for creating it.
Project Power images are © Netflix. All Rights Reserved.
FlickDirect's Allison Rose Speaks to Joseph Gordon-Levitt and Do...
8/14/2020 9:17 AM EST
Netflix's newest release, Project Power, explores what would happen if superpowers were available to the masses, for a short period of time at least.  The film, which stars Jamie Foxx (Ray), Joseph Gordon-Levitt (Snowden), and Dominique Fishback (The Hate U Give), will premiere on the streaming channel on August 14, 2020.  Earlier this week I spoke to Gordon-Levitt and Fishback about their charact...
More>>
Project Power Review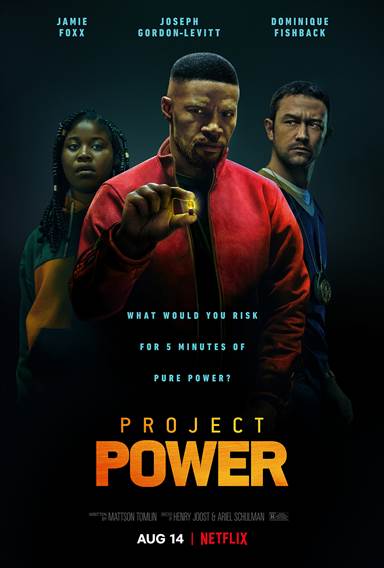 Superheroes are (usually) the non-human, good guys with extraordinary powers who swoop in and save the day – hence the "heroes" part. Unless, of course, you are Batman, who happens to be a very wealthy man with deep-rooted psychological issues stemming from his parents' murders when he was younger. But what if any ordinary person could take a pill and gain some random superpower for a short period of time? It would be a game-changer in the world of crime because let's face it…not too many people would use the power to do good things. Project Power, starring Jamie Foxx (Ray), Joseph Gordon-Levitt (Looper), and Dominique Fishback (The Hate U Give), is Netflix's version of what that kind of mayhem would look like.
Robin (Fishback) is a high school senior who dreams of a rap career and who sells an illegal substance known as "power" to help pay for her mother's medications. Frank (Gordon-Levitt) is the NOPD detective who works in conjunction with Robin as she supplies him with power so he can level the playing field against the new breed of criminals taking the drug. However, when Frank's Captain, Crane (Courtney B. Vance; Space Cowboys), sees him with superpowers he demands Frank resign. When Frank argues Crane gives him one chance by telling Frank to capture "The Major" (Foxx) as The Major is the one supplying the pills.
Meanwhile, The Major takes Robin hostage in order to find out who has been supplying the pills, as it isn't him. His reasons though are personal, as the distributors have his only family. He convinces Robin and then Frank that he isn't the supplier and the three of them devise a plan to stop the real distributors and save The Major's family. Of course, trying to beat a practical army of superheroes with an unlimited supply of Power isn't all that easy.
Netflix is known for quality productions and Project Power is no exception. The high definition video quality is excellent. The clarity is sharp and clean and beautifully highlights the special effects work. The audio is comparable with gunshots and explosions blasting from the surround speakers. Director Jon Mann's first feature film is well done with an especially exciting fight scene shot from the perspective inside a plexiglass dome. The visuals that one scene offers will have college students studying in film classes for years to come.
The cast is another aspect of this film where great care was taken. The three main actors, Foxx, Gordon-Levitt, and Fishback, have great chemistry which makes their relationships seem believable. Fishback is extremely talented, especially with rapping/spoken word poetry. Gordon-Levitt is always terrific, and he and Foxx have a connection that can't be faked. Foxx was a great choice to play Art "The Major" as he exudes anger on the surface but has a soft, vulnerable underbelly. The supporting cast including Vance and Colson Baker, a.k.a Machine Gun Kelly allows the stars to shine but make their presence on screen know as well.
The concept is interesting and somewhat fresh and the script is well written. The only drawback to Project Power is the third act. It seems like a separate story and doesn't live up to the intrigue and suspense built up as the story unfolds in acts one and two. After a strong beginning and an easy flow throughout, act three is a bit of a letdown, unfortunately. Despite that, I would love to delve deeper into these characters and the origins of the pills, opening up the door for a possible sequel.
Project Power premieres on Netflix on Friday, August 14, 2020, so be sure to check it out.
Grade: B

For more reviews please visit our film/television review section.
On the streets of New Orleans, word begins to spread about a mysterious new pill that unlocks superp...
SPONSORED LINKS