Mank (2020)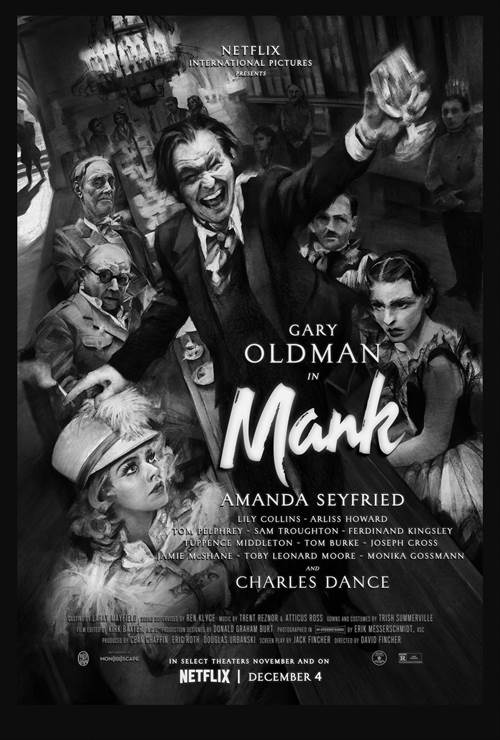 Share this:
| | |
| --- | --- |
| Director: | |
| Writers: | |
| Cast: | |
| Released: | Friday, December 4, 2020 |
| Length: | 131 minutes |
| Studio: | Netflix |
| Genre: | Drama |
| Rating: | Under 17 requires accompanying parent or adult guardian. |
Synopsis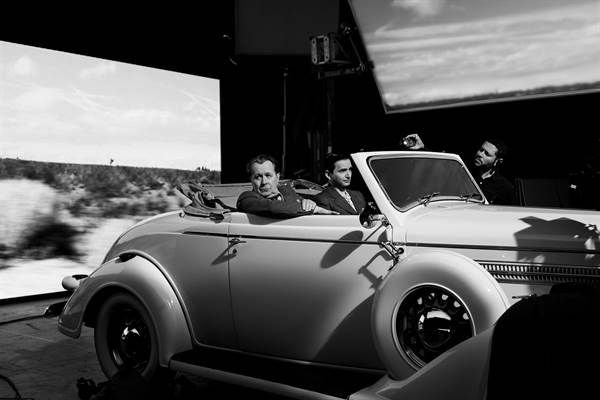 Director David Fincher's black-and-white period drama MANK is the behind-the-scenes story of how screenwriter Herman J. "Mank" Mankiewicz (Gary Oldman) collaborated with wunderkind filmmaker Orson Welles (Tom Burke) to write the first draft of the Citizen Kane screenplay. Welles, via friend/frequent collaborator John Houseman (Sam Troughton), set up Mank -- who was recovering from injuries sustained in a car accident -- in a country home with a personal typist (Lily Collins) and a nurse. Mank is given a couple of months to turn in a draft; he draws inspiration from recollections of his career working for MGM, as well as his friendship with newspaper magnate William Randolph Hearst (Charles Dance) and Hearst's girlfriend, actress Marion Davies (Amanda Seyfried). Based on a screenplay by the director's late father, Jack Fincher, this is an "inside Hollywood" drama that pays tribute to a gifted, if haunted and substance-dependent, writer.
Listen to the Mank soundtrack on Apple Music.
Mank images are © Netflix. All Rights Reserved.
Mank Review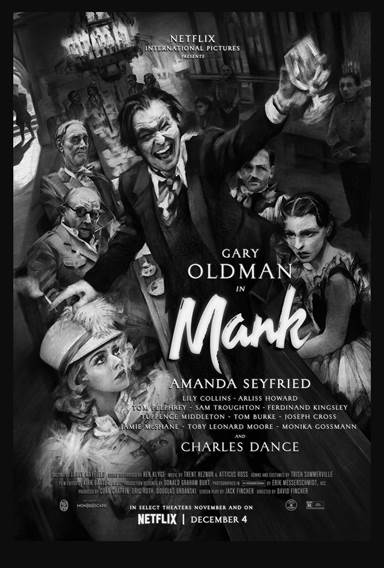 Citizen Kane is arguably one of the best movies ever made. Released in 1941, it was a critical success and has gone on to be included on a number of "the best films of all time" lists. As Orson Welles' feature film directorial debut, Citizen Kane was nominated for nine Academy Awards but won only one of the nine, best original screenplay. Of course, the movie was not without controversy, as Herman J. "Mank" Mankiewicz, claimed to have written the story while Welles took the credit. One of Netflix's November/December releases, aptly entitled, Mank, looks at the time in Mankiewicz's life as he wrote the script and then attempted to get the film made.
After having been in a horrible car accident, Mank (Gary Oldman; Darkest Hour) was laid up in bed when he was given a limited time frame to write a new script. For the first several weeks, he barely wrote anything causing his associates, including Orson Welles (Tom Burke; The Souvenir) to worry. A young assistant, Rita Alexander (Lilly Collins; Love, Rosie), was hired as Mank's secretary so he could dictate his thoughts and she could transcribe them. However, Mank's drinking was a sore subject and at one point she threatened to quit.
As Mank's deadline was drawing close, his lack of production worried those around him, but he managed to finish Citizen Kane on time. The script, however brilliant it was, became a concern for Hollywood, as it was obvious to most that the subject was publishing tycoon, William Randolph Hearst (Charles Dance; Game of Thrones). Hearst's mistress, Marion Davies (Amanda Seyfried; Mamma Mia!), had a friendly relationship with Mank and suggested he not make the film as it put Hearst in an unflattering light. Orson Welles, who took credit for writing the script, made the movie anyway. Back in the 1940's scriptwriters were often uncredited but Mank fought for credit for Citizen Kane and eventually was listed as a co-author, along with Welles.
Mank was the brainchild of Jack Fincher, who wrote the script back in the 1990s with the intention of his son, David (The Social Network), directing it. Unfortunately, as often happens in the movie business, the project stalled and would wait until 2019 (sixteen years after Jack's death) to be made. David's directorial style is evident throughout the movie, while still playing up to the Hollywood feel of filmmaking in the 1940s.
One of the best things about Mank is the cast, especially Oldman and Seyfried. Oldman is a chameleon, who can transform himself into a character, regardless if it is a fictitious magical entity or a real person from history. Seyfried proves herself to be a worthy match to Oldman and, despite a twenty-seven-year age gap, they have friendly chemistry on screen, making the relationship between Mankiewicz and Davies believable. Collins also doesn't get swallowed up by Oldman's performance but instead compliments him nicely, allowing both actors to shine in the scenes they share. Dance, Burke and Arliss Howard (Full Metal Jacket) as Louis B. Mayer offer solid performances as supporting cast members.
Mank starts off slowly and pretty much stays at a steady pace throughout. The writing is excellent and reminds me of an Aaron Sorkin (The West Wing) script, with intelligent and poignant monologues spouted by Oldman throughout the movie. The recreation of 1930'3/40's Hollywood is impressive and sets the ambiance perfectly.
Herman J. Mankiewicz contributed to/wrote numerous movie scripts during the 1920's/30's and '40s but, as was the practice in those days, didn't receive the credit he deserved for his brilliance. Luckily, Jack and David Fincher felt Mank's story of writing Citizen Kane and the controversy following the film was worthy of being told. It helps when the Director and the cast are some of the best in their fields.
Grade: B+
For more reviews please visit our film/television review section.
Director David Fincher's black-and-white period drama MANK is the behind-the-scenes story of how scr...

For today's movie review, FlickDirect's Austin Putnam reviews David Fincher's latest, MA...
SPONSORED LINKS