The Marksman (2021)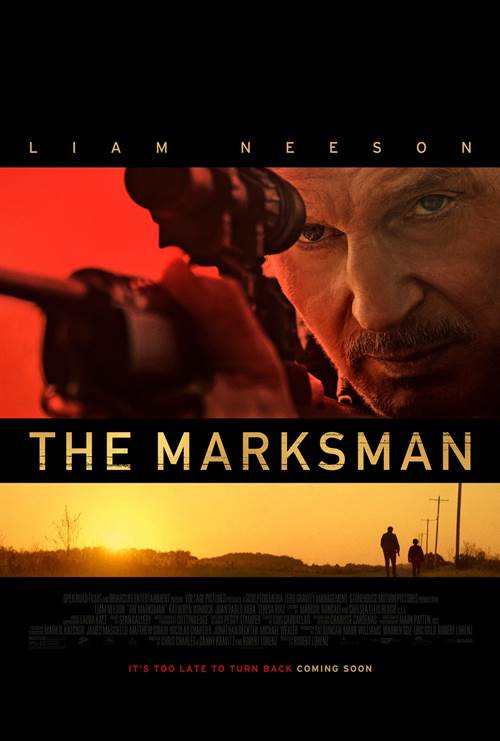 Share this:
| | |
| --- | --- |
| Director: | |
| Writers: | |
| Cast: | |
| Released: | Friday, January 15, 2021 |
| Length: | 108 minutes |
| Studio: | Briarcliff Entertainment |
| Genre: | Action/Adventure |
| Rating: | Some material may be inappropriate for children under 13. |
Synopsis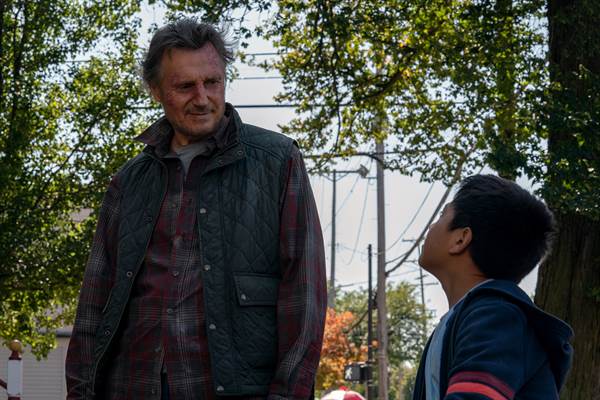 Hardened Arizona rancher Jim Hanson (Liam Neeson) simply wants to be left alone as he fends off eviction notices and tries to make a living on an isolated stretch of the borderland. But everything changes when Hanson, an ex-Marine, witnesses 11-year-old migrant Miguel (Jacob Perez) fleeing with his mother Rosa (Teresa Ruiz) from drug cartel assassins led by the ruthless Mauricio (Juan Pablo Raba). After being caught in a shoot-out, an injured Rosa begs Jim to take her son to safety to her family in Chicago. Defying his step-daughter Sarah (Katheryn Winnick), Jim sneaks Miguel out of the local U.S. Customs and Border Patrol station and together, they hit the road with the group of killers in pursuit. Jim and Miguel slowly begin to overcome their differences and begin to forge an unlikely friendship, while Mauricio and his fellow assassins blaze a cold-blooded trail, hot on their heels.

Purchase DVD/Blu-ray/4K UHD physical copy of The Marksman today at Amazon.com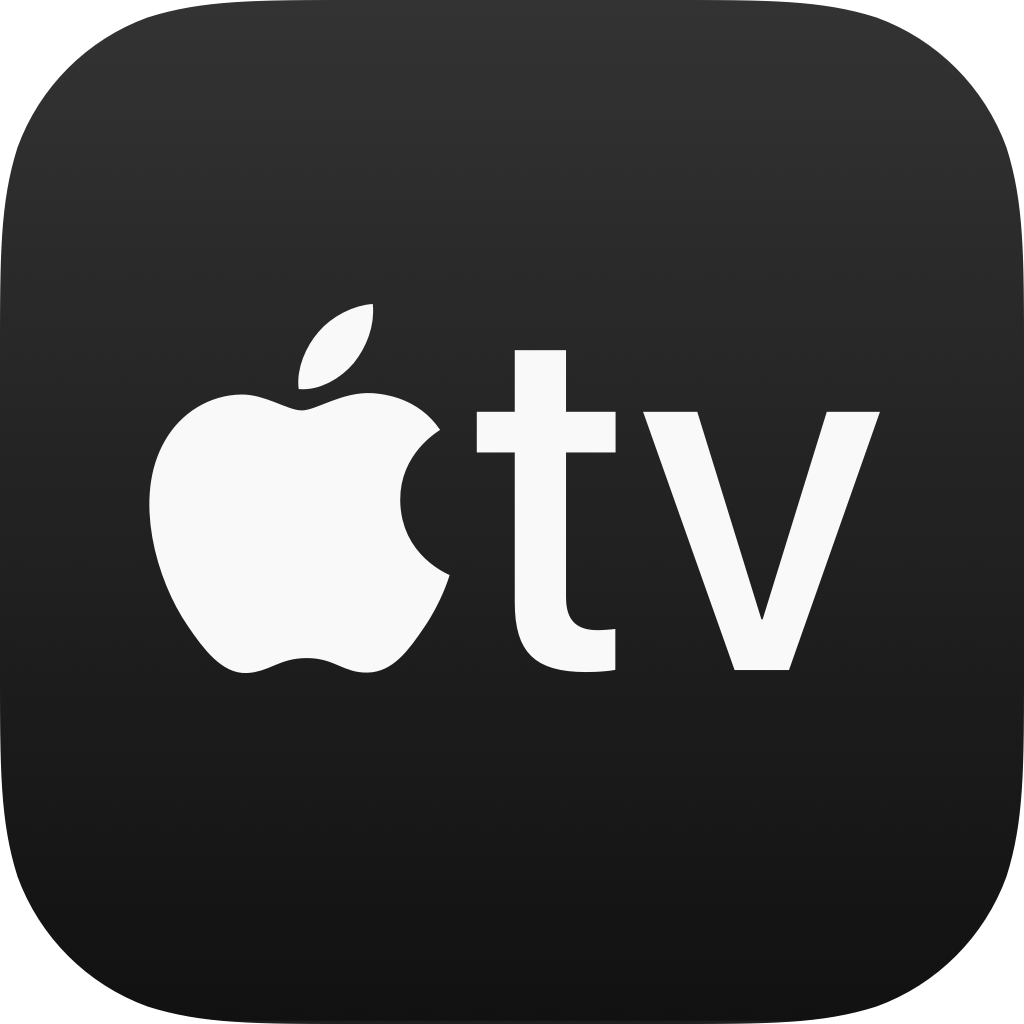 Download The Marksman in Digital HD/4K from the iTunes store.
Listen to the The Marksman soundtrack on Apple Music.
The Marksman images are © Briarcliff Entertainment. All Rights Reserved.
The Marksman Theatrical Review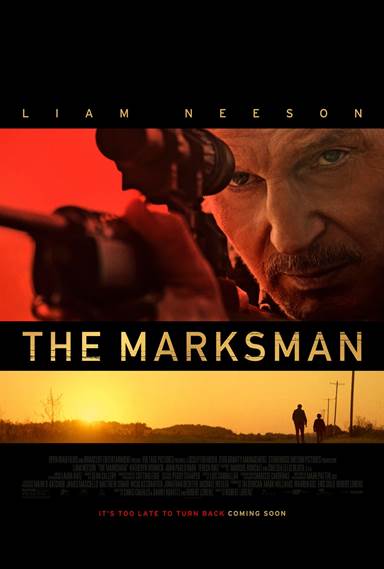 When I was a kid, about the same age as the character Miguel in this film, my folks gave me a present. It was a box full of numbered little bottles of paint and a canvas outline of a horse in a corral divided up into small sections with numbers corresponding to the paint bottles. It was called "Paint By Numbers" and it was very popular at that time. All you had to do was fill in the numbers and 'wallah' you had yourself a semi-beautiful oil painting. You were now an artist!

Well, boys and girls, the same concept applies to this film. You take a basic storyline, one that's been done a thousand times before, and fill in the numbered spaces with depthless characters, crazed cartel killers, a child in jeopardy, an honest man hunted by all sides, a boring cross-country chase, and 'wallah' you had yourself a semi-cinematic version of a modern-day 'horse opera'. You are now a filmmaker!

Action audiences must just be sick of being spoon-fed the same uninspired garbage over and over again, even when they feature our beloved action stars. I know I am. Is there no one out there with a new take on the action shoot 'em up? Figure that one out and 'wallah' you just might create true filmmaking art. We're all waiting for it.
Here's The Storyline…
Retired Marine Marksman Jim Hanson (Neeson), a hardened Arizona rancher whose property is about to be foreclosed upon, stumbles on to Rosa (Ruiz) and Miguel (Perez), a Mexican Mother and young son who have just crossed the border fleeing some vengeful drug cartel members. In the aftermath of events, and after the death of his mother, Jim takes it upon himself to see that Miguel reaches his relatives in Chicago where he'll be safe.
The problem is, drug cartel assassins led by the ruthless Mauricio (Raba) are in hot pursuit, bent on not only to kill the boy but also Jim, who had killed his brother in a skirmish at the border.
As the pair dodge their pursuers along Route 66 in Jim's beaten up old Ford pickup, they find a bond growing between them that seems to fill the 'empty hole' each has inside. Maybe it's just a "Buddy" picture after all. Or maybe it's just a "Road" film. Or maybe…well you figure it out for yourself.
The film moves too slowly to build much suspense or tension, and you can spot the little action there is, coming from miles away. I blame the director who seemed to be trying to tell a small simple story in some convoluted big way.
Then there's Neeson, a bonafide action star capable of delivering this type of material in a visceral way, an actor who still has a few good years ahead of him. Why should he decide at this point of his career to make a grouchy Clint Eastwood style old man film? It defies logic unless he really needs the money, but I doubt that. I've thought about it, but I guess it's beyond my comprehension.
Where's his next "Taken" when I want to get swept up in a film?
My take… This is one of those films that will be out of your memory the second you leave the theater. Wait for it to hit TV.
Rating: 2 1/2 Stars (out of 5) "The Marksman" is rated PG-13 for violence, some bloody images, and brief strong language.
-- Alyn Darnay
Read More The Marksman Reviews
For more reviews please visit our film/television review section.
Hardened Arizona rancher Jim Hanson (Liam Neeson) simply wants to be left alone as he fends off evic...

FlickDirect's Austin Putnam reviews the latest Liam Neeson thriller hitting theaters, THE MARKSM...
SPONSORED LINKS