Cruella (2021)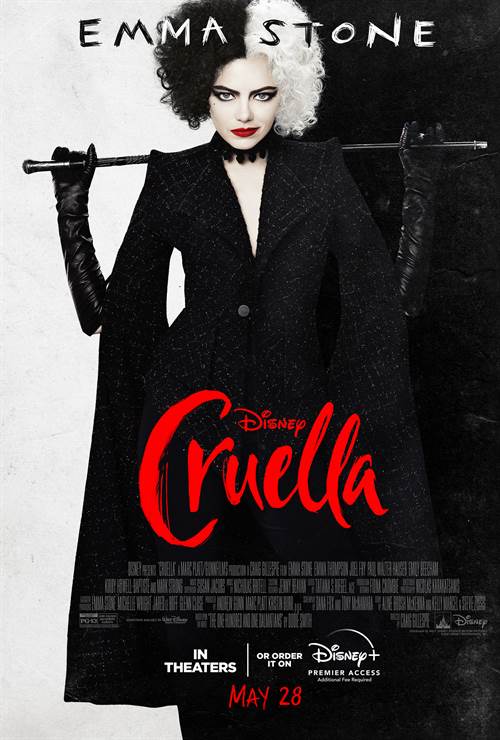 Share this:
| | |
| --- | --- |
| Director: | |
| Writers: | |
| Cast: | |
| Released: | Friday, May 28, 2021 |
| Length: | 134 minutes |
| Studio: | Walt Disney Pictures |
| Genre: | Comedy |
| Rating: | Some material may be inappropriate for children under 13. |
Synopsis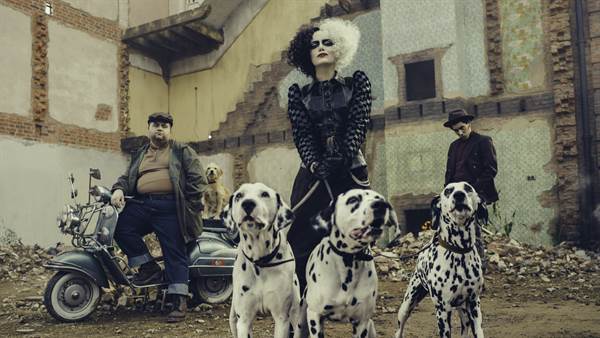 Academy Award® winner Emma Stone ("La La Land") stars in Disney's "Cruella," an all-new live-action feature film about the rebellious early days of one of cinemas most notorious villains, the legendary Cruella de Vil. "Cruella" follows a young grifter named Estella, a clever and creative girl determined to make a name for herself with her designs. She befriends a pair of young thieves and together they are able to build a life for themselves on the London streets. One day, Estella's flair for fashion catches the eye of the Baroness von Hellman, a fashion legend played by two-time Oscar® winner Emma Thompson. But their relationship sets in motion a course of events and revelations that will cause Estella to embrace her wicked side.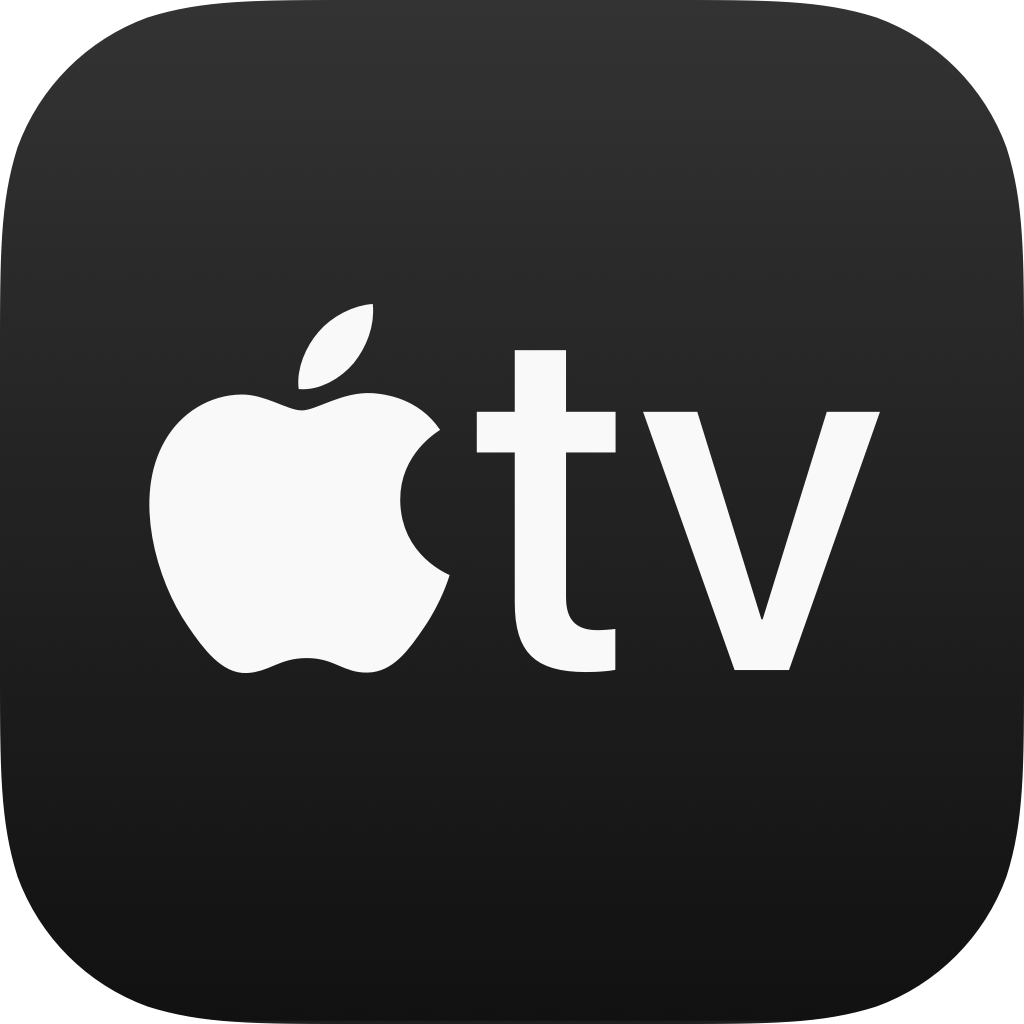 Download Cruella in Digital HD/4K from the iTunes store.
Listen to the Cruella soundtrack on Apple Music.
Cruella images are © Walt Disney Pictures. All Rights Reserved.
Cruella Theatrical Review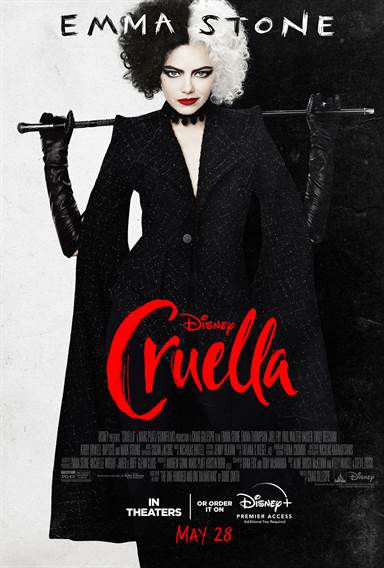 Let's face it, Disney has some of the best-animated villains of all time, especially the female ones. From the Evil Queen in Snow White and the Seven Dwarfs to Maleficent in Sleeping Beauty to Ursula in The Little Mermaid, they are the epitome of pure evil. Of course, somewhere towards the top of the list lies the woman who steals dogs so she can make a coat – Cruella De Ville.
First introduced in the 1956 novel, The Hundred and One Dalmatians, Disney animators brought her to life five years later in the animated feature of the same name. But have you ever wondered what makes someone so cruel? Well, guess no more, as Disney's latest live-action film, Cruella, offers a backstory as an explanation as to why Cruella is so evil. The highly anticipated feature will open in theaters and air on Disney+ with Premier access on May 28, 2021.
Estella (Emma Stone; LaLaLand) was always a handful, even as a young child. She was quirky, different, and had a unique sense of style. Despite her mother's (Emily Beecham; Daphne) warnings, she couldn't stay out of trouble until she eventually was expelled from school. Looking for a new start, Estella and her mother packed up and left town.
However, on their way to a new location, they stopped off at acclaimed fashion designer Baroness von Hellman's (Emma Thompson; Saving Mr. Banks) mansion. Excited and unwilling to wait in the car, Estella gets chased by the Baroness' Dalmatians and Estella watches as they send her mother off the side of a cliff. Orphaned, Estrella meets up with some kids and the three of them become petty thieves. Years later, Estella gets her dream job as a member of the Baroness' staff but quickly learns working with her fashion idol isn't all it's cracked up to be.
Cruella isn't only a story about a young girl's internal struggle, it is the "battle of the Emmas". Stone's portrayal of a wild child who can "button it up" when she needs to is wonderful, almost bordering on Schizophrenic. Thompson oozes pure evil from every pore of her body so much so that as a viewer, you wouldn't mind stabbing a dagger into her heart yourself. Supporting cast members Joel Fry (Yesterday), Paul Walter Hauser (Richard Jewell), and Mark Strong (Kingsman: The Secret Service) are excellent as they let their female leads shine.
Cruella's visuals are intricate, and intriguing inviting the audience to come inside and explore. The fashion and costume designs are breathtaking helping to establish the Baroness as an icon and introducing "Cruella" to the world. Director Craig Gillespie (I, Tonya) utilizes these props extremely well without letting them overpower the two female powerhouses portraying the central characters. The music is an eclectic mix (much like the character Estella) of popular songs, however, there are times when the pacing is off and moments when the film seems to drag a little. There are scenes that could have been cut without changing the film at all. I am also curious how the Panther De Ville Estella steals has the steering wheel on the left side of the car, considering the movie takes place in England.
Overall, Cruella ends up being an origin story of sorts and reminds the audience of the idea of not judging others unless you have walked a mile in their shoes. Many may think this film is appropriate for children, but it has a PG-13 rating for a reason. It is dark, gritty, and serious; a true drama disguised in a shiny Disney package.
As per Disney standards, the production values are high and the story and cast entertaining. There is some "fluff" padded here and there but Cruella is a solid film worth watching.
Grade: B
For more reviews please visit our film/television review section.
For today's home video review, FlickDirect's Austin Putnam talks about CRUELLA 4K UHD Combo...

See Emma Stone become the Queen of Mean in this behind-the-scenes look of Disney's Cruella....

Get your first listen of Florence + the Machine's new song "Call Me Cruella" from the #Cru...
Listen to the complete Cruella soundtrack -- https://apple.co/3bFZ6V9...

Academy Award® winner Emma Stone ("La La Land") stars in Disney's "Cruella," an all-new live-action...

The song used in the trailer is Perhaps, Perhaps, Perhaps by Mari Wilson -- https://apple.co/2...
SPONSORED LINKS