Copshop (2021)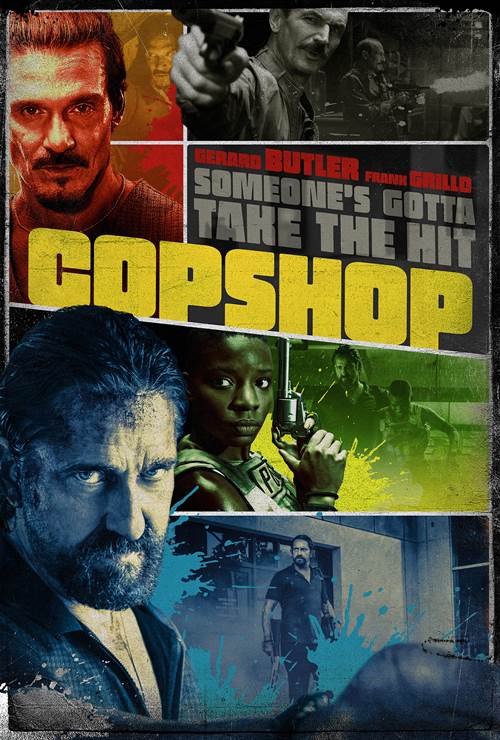 Share this:
| | |
| --- | --- |
| Director: | |
| Writers: | |
| Cast: | |
| Released: | Friday, September 17, 2021 |
| Length: | 108 minutes |
| Studio: | Open Road Films |
| Genre: | Action/Adventure |
| Rating: | Under 17 requires accompanying parent or adult guardian. |
Synopsis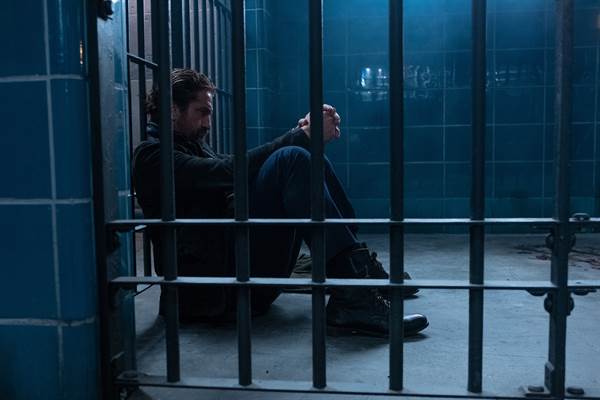 Tearing through the Nevada desert in a bullet-ridden Crown Vic, wily con artist Teddy Murretto (Frank Grillo) hatches a desperate plan to hide out from lethal hitman Bob Viddick (Gerard Butler): He sucker-punches rookie officer Valerie Young (Alexis Louder) to get himself arrested and locked up in a small-town police station. Jail can't protect Murretto for long, and Viddick schemes his own way into detention, biding his time in a nearby cell until he can complete his mission. When the arrival of a competing assassin (Toby Huss) ignites all-out mayhem, mounting threats force Viddick to get creative if he wants to finish the job and escape the explosive situation.

Purchase DVD/Blu-ray/4K UHD physical copy of Copshop today at Amazon.com
Copshop images are © Open Road Films. All Rights Reserved.
Copshop Theatrical Review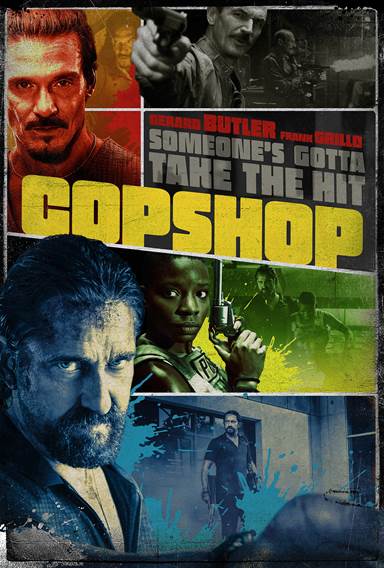 Hypothetically, if you were running from a hired assassin trying to kill you, what is the first thing you would think of doing? For con-man Theodore "Teddy" Murretto (Frank Grillo; The Purge: Anarchy), he finds an opportunity and takes it. In this case, he sucker punches a police officer and gets himself arrested. Co-written and directed by Joe Carnahan (The A-Team), Copshop is an action/thriller that shows what can happen when a seemingly great plan goes awry.
Teddy winds up in jail after purposely punching officer Valerie Young (Alexis Louder; The Tomorrow War). Thinking he is safe, at least temporarily, from the people trying to kill him, he finds out very quickly he is wrong. When a short time later, a John Doe DUI is placed In the holding cell across from Teddy, things go south quickly because the DUI is neither drunk nor a John Doe. He is actually a contract killer named Bob Viddick (Gerard Butler; 300) looking to collect on the bounty offered for Teddy's head. Realizing the situation, he is in Teddy tries to get moved but Bob threatens Teddy's ex and his son.
Meanwhile, Valerie starts researching Teddy and discovers he has been arrested on numerous occasions but never convicted, which immediately sets off warning bells in her brain. Returning to the holding cells she discovers John Doe/Bob is actually sober and starts questioning Teddy as to what is really going on. From that point on the police station finds itself under attack with officers getting killed off one at a time.
Copshop is produced by Grillo and Butler, among others, so they held more than one role on set. Interestingly, even though both actors are known for their action movies, they don't have much more than thirty minutes of action scenes in an almost two-hour movie. This offers them the opportunity to do some dramatic acting for a change and they manage to hold their own. Louder, however, is the standout here as the no-nonsense cop who questions what is really going on and who very quickly sees through Teddy's and Bob's bs. The rest of the cast isn't all that memorable except for Toby Huss (Rescue Dawn) as Anthony Lamb, a fellow assassin also trying to kill Teddy for the money.
The movie is an interesting concept and something a little different than the usual superhero fare audiences have been bombarded with of late. Carnahan shot the film pretty straightforward without many fancy camera angles which is probably a good thing since there is so much going on in the movie. There are subplots that play into the whole story and twists and turns you don't necessarily see coming.
Copshop offers a little something for almost everyone. It has mystery, action (including plenty of blood splatter), and a bit of drama thrown in as well. At times it seemed to have a little "Film Noir" feel but…not really. While it is difficult to describe, the mystery portion stood out as a throwback to older movies and genres while still feeling fresh and modern. It also wouldn't have surprised me if Quentin Tarantino (Pulp Fiction) were attached to the project because I could see him making this type of movie. With the action, intrigue, and blood, Copshop would have been right up his alley.
If you need a break from the mundane and routine films being cranked out by the movie studios, I suggest investing your time and money into a showing of Copshop. Grillo and Butler are very good, Louder is great, and Carnahan does a solid job of navigating the audience through the plot.
Grade: B
-- Allison Rose
Read More Copshop Reviews
For more reviews please visit our film/television review section.
Gerard Butler and Alexis Louder help FlickDirect correspondent, Joe Vore, get into a "zen"...

Tearing through the Nevada desert in a bullet-ridden Crown Vic, wily con artist Teddy Murretto (Fran...
SPONSORED LINKS