Being The Ricardos (2021)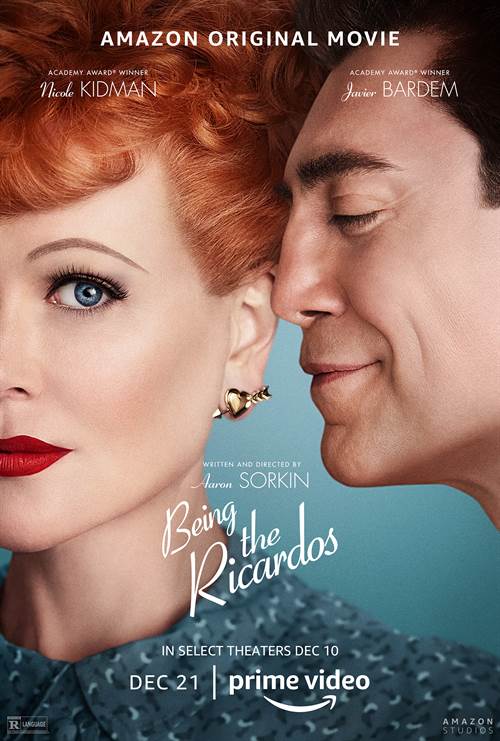 | | |
| --- | --- |
| Director: | |
| Writers: | |
| Cast: | |
| Released: | Friday, December 10, 2021 |
| Length: | 125 minutes |
| Studio: | Amazon Studios |
| Genre: | Drama |
| Rating: | Under 17 requires accompanying parent or adult guardian. |
Being The Ricardos Synopsis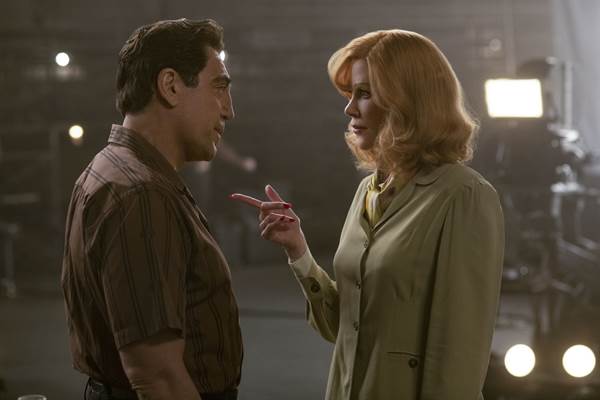 Lucille Ball (Nicole Kidman) and Desi Arnaz (Javier Bardem) are threatened by shocking personal accusations, a political smear, and cultural taboos in Academy Award®-winning writer and director Aaron Sorkin's behind-the-scenes drama Being the Ricardos. A revealing glimpse of the couple's complex romantic and professional relationship, the film takes audiences into the writers' room, onto the soundstage, and behind closed doors with Ball and Arnaz during one critical production week of their groundbreaking sitcom I Love Lucy. Featuring J.K. Simmons and Nina Arianda.
Being The Ricardos images are © Amazon Studios. All Rights Reserved.
See an Advance Screening of Being The Ricardos in Miami, FL
12/4/2021 5:58 PM EST
Lucy and Ricky were beloved television characters played by real-life husband and wife, Desi Arnaz and Lucille Ball.  While everything in the Ricardo house was fine, the Arnaz household had drama and problems.  Written and directed by Academy Award-winner Aaron Sorkin, the film takes a look behind the scenes when the cameras weren't rolling, and the set lights weren't on.Amazon Studios, in conjunc...
More>>
Being The Ricardos Review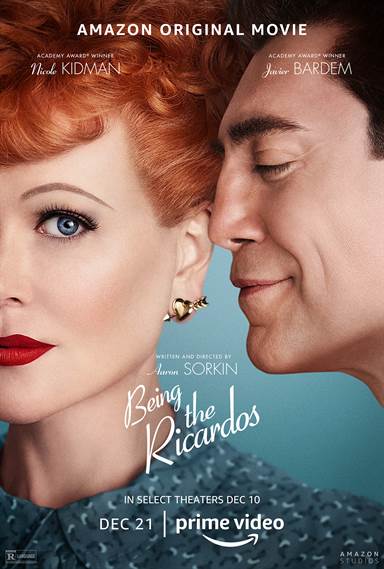 Lucille Désirée Ball was born over a century ago in a small town in Upstate New York. From those humble beginnings, she became one of the most beloved performers in the United States and by the mid-1950's she, and her real-life husband Desi Arnaz, had one of the most successful sitcoms on the CBS network. However, during that same time, their personal lives and marriage suffered greatly. Over the course of one week, Desi was accused of cheating on Lucy and, as if hit by a one-two punch, Lucy was accused of being a communist during the tumultuous McCarthy era. Academy Award-winning writer and director, Aaron Sorkin (The West Wing), offers a look behind the scenes of these events and their television show in the Amazon Studios release, Being the Ricardos.
Desi (Javier Bardem; Skyfall) stays out all night supposedly playing cards with his friends, but the newspapers are reporting he is having an affair and cheating on his wife. Lucille (Nicole Kidman; Moulin Rouge!) testifies to not being a communist even though her voter registration card has her listed as being a member of the communist party. Then Lucille and Desi drop the bomb to their entire staff and sponsors that Lucille is pregnant, a fact that Mr. and Mrs. Arnaz are insistent will be written into the show. If that isn't one hell of a week, then I don't know what it is.
Kidman plays the iconic, redhead actress while Bardem acts opposite her as the Cuban half of this duo. Together they have a rhythm with a beat that ebbs and flows. They are a powerhouse team, with her in charge of the creative aspects and him handling the practical, business side. Unfortunately, as good as they are, they can't capture the essence of the couple. Kidman is a strong actress, and she has a similar look to Ball, but she fails to capture that "magic" that was so uniquely Lucille. The rest of the cast, including Nina Arianda (Midnight in Paris), J.K. Simmons (Spider-Man), Joel Hale (VEEP), Clark Gregg (Marvel's The Avengers), etc., complement the two main characters and offer solid performances of their own.
Sorkin once again delivers the type of script he is known for. It is intelligent, fast-paced, thoughtful, and precise. He doesn't mince words and he understands their power. Even though this is his third time directing a feature film, his first attempts were well received. He had a great eye for angles and, much like his writing, the pacing flows well, offering the viewer the equivalent of a strict cadence with its rhythmic beat.
Set designs and costumes, not to mention hair and make-up, are spot on and set the tone from the beginning of the movie. Cinematography is also well done drawing the audience into the Ricardos' world, both professionally and personally. The score, of course, includes the classic opening of the I Love Lucy show and, simply for nostalgia, we also get the "hey Lucy, I'm home" plus a few bars of Cuban Pete.
A fictional tale interlaced with one person's version of the truth, Being the Ricardos offers a glimpse of the private, behind-the-scenes dealings of Lucille Ball and Desi Arnaz. Set at a time when their world was falling about, it is still interesting to note how much they truly cared for one another (if the film is to be believed).
Older members of the viewing audience will revel in the nostalgia of it all and remember an iconic couple during their heyday. With strong performances under the expert direction and writing of Sorkin, Being the Ricardos is interesting and entertaining and worth watching at least once.
Grade: B
-- Allison Rose
For more reviews please visit our film/television review section.
SPONSORED LINKS