The Ice Age Adventures of Buck Wild (2022)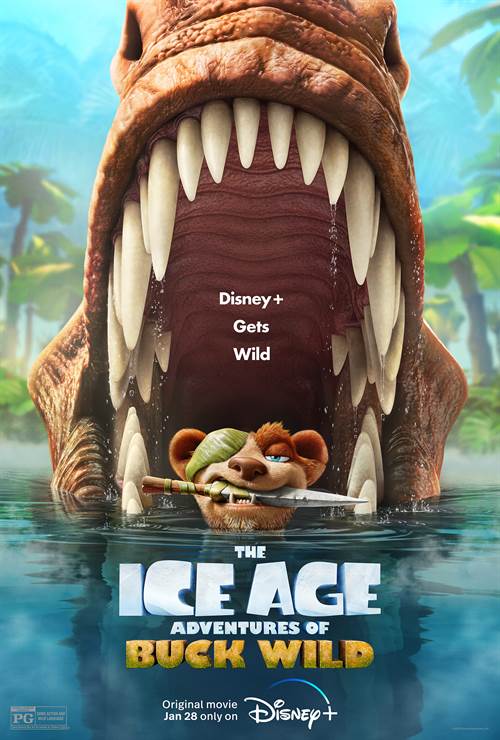 | | |
| --- | --- |
| Director: | |
| Writers: | |
| Cast: | |
| Released: | Friday, January 28, 2022 |
| Length: | 82 minutes |
| Studio: | 20th Century Animation |
| Genre: | Animation, Action/Adventure |
| Rating: | Some material may not be suitable for children. |
The Ice Age Adventures of Buck Wild Synopsis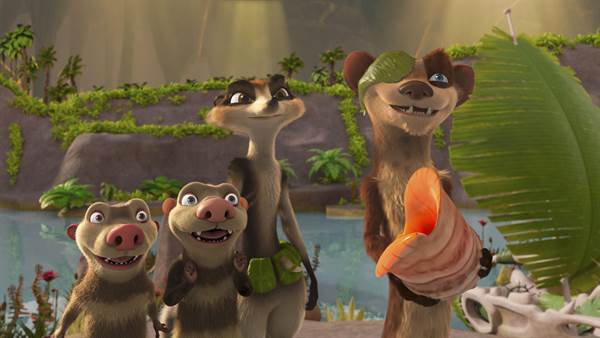 "The Ice Age Adventures of Buck Wild" continues the hilarious escapades of the beloved sub-zero heroes from the wildly successful global "Ice Age" franchise as they create more prehistoric pandemonium. Eager for a little independence, the thrill-seeking possum brothers Crash and Eddie set out to find a place of their own, but quickly find themselves trapped beneath the ice in a massive cave inhabited by dinosaurs. They are rescued by the one-eyed, adventure-loving weasel Buck Wild, and together, with the help of some new friends, embark on a mission to save the Lost World from dinosaur domination.
The Ice Age Adventures of Buck Wild images are © 20th Century Animation. All Rights Reserved.
Ice Age: A Mammoth Christmas Special Helps Audiences Keep The Fr...
12/14/2011 9:40 AM EST
As the holidays approach we can expect the usual stream of Christmas specials with the general message of peace on Earth and goodwill towards man. Along with all of the classics we grew up with come new ones, incorporating characters that have more recently entered our lives and hearts. The Ice Age series is one of the newest to jump on the holiday bandwagon.With eight months to go before Sid, Man...
More>>
Twentieth Century Fox To Break Guinness World Record For Tallest...
10/26/2009 10:50 PM EST
To coincide with the release of the Ice Age 3 Dawn of the Dinosaurs Blu-ray disc and DVD, Twentieth Century Fox Home Entertainment will attempt to break the Guinness World Record for Tallest Ice Sculpture at the opening of the ice skating rink, ICE at Santa Monica.Fun Facts: The Scrat Ice Sculpture will stand at 45 feet tall Over 133,000 lbs. of ice will be used, gathered across 4 states ...
More>>
Send A Valetine's Card Wtih Ice Age: Dawn of the Dinosaurs
2/13/2009 7:40 PM EST
20th Century Fox has set up a brand new website for their upcoming film, "Ice Age: Dawn of the Dinosaurs", which is set to be released in July of 2009.  Head on over to check out the site and play their exclusive game, "Bubble Trouble".  You can also send free Valentine's e-cards to all your family and friends!!!....
More>>
The Ice Age Adventures of Buck Wild Review
It was a little less than twenty years ago that 20th Century Fox Studios (and later 20th Century Studios) brought together prehistoric creatures in an animated film called Ice Age. The film documented the travels of Manny, the wooly mammoth (Ray Romano; Everybody Loves Raymond), and his new "friends" as they cross dangerous terrain to return a human baby to its family. Along the way, Manny, Diego – a saber-toothed tiger without a pack (Denis Leary; The Amazing Spider-man) and Sid – an annoying sloth (John Leguizamo; Moulin Rouge!) somehow form a bond and become their own pack/family. Two decades and five sequels later, The Ice Age Adventures of Buck Wild premieres on Disney+ this week.
While the beloved characters Manny, Diego, Syd, and Ellie return for this sixth movie, they are minor characters, as the focus this time around is on Ellie's opossum brothers, Crash (Vincent Tong; Mega-Man: Fully Charged) and Eddie (newcomer Aaron Harris). Tired of being mothered by Ellie, the brothers head out on their own, looking for their own, personal bachelor pad. However, when they wander into the underground lost world, they run into their friend, Buck (Simon Pegg; Mission: Impossible Franchise), and stumble into a power struggle for control of the lost world between Buck and his long-time nemesis, Orson (Utkarsh Ambudkar; Free Guy).
It is nice that Crash and Eddie get their moment in the spotlight, and we are once again excited by the daredevil character of Bucky, however, the script and storyline needed quite a bit of "tweaking" that it, sadly didn't get. Halfway through the movie, one could practically recite the lines since you pretty much know what is coming next. Most of the jokes fall flat and become cringe-worthy after a while. If there is any saving grace, it is the new character, Zee (Justina Machado; The Purge: Anarchy), a sassy, female adventurer who goes toe to toe with Buck.
With the closing of Blue Sky Studios, animating the movie fell upon Bardel Entertainment, who are known more for their animated television (Ricky and Morty, Teen Titans Go!) than they are for movies. Looking at it now, that makes perfect sense as the animation seemed rushed and messy, and it felt a little like a Saturday morning cartoon. The colors are deep and rich but still, there is a feeling that there is something missing.
The animation, however, isn't the only thing missing. None of the voice talents, aside from Pegg, returned for this latest installment. Romano, Leary, Leguizamo, Queen Latifah (The Equalizer), etc. have seemingly left the franchise and have been replaced by mostly unknown actors trying to do their best impressions of their predecessors and not pulling it off well. Even Crash and Eddie aren't the original actors but, since their voices are as distinctive as the others, it isn't as noticeable. The final omission is probably the one that cuts the deepest. One of the best features of the Ice age movies is the shorts featuring Scrat (Chris Wedge; Robots), a saber-toothed squirrel always chasing his elusive acorns. Those scenes/shorts are some of the funniest in the entire franchise.
The Ice Age Adventures of Buck Wild has a target audience and, for them at least, it hits its mark. I can imagine families watching this movie together and the youngest members running and jumping around excited for acrobatics displayed by Buck, Zee, Crash, and Eddie. Sadly, anyone over the age of six will mostly like want to take a nap but won't be able to as the screeches and squeals of delight coming from their little ones simply won't allow for rest.
Grade: C
-- Allison Rose
For more reviews please visit our film/television review section.
SPONSORED LINKS