Bones (2005)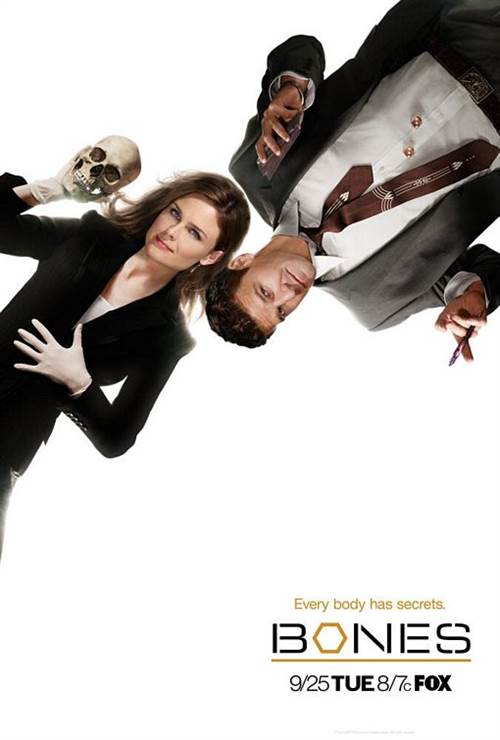 Share this:
| | |
| --- | --- |
| Created By: | |
| Cast: | |
| Air Date: | Tuesday, September 13, 2005 |
| Studio: | 20th Century Studios |
| Genre: | Television |
| Rating: | |
Synopsis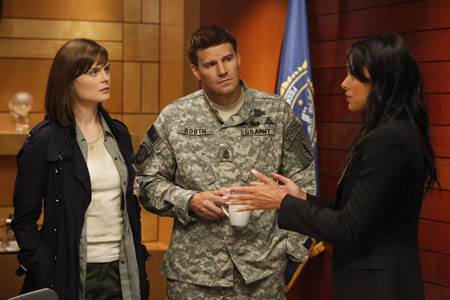 A prosaic forensic anthropologist and a cocky FBI agent build a team to investigate death causes. And quite often, there isn't more to examine than rotten flesh or mere bones.

Purchase DVD/Blu-ray/4K UHD physical copy of Bones today at Amazon.com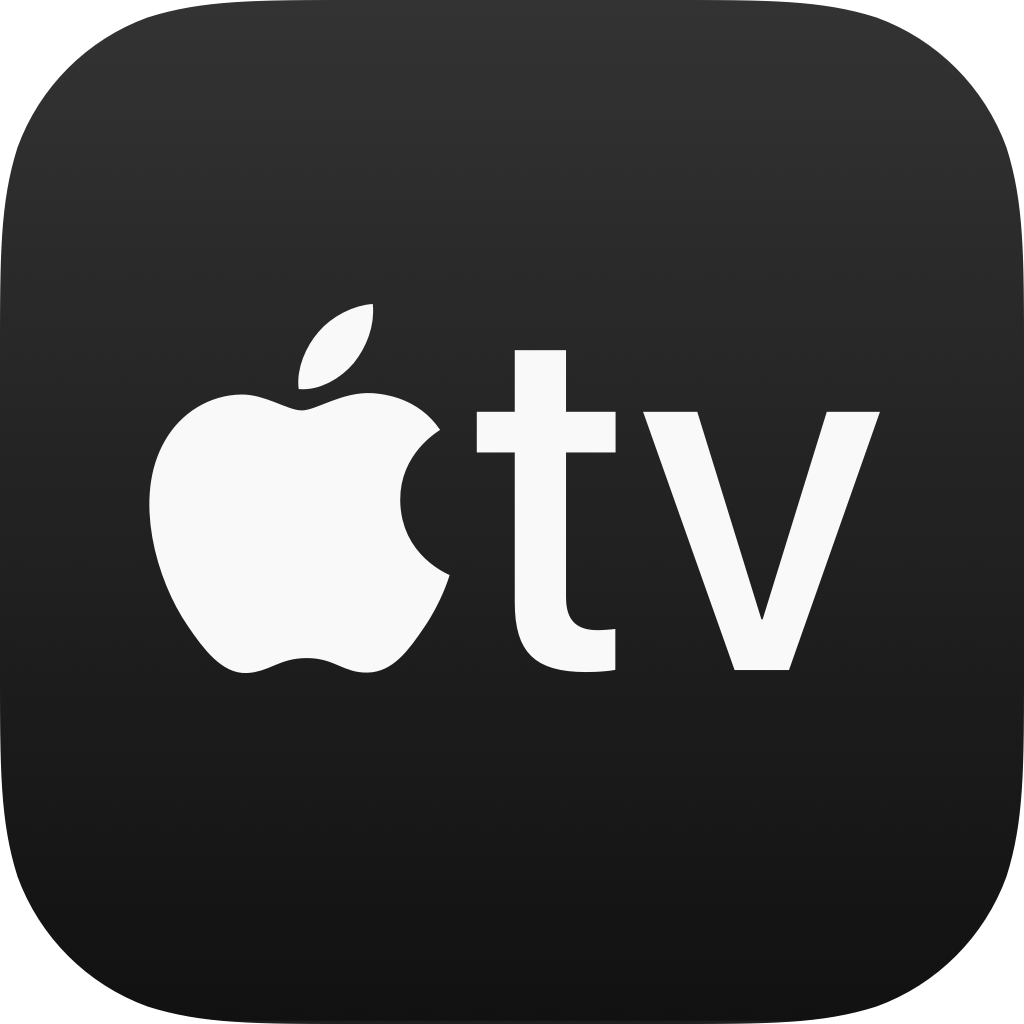 Download Bones in Digital HD/4K from the iTunes store.
Bones images are © 20th Century Studios. All Rights Reserved.
Bones Contest Being Held by Twentieth Century Fox Home Entertain...
4/4/2013 4:32 PM EST
Listen up, "Bones" fans! Twentieth Century Fox Home Entertainment has kicked off a contest this week via the show's official Facebook and Twitter channels.  Check-in to Bones with the iPhone Movie Clock App.https://twitter.com/BONESonFOXhttps://www.facebook.com/BonesFans  can ask their questions using the hashtag #BonesFanEvent and show producers will select their favorites to be included on the f...
More>>
Bones: The Complete Sixth Season Blu-ray Review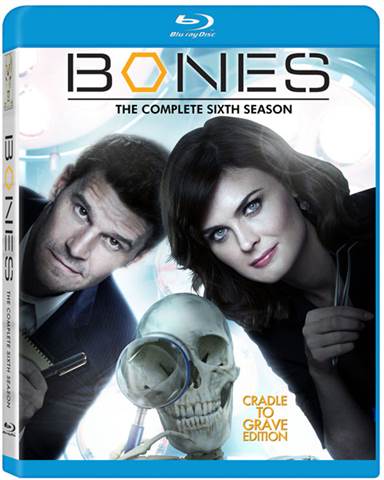 There are a lot of forensic police procedurals on television at the moment, each with their own unique style and voice. What really makes each of these shows special isn't just how they are done but the fans who tune in every week to watch them. Since its inception, Bones has drawn in a strong and loyal audience who continue to return each week to watch the dynamic between Agent Sealy Booth and Dr. Temperance Brennan unfold.
After six wonderful seasons the show is heading into its seventh this November but until that time the newly released Blu-ray of Season Six is available for fans to watch once again. To give a little back story on the show itself, it follows the partnership of F.B.I. Special Agent Seeley Booth (David Boreanaz) and forensic anthropologist Dr. Temperance Brennan as they work together with the "squints" at the Jeffersonian Institution to solve crimes generally involving murder. The show follows a similar formula applied in the popular sci-fi show The
X-Files
in which two people of opposite belief systems are forced together in a work environment.
At the end of season five we watched as Seeley returned to Afghanistan to train soldiers in combat and Brennan left for South America on an anthropological dig. Season six opens with all our favorite main characters having moved on with their lives after the separation of their team. Of course things don't stay that way when Cam (Tamara Taylor) is having trouble with her case and Caroline (Patricia Belcher) manipulates the rest of the team to return. Once back we learn that things have changed for the newly re-formed team. Hodgins and Angela, married for over a year now, discover they are going to become parents. Most of Bones' old interns have moved on to other career paths. Sweets and Daisy are no longer together though have formed a tryst and most importantly are the changes between Booth and Bones.
At the end of season five Booth had made a declaration of love to Bones though she turned him down. While away in Afghanistan Seeley met someone else, a reporter named Hannah who follows booth to D.C. Booth has clearly moved on and while Bones would never admit it, she is uncomfortable with Booth having met someone else. Over the course of the sixth season many more changes occur to each character on the show as well as some of the recurring ones. Without delving into each nuance of their lives, let's just cover the major ones. Seeley and Hannah's relationship does not work out the way either hoped. Brennan finally starts to grow past her completely logical and imperical nature to start to feel true empathy.
The biggest surprise of all is the discovery that by the end of the season Booth and Brennan finally wind up together though not under the circumstances they would have expected. But it does have joyous results and from all indications from the previews on TV of the upcoming seventh season, they are still together. How the show will change is a large question as well as whether it shall continue past season seven as some shows are wont to do. Time will tell and until then we can laugh and sometimes cry as we watch the two most unlikely of mates finally find their way to each other.
On the Blu-ray which is out now is all 23 episodes from season six on a 4 disc set. Certain episodes to watch out for are the season premiere "The Mastodon in the Room", "The Maggots in the Meathead", "The Doctor in the Photo", "The Bullet in the Brain", "The Hole in the Heart", and the season finale "The Change in the Game". Along with those episodes are some fun extras like a gag reel, audio commentary on certain episodes as well two extended episodes. A look into how the visual effects for the show are done, a breakdown of the episode "The Blackout in the Blizzard" is shot and finally a look at the pilot episode of the TV series "The Killing."
While these may not seem like that many extras for a Blu-ray one must remember it is most often the quality and not quantity that makes something special. While Bones may never have been the ratings bonanza that CSI or Law & Order is, it clearly has stood the test of time thanks to a rapid fan base and at the end of the day that says more than any Nielsen rating ever could.
Read More Bones Reviews
Chris Rebholz (B) (Bones: The Complete Eighth Season Blu-ray Review)
For more reviews please visit our film/television review section.
SPONSORED LINKS