The Hunchback Of Notre Dame (1996)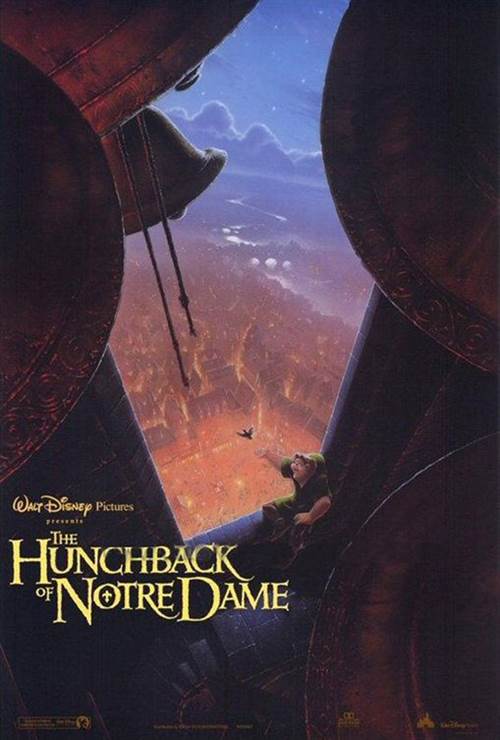 Share this:
| | |
| --- | --- |
| Director: | |
| Writers: | Tab Murphy |
| Cast: | |
| Released: | Friday, June 21, 1996 |
| Length: | 91 minutes |
| Studio: | Walt Disney Pictures |
| Genre: | Action/Adventure |
| Rating: | General audiences. All ages admitted. |
Synopsis
Inspired by Victor Hugo's classic novel, Disney brings the heroic adventures of Quasimodo, the gentle and lonely bell ringer of Notre Dame, to spectacular life. This critically acclaimed Disney masterpiece is an "uplifting, thrilling story with a heart-touching message that emerges from the comedy and song" (Roger Ebert, Chicago Sun-Times). At the urging of his hilarious gargoyle pals Victor, Hugo, and Laverne, Quaismodo leaves the solitary safety of his tower, venturing out to find his first true friend, the gypsy beauty Esmerelda. The most unlikely of heroes, Quasi fights to save the people and the city he loves and, in turn, helps us to see people for who they are, rather than how they appear. The star-studded voice cast includes Jason Alexander, Tom Hulce, Kevin Kline, and Demi Moore in a magnificent Disney musical from renowned composer Alan Menken.
Purchase DVD/Blu-ray/4K physical copy of The Hunchback Of Notre Dame today at
Download The Hunchback Of Notre Dame in Digital HD/4K from the iTunes store.
The Hunchback Of Notre Dame images are © Walt Disney Pictures. All Rights Reserved.


David Henry Hwang to Pen Live-Action Hunchback Film
1/16/2019 3:06 PM EDT
Disney will be releasing a new live-action musical, Hunchback, based on the Victor Hugo novel. The company released an animated version of the film back in 1996. David Henry Hwang will be writing the script with Alan Menken and Stephen Schwartz writing the music. Hwang's credits include Disney's Tarzan as well as the plays Chinglish, Yellow Face, Kung Fu, Golden Child, and The Dance and the Railro...
More>>
The Hunchback Of Notre Dame Blu-ray Review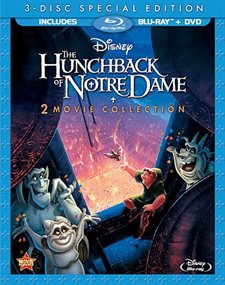 "The Hunchback of Notre Dame" is another one of Disney's underrated films. This was released in the mid 90′s right when Pixar made their mark with their computer generated animated films like "Toy Story". "The Hunchback of Notre Dame" didn't make the cut with its "boring" 2D animation and was not given the respect it deserves. Disney has paired this film, which is hitting Blu-ray for the first time with its painful direct-to-video sequel "The Hunchback of Notre Dame II". The sequel barely runs an hour and frankly doesn't really do any justice to Disney or any of their direct-to-dvd sequels. Still, if you are a fan of the first film then this Blu-ray is surely worth the upgrade to high-definition.

In 15th century Paris, Clopin the puppeteer tells the story of Quasimodo, the misshapen gentle-souled bell ringer of Notre Dame, who was nearly killed as a baby by Claude Frollo, the Minister of Justice. But Frollo was forced by the Archdeacon of Notre Dame to raise Quasimodo as his own. Now a young man, Quasimodo is hidden from the world by Frollo in the belltower of the cathedral. But during the Festival of Fools, Quasimodo, cheered on by his gargoyle friends Victor, Hugo, and Laverne, decides to take part in the festivities, where he meets the lively gypsy girl Esmeralda and the handsome soldier Phoebus. The three of them find themselves ranged against Frollo's cruelty and his attempts to destroy the home of the gypsies, the Court of Miracles. And Quasimodo must desperately defend both Esmeralda and the very cathedral of Notre Dame.

In the sequel, with Frollo gone, Quasimodo rings the bell with the help of his new friend, Esmeralda's and Phoebus' little son, Zephyr. But when Quasi stops by a traveling circus owned by evil magician Sarousch, he falls for Madellaine, Sarouch's assistant. However, greedy Sarousch forces Madellaine to help him steal the Cathedral's most famous bell.

"The Hunchback of Notre Dame" looks very vibrant with its 1080p transfer. Honestly, though it is not perfect and it feels a little too 2D and does pop like other recent classic hand-drawn animated films has. But that doesn't mean that it is not impressive. In fact its sequel, believe it or not, also looks quite impressive. Despite the fact that it is not the greatest film, it sure does look sharp. Both films also include a very impressive DTS-HD Master Audio 5.1 track. The first film contains some wonderful songs and a great score, thanks again to Menken, his work is represented very well here. The second film also packs some songs, not nearly as good, but still sound very nice with this track. Both films are located on one Blu-ray disc and the additional two DVDs include each film on their own disc.

The special features are disappointing and are simple copies of the films previous DVD releases. First we have an audio commentary track for the first film with directors Gary Trousdale and Kirk Wise and its producer Don Hahn. Decent track and some decent information shared. "The Making of The Hunchback of Notre Dame" is featurette with host Jason Alexander, Tom Hulce, Demi Moore, Kevin Kline, and Tony Jay and many more talented people who worked on this film. There is a "Multi-Language Reel" for the song "A Guy Like You", which was translates into sixteen different languages. A "Behind the Scenes with Jennifer Love Hewitt", which is basically a short interview with actress talking about her role. Lastly "A Gargoyle's Life" has Jason Alexander's character Hugo reciting a poem with clips from the first film.

Hunchback was released right near the end of Disney's Renaissance of films and while it does carry all the finesse of their previous films, it lacks that spark which all their other works such classics. Frankly its direct-to-video sequel operates more like a bonus feature as opposed to an actual film and that's probably the better way to interpret it. If you're a fan of the film or even just a collector the classic 2D Disney library, "The Hunchback of Notre Dame" is worth the addition.

For more reviews please visit our film/television review section.
SPONSORED LINKS