Metallica: Through the Never (2013)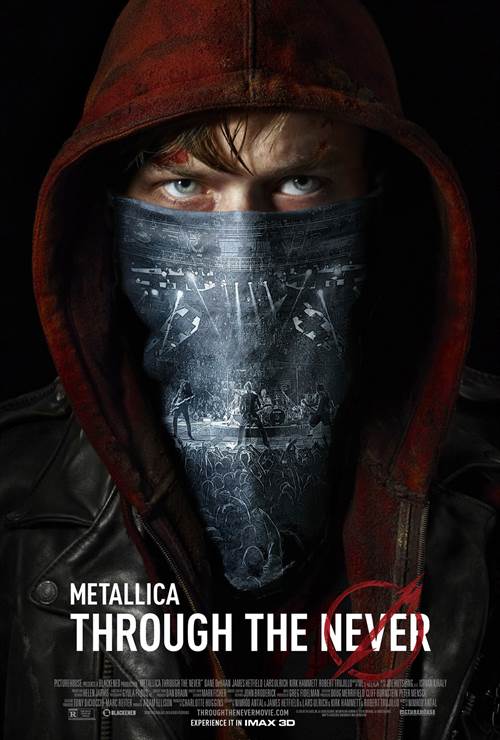 Share this:
| | |
| --- | --- |
| Director: | |
| Writers: | Nimród Antal, Metllica |
| Cast: | |
| Released: | Friday, October 4, 2013 |
| Length: | 92 minutes |
| Studio: | Picturehouse |
| Genre: | Musical, Action/Adventure |
| Rating: | Under 17 requires accompanying parent or adult guardian. |
Synopsis
Starring Metallica, a cast of thousands of their fans and breakout star Dane DeHaan (Chronicle, The Amazing Spider-Man 2), Metallica Through the Never is written and directed by award-winning filmmaker Nimród Antal (Predators, Kontroll) and produced by former IMAX film producer Charlotte Huggins (Journey to the Center of the Earth). The film marries groundbreaking footage and editing techniques with a compelling narrative, in which a band crew member (played by DeHaan) is sent out on a mission during Metallica's roaring live set in front of a sold-out arena. While on this mission, he unexpectedly has his life turned completely upside down.
Purchase DVD/Blu-ray/4K physical copy of Metallica: Through the Never today at
Download Metallica: Through the Never in Digital HD/4K from the iTunes store.
Metallica: Through the Never images are © Picturehouse. All Rights Reserved.


Metallica: Through the Never Theatrical Review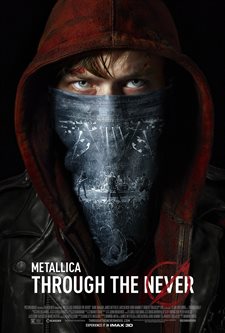 One of the most amazing films on music Metallica Through the Never comes to the IMAX screen and it's a musical experience to remember. Not just for metalheads, this show bangs out messages while Metallica plays the groups most memorable titles. I'm not a heavy metal follower, but in IMAX and 3D the experience blows your mind while a dreamlike quest gets played out on the screen during intervals of the concert.

The group features co-founders James Hetfield guitar and vocals, Lars Ulrich on drums who formed Metallica in the early 1980's that now includes Kirk Hammett on lead guitar and Robert Trujillo bassist. The continuous driving beat from drummer Ulrich keeps the tempo for the guitars and base to follow in a frenzied continuous motion for what seems unending sets. Singer Hetfield belts out the lyrics like a piper calling his flock to chant along with him to keep away the evil of greed, political control, war and injustice. The stage features props that tie in with the music and during one song the female Statue of Justice gets erected piece by piece and in a fury that feels like an earthquake gets destroyed.

If you read my reviews on a regular basis you probably know I am an avid action film follower. Here's where Metallica and I connect. Most action films use hard rock and metal during most of the exciting scenes to ramp up what's taking place on the screen. Bands like Metallica (Zombieland), Black Sabbath (Iron Man), Megadeth (Wes Craven's Shocker), Slayer (Less Than Zero), Guns N' Roses (Terminator 2), and Iron Maden (Murder by Numbers) have been featured in most all your favorite action titles. Music matters in a film and Metallica Through the Never with the IMAX speakers pounding the high pitched guitars, throbbing bass and blasting of the drums it becomes a mesmerizing and magical event.

To help the film's song meanings there's an action adventure being played out at intervals between songs. A new roadie Trip (Dane DeHaan) gets hired and he arrives at the concert venue just before show time. Walking into the auditorium after the band has set up he becomes awestruck at seeing them getting ready for the night. The auditorium fills in a flurry of fast motion. As he's about to sit, his boss comes to him with an assignment to pick up a duffel bag for the band at a stranded truck in the city. With that we are treated to his adventure of escaping mob violence, police intervention and political dissidence by protesters, all accompanied by Metallica songs that pertain to his journey.

The film actually needs no description for this group's followers who have been nodding their heads and stomping the floor for over three decades. The sound track that includes The Ecstasy of Gold, Creeping Death, For Whom the Bell Tolls, Fuel, Ride the Lightning, One, The Memory Remains, Wherever I May Roam, Cyanide, ...And Justice for All, Master of Puppets, Battery, Nothing Else Matters, Enter Sandman, Hit the Lights, Orion, cherry picks the groups most famous albums. I even recognize a few numbers, probably from the days of my youth when my friends would drag me to an ear busting club on Miami's South Beach.

Metallica Through the Never has been rated R by the MPAA for some violent content and language. The IMAX 3D at select theaters starting on September 27th is the best way to see this film. But, for those who cannot scrape up the additional cost for the huge screen experience, theaters will be showing the film in regular formats starting October 4th.
-- John Delia
Read More Metallica: Through the Never Reviews
For more reviews please visit our film/television review section.
Starring Metallica, a cast of thousands of their fans and breakout star Dane DeHaan (Chronicle, The...
SPONSORED LINKS
Comments

Courtesy of
Movie Hype App
adamjboss
Didn't make sense at all but amazing concert footage.
2/22/2014 5:12 PM EDT
russellquorn
In 3d :)
1/18/2014 4:55 PM EDT
kordon
Awesome
10/4/2013 10:07 AM EDT
pampam
Aruba
10/1/2013 7:36 PM EDT
movieguynathan
Looks pretty good. Now I know why they were at #sdcc
9/26/2013 9:00 AM EDT