Batman Lego Movie (2017)
Share this:
| | |
| --- | --- |
| Director: | |
| Writers: | Seth Grahame-Smith, Jared Stern, John Whittington, Erik Sommers, Chris McKenna |
| Cast: | |
| Released: | Friday, February 10, 2017 |
| Length: | 104 minutes |
| Studio: | Warner Bros. |
| Genre: | Family |
| Rating: | Some material may not be suitable for children. |
Synopsis
In the irreverent spirit of fun that made "The LEGO® Movie" a worldwide phenomenon, the self-described leading man of that ensemble - LEGO Batman - stars in his own big-screen adventure. But there are big changes brewing in Gotham, and if he wants to save the city from The Joker's hostile takeover, Batman may have to drop the lone vigilante thing, try to work with others and maybe, just maybe, learn to lighten up.
Purchase DVD/Blu-ray/4K physical copy of Batman Lego Movie today at
Download Batman Lego Movie in Digital HD/4K from the iTunes store.
Batman Lego Movie images are © Warner Bros.. All Rights Reserved.


Batman Lego Movie Theatrical Review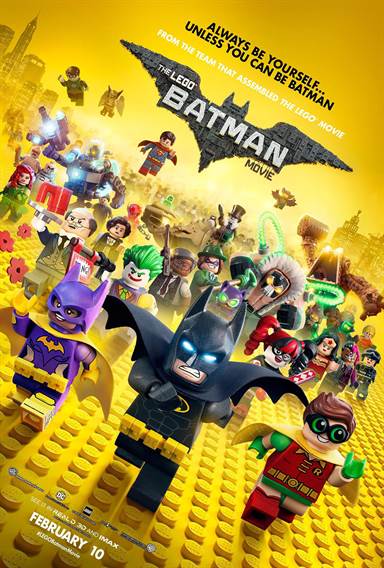 With a hit song, "
Everything is Awesome
" and an amazing first movie,
The Lego Batman Movie
is an easy ride into building a franchise. With the advent of the television show Gotham and the renewed interest in Superheroes and Villains by the younger generation, Batman is a huge hit with the children of all ages. Lionsgate, in conjunction with Lego, has a huge franchise on its hands and if they continue on this path, the Lego franchise might just be the new
Harry Potter
.
The Lego Batman Movie
is simply all around funny from start to finish. Batman (voiced by Will Arnett;
The Lego Movie
) is an emotionally detached superhero who is the dark, brooding character that we have all become familiar within the modern
Batman
movies. Replete with humor about his abs and egotistical behavior, Batman can't face the loss of his family, so he isolates himself, acts like a teenager when he's alone, acts like a spoiled brat when no one agrees with his opinion, and honestly believes that everything is about him.
The Joker (Zach Galifianakis;
The Hangover Franchise
) is on a mission in this movie and unlike one we've never seen before. The Joker wants to make Batman realize that he cannot continue to be emotionally detached and that without him (The Joker), Batman has no purpose. Throughout this deep character development, Batman slowly and hesitantly comes to the realization that he does need to work as a team and that caring for people is not a liability, but rather a wonderful way to live.
Arnett's Batman is a brooding character. His interactions with the orphan boy he mistakenly adopts, Dick Wayne/Robin, (Michael Cera;
Sausage Party
) are sarcastic and almost as if he's horrified by the innocent antics and comments made by Robin. Writer Seth Grahame-Smith, (
Dark Shadows
) who created the story, kept the audience in stitches with the dialogue between Batman and the characters but the interactions between Batman and Robin were so funny because it was clear that Batman was trying to be an adult in the relationship but just simply failing in so many ways that it was comical.
The Lego Batman Movie
is about the emotional growth of Batman presented in a way that even the younger children can understand, yet fraught with adult humor that is so subtle that it flies right over the heads of those that shouldn't get it and hits those smack in the face, with those who should get the humor. While parts of the actual movie dragged a bit (I saw more than a few kids fidgeting in their seats towards the middle of the film), the banter between the characters kept the movie alive.
While I've written about the characters, actors, studio, and the writers, what hasn't been mentioned is the actual animation. To watch the expression on the Joker's face fall as an actual person's would at the exact moment extreme disappointment hits them was pure genius. Even the Lego parts of the characters seem to just become part of the character, rather than stick out as a Lego piece. Every aspect of the animation brought the audience into the world of Batman without making the audience feel as if they were just in a land of Legos.
The movie has one of the most incredible websites I've seen in a long time. Check out
http://www.legobatman.com
for not only the trailer, but the story, interactive games, characters, gallery, products, and more. Not only is the website about the movie, but it is so immersive that the children (and adults) will be sucked into the Lego world. The creators definitely took a page out of a certain author's website for her movies, and the website complements the movie and will definitely create a huge interest both prior to and after seeing
The Lego Batman Movie
.
The Lego Batman Movie
is Director Chris McKay's feature film directorial debut. McKay's animation direction, as well as his direction of the actors, was classic. If this movie is any indication of McKay's potential, he will be in high demand for future films. It is clear that McKay has a natural talent for bringing everything together for a consistent and highly entertaining film.
Batman has been played on the big screen by the some of the best, typical brooding leading men - Ben Affleck, Val Kilmer, Christian Bale, and Michael Keaton, and they have all shown us how dark Batman can be.
The Lego Batman Movie
combined the best of all those leading men's development of Batman, combined it with the hilarity of the original Batman- Adam West- and brought us a movie will keep all the members of your family laughing constantly throughout the movie- and all for different reasons.
I am sure that I should be writing a lot more about
The Lego Batman Movie
- maybe providing some anecdotes from the actual film, commenting about Robin ripping his pants off, but I honestly have nothing else to say except get into your Batmobile, put your foot to the pedal and fly- really, really fast, to the movie theaters on February 10 to see this movie. In fact, one of the highest compliments that I can give this film is that this would even make a great Valentine's Date movie.
Grade: A
Read More Batman Lego Movie Reviews
For more reviews please visit our film/television review section.
In the irreverent spirit of fun that made "The LEGO® Movie" a worldwide phenomenon, th...
SPONSORED LINKS
Comments

Courtesy of
Movie Hype App
heyyjayy
So excited 😆😆😆😆😆
3/7/2017 10:20 PM EST
phxbulls111
I'm gonna love this movie
2/27/2017 12:05 PM EST
blackdragon
This is gonna be so good!!
2/14/2017 1:45 PM EST
coreyanthony26
Another Perfect Lego Movie Again Now All is Left is They Have To Come Out Lego Dimensions The Movie
2/11/2017 12:06 AM EST
thelastjedi
it's a Lego version of Batman v Superman too
2/5/2017 9:00 PM EST
ali121
Bateman in lego form. What could be bad?!?
2/4/2017 12:32 PM EST
movieguynathan
I normally don't like anything Lego but this looks funny.
2/4/2017 10:07 AM EST
coreyanthony26
Of Course More Batman but This Time it is all Animated and he is built out of Toy Bricks Called Lego Batman
3/10/2016 8:21 PM EST