Flatliners (1990)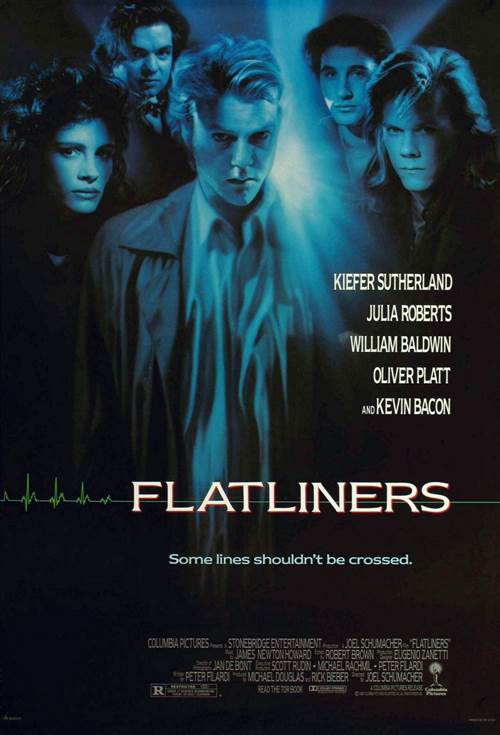 | | |
| --- | --- |
| Director: | |
| Writers: | |
| Cast: | |
| Released: | Friday, August 10, 1990 |
| Length: | 115 minutes |
| Studio: | Columbia Pictures |
| Genre: | Drama |
| Rating: | Under 17 requires accompanying parent or adult guardian. |
Flatliners Synopsis
Are you afraid to die? Kiefer Sutherland isn't. He's an ambitious, charismatic medical student who persuades classmates Julia Roberts and Kevin Bacon to take part in a reckless experiment. To see if there is life after death, they will kill themselves: temporarily shut down ("flatline") their heart and brain functions to briefly experience clinical death. After Sutherland survives the first experiment, the others flatline for increasingly longer intervals. But their horror begins when they realize that although they've come back alive... they haven't come back alone. FLATLINERS is a chilling suspense thriller of obsession, fear and redemption that will take you across the line to a place where terror lives forever.

Purchase DVD/Blu-ray/4K UHD physical copy of Flatliners today at Amazon.com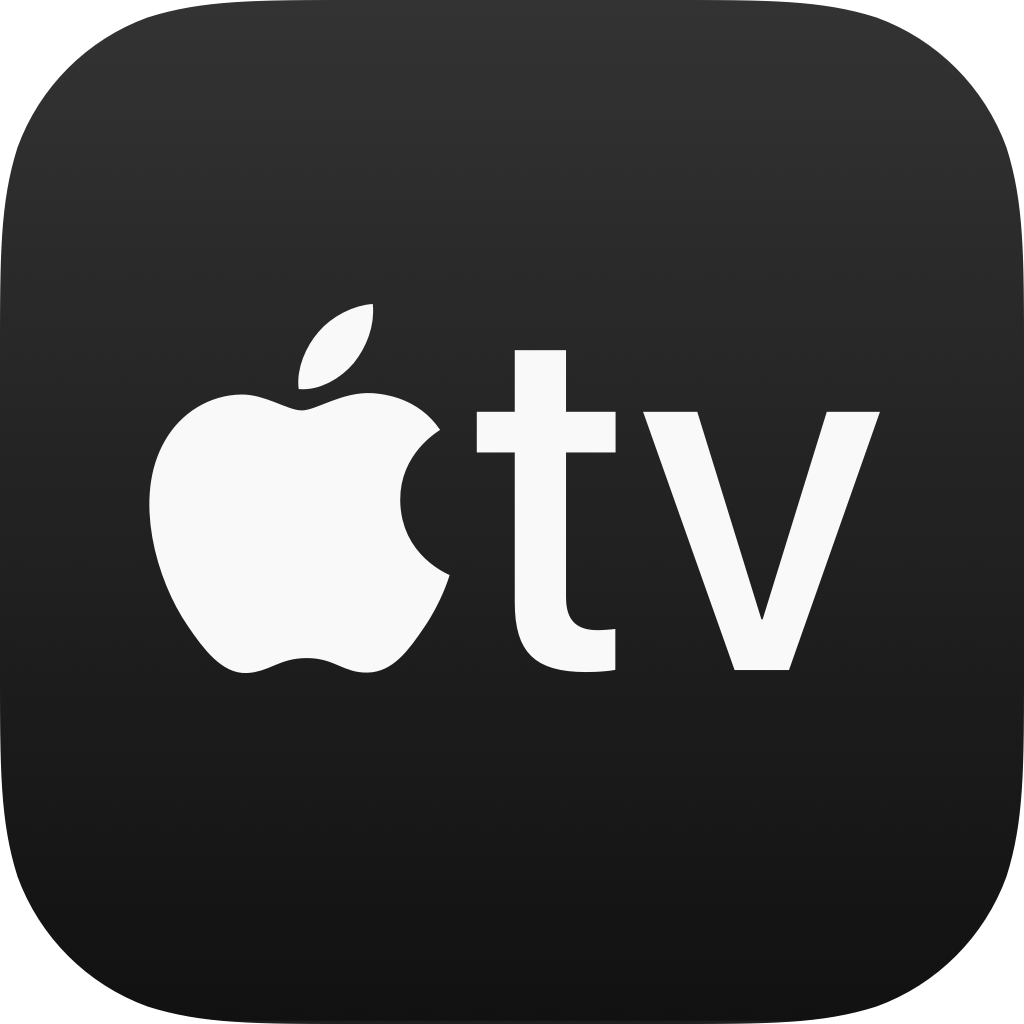 Stream Flatliners in Digital HD/4K from the AppleTV store.
Flatliners images are © Columbia Pictures. All Rights Reserved.
Flatliners Reboot to Star Kiefer Sutherland
7/11/2016 4:24 PM EST
Kiefer Sutherland will be joining the cast of a "Flatliners" reboot.The actor will be joining Ellen Page, Diego Luna, Nina Dobrev, James Norton and Kiersey Clemens in what will be a new take on the 1990 film.  The original starred Sutherland, Julia Roberts, Kevin Bacon, Billy Baldwin and Oliver Platt. It follows the story of med school students who decide to experiment with stopping their hearts. ...
More>>
Flatliners 4K Review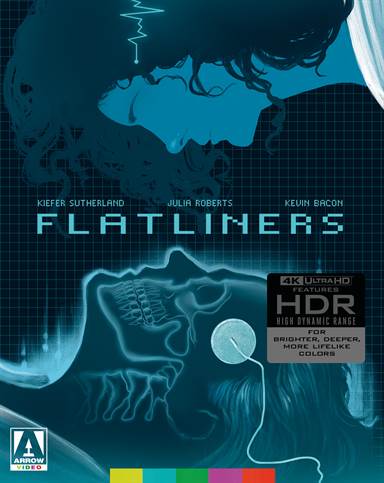 Have you ever wondered what it is really going to be like when you die? Is it just as people who have died and come back describe? Is there a white light leading down a tunnel? Does your entire life flash before your eyes? Or is there simply nothing? What if you had the chance to find out? Five medical school students decided to experiment by dying, one at a time, and then have each other bring them back to life. The movie was called Flatliners, The year was 1990. Tomorrow, Arrow Video releases its special edition of the film in 4K.
Nelson (Kiefer Sutherland; 24), Joe (William Baldwin; Backdraft), David (Kevin Bacon; Mystic River), Rachel (Julia Roberts; Erin Brockovich) and Randy (Oliver Platt; 2012) are classmates studying to become doctors. Nelson decides he wants to know what lies beyond death so he flatlines for one minute before his classmates resuscitate him. One by one, they flatline and come back..that is when the nightmares begin and each of them relive a torturous time in their past.
Directed by Joel Schumacher (The Lost Boys), Flatliners is filled with young, talented actors who went on to become big names in the entertainment industry. The script written by Peter Filardi (The Craft), could have fallen apart in less capable hands but Schumacher handles the source material beautifully creating an intriguing visual to a fascinating concept. While there are moments that scream 1990 visually, (I.e. neon lights, hairstyles, clothing, etc.) the idea of dying to quench a group of medical students' curiosity about an afterlife, is creepy, yet intriguing.
The video and audio restorations are very well done but I would expect no less from Arrow Video. The details on the clothing and backgrounds are exceptional and the colors are rich. The black tones are deep and textured throughout.
The DTS-HD Master Audio 5.1 is layered and nuanced, which comes as no surprise considering the movie was nominated for an Oscar for Sound Effects. Most of the action is set to the front and center channel speakers, but there is some ambient noise audible from the surround ones.
Arrow Video always offers something new with the extras and this release is no exception. The extras include: New audio commentary by critics Bryan Reesman and Max Evry, The Conquest of our Generation - a new video interview with screenwriter Peter Filardi, Visions of Light - a new video interview with director of photography Jan de Bont and chief lighting technician Edward Ayer, Hereafter - a new video interview with first assistant director John Kretchmer, Restoration - a new video interview with production designer Eugenio Zanetti and art director Larry Lundy, Atonement - a new video interview with composer James Newton Howard and orchestrator Chris Boardman, Dressing for Character - a new interview with costume designer Susan Becker, Theatrical trailer, Image gallery, Reversible sleeve featuring original and newly commissioned artwork by Gary Pullin, and *FIRST PRESSING ONLY: Illustrated collector's booklet featuring new writing on the film by Amanda Reyes and Peter Tonguette.
Flatliners tapped into a primordial need for humans to be in control at all times, even in death, and to flirt with the idea that past sins come back to haunt you (literally). While it is listed as a horror film it isn't nearly as bloody as many of the slasher films we have seen. It gave a young cast of excellent actors a gripping story to tell and offered a glimpse into what possibly could be waiting on the "other side" for us.
A well-thought-out, well-acted/directed film that gives audiences what they are looking for and is lovingly restored and showcased by Arrow Video.
Grade: B
-- Allison Rose
For more reviews please visit our film/television review section.
SPONSORED LINKS