Supergirl (2015)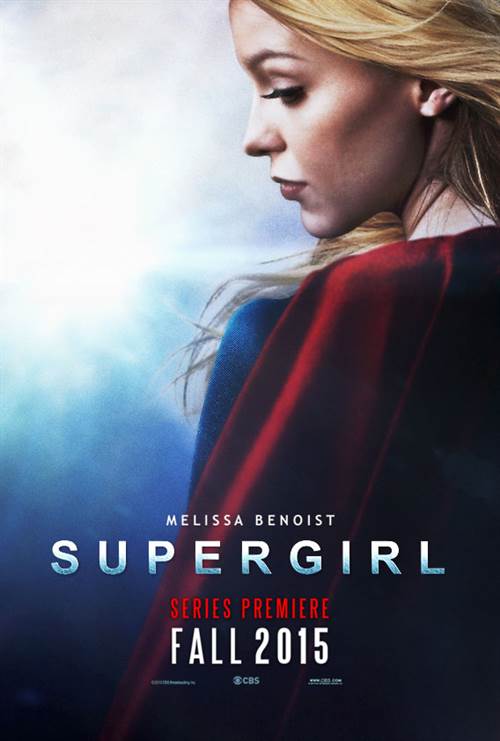 Share this:
| | |
| --- | --- |
| Created By: | |
| Cast: | |
| Air Date: | Monday, October 26, 2015 |
| Studio: | Warner Bros. |
| Genre: | Television |
| Rating: | This program contains some material that many parents would find unsuitable for children under 14 years of age. |
Synopsis
In the vast DC Comics Universe of super heroes, the rich mythology of Superman and the planet Krypton is perhaps the most famous and instantly recognizable. Enter Supergirl! Born on the doomed planet Krypton, the preteen Kara escaped at the same time as the infant Kal-El, but didn't arrive on Earth until many years later after being lost in the Phantom Zone. Now age 24, living in National City and working as an assistant for Catco Worldwide Media mogul Cat Grant, Kara has spent so many years trying to fit in that she forgot to ever stand out. All that changes when she decides to embrace her superhuman abilities and become the hero she was always destined to be. With the help of Daily Planet photographer James Olsen, her foster sister Alex, and the research of the super-secret, off-the-grid Department of Extra-Normal Operations (DEO) and its head, Hank Henshaw, who are tasked with keeping the Earth safe from aliens, Kara takes to the skies to protect her world.

Purchase DVD/Blu-ray/4K UHD physical copy of Supergirl today at Amazon.com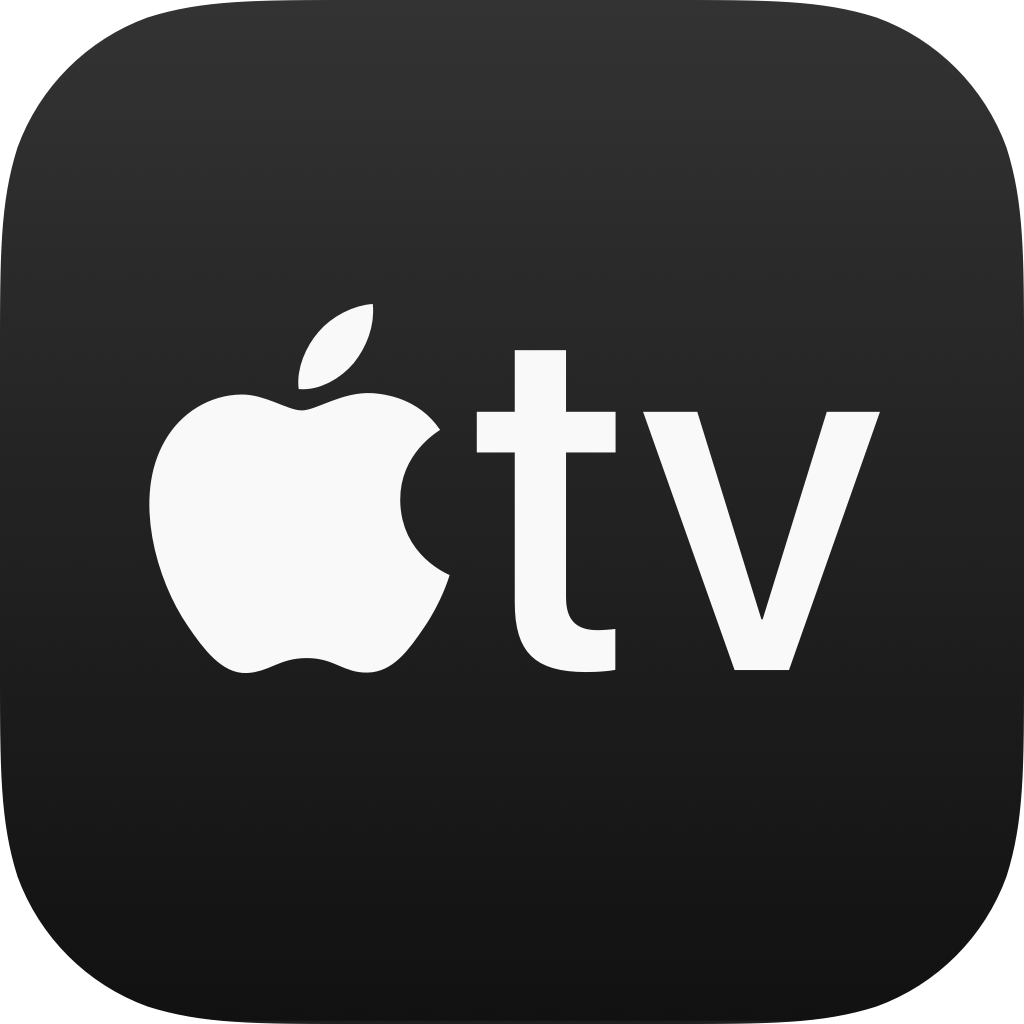 Download Supergirl in Digital HD/4K from the iTunes store.
Supergirl images are © Warner Bros.. All Rights Reserved.


The CW's Supergirl to end After Sixth Season
9/23/2020 12:00 PM EDT
The CW series "Supergirl" will be ending after 6 seasons. The announcement was made today by the network alongside producers Warner Bros TV and Berlanti Productions."Supergirl" stars Melissa Benoist and will begin its sixth season in 2021. Production had been delayed not only by COVID-19 but also the pregnancy of Benoist; however, production is slated to begin next week. The series isn't the only ...
More>>
Supergirl Announces Three New Cast Members
7/22/2018 9:32 AM EDT
The CW/Warner Bros. TV series, Supergirl, made an appearance with a panel at Comic-Con this weekend and announced that they will be introducing three new characters to the cast, including the first transgender superhero on television.Supergirl fans can look forward to the addition of the following new cast members:*Nia Nal (Nicole Maines) is the newest addition to the CatCo reporting team. A soulf...
More>>
CW to Air Supergirl and Arrow Crossover This Coming Fall
8/2/2017 1:54 PM EDT
The CW has announced that they will air their first superhero crossover of the season on Monday, November 27.  The crossover will begin with Supergirl being paired with Arrow. CW president Mark Pedowitz said, "Last year's (crossover) was the most successful week in CW history in terms of ratings and everything. We felt in this particular case we had Flash on Legends paired, so it was better to mak...
More>>
The Complete First Season Blu-ray Review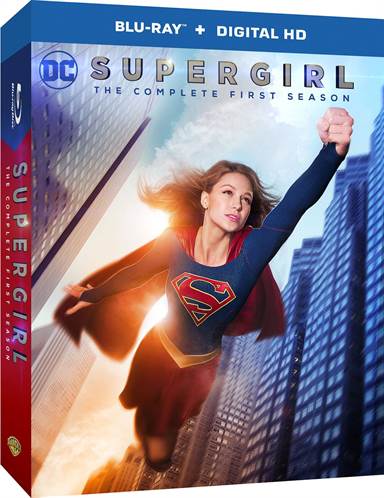 Imagine, that one day, your mom tells you that you're not being sent off to summer camp, but instead, being sent in a pod to cross the galaxy to protect your younger cousin. Sounds like the worst babysitting job ever, huh? It gets worse… your pod gets shoved off course by the planets explosion (as it kills your parents and everyone you know) and you are now in the Phantom Zone! Yea, this bad day is gonna last awhile. In fact, it's going to last 24 years! On the positive side, after crash landing on Earth, you find out that your cousin is Superman and you've got some bad-ass powers of your own. Of course, those powers may not be all positive either, you know…. with great power comes great responsibility (Thanks Uncle Ben)!
Ooohh, did I do a bad thing there, crossing Marvel quotes with DC characters (Evil Grin)?
The thing is, DC may have found their strong point in television verses Marvel's Cinematic Universe. The CW is telling the DC storylines, in great depth, on a weekly basis. When you compare 20 episodes against one movie, the odds are that the views are going to get more attached to the weekly fix; that is, if the show is done properly!
Supergirl has done just that!
Supergirl was developed by Greg Berlanti (who also was responsible for the Ryan Reynolds Green Lantern debacle, but this is slowly giving me reason to forgive, though never forget!) and Andrew Kreisberg who both have their hands in the Arrow, Flash, Legends of Tomorrow realms, along with Allison Adler, who worked Chuck, Family Guy and even joined the writing staff of Glee!
Supergirl, basically after the intro of how she got to Earth, picks up with Kara, a 24-year-old woman working as an assistant for Car Grant, the head of CatCo. Kara, always hiding her superpowers, plays the dorky, ever wanting to be the "normal" average employee, all while her "Devil Wears Prada"-like boss Cat Grant bosses her around all day with Diva demands while her co-worker, Winn Schott, lovingly adores her from a distance. Winn, the shy I.T. specialist, just wants Kara to see him, but she's too busy playing human. Meanwhile, Alex Danvers, Kara's sister, gets on a plane that ends up having issues. Before the plane can crash, killing everyone on board, Kara breaks all her own rules and flies up into the air to save her sister. Dun Dun Daaaaaaa! Yup, that's the start of Supergirl! Unbeknownst to Kara, her sister Alex has been working for DEO (Department of Extra-Normal Operations) and helps capture alien species and protects National City with other agents and ends up bringing in Supergirl (her sister) to assist.
Enter Jimmy Olsen - nope he's not dead! Don't you know movie timelines and TV timelines don't mix!
Jimmy Olsen has left his addiction to the Man of Steel and the Daily Planet to come work for Cat Grant. Kara sees Jimmy Olsen and immediately is crushing hard on him. Meanwhile, Winn is staring at Kara wishing those looks were for him. The Love triangle is complete! Of course it's the CW, so it actually ends up being a love square. Is that even a term? Well, lets just say they add in James Olsen's ex, Lucy Lane (yes the younger sis of Lois) who, along with Kara, wants James and poor Winn is getting no love whatsoever!
So, with each episode (20 in the first season) a new villain/alien is introduced and Supergirl and her Scooby team have to save the day. The cool thing is, each episode starts with a recap that keeps you up to date and ends with that little tease into the next episode (The cliffhanger that keeps you coming back for more just like the last page of a comic book). If you're binging the series, it's virtually impossible to stop.
The special effects are fantastic! I was really impressed from the very beginning that the fight sequences didn't look corny. It looks and feels like a real superhero universe and yet mirrors our own.
Of course, for me, the best part of this series if the two leads. It's been a long time since this fan of Ally McBeal has seen that bubbly snarky attitude cross the scene and SHE is back! Calista Flockhart's Cat Grant may just be Ally McBeal, who turned a bit "Miranda Priestly" (from "The Devil Wears Prada") taking a page from Meryl Streep's bag. She first comes off bossy and overbearing, and yet, at the same time thru the series you get to see little cracks in the armor and the goodhearted mushy inside creeps out, but generally after some sarcastic line. Truly the best witty lines of the series come straight from Cat Grants mouth! Flockhart at times, for me at least, outshines even the superhero herself! And let me say this, Harrison Ford is one lucky guy cause Calista Flockhart looks like she has found the fountain of youth or something. If that's what 51 looks like, sign me up! She looks stunning, and, 14 years after the end of "McBeal", I found myself crushing on Flockhart again!
Then, there's Melissa Benoist and her duality of playing Kara, the geeky alter ego of Supergirl, and Supergirl herself. She is just perfect for the role. Benoist, unfortunately, came into the "Glee" series as an undergraduate class that never really lived up to the first in that series and She never really shined like she does in "Supergirl". While she gets to play technically two characters, she plays both with finesse and you can't help not to root for her, even though we always know the superhero will win. There subtle touch though out the series of text correspondences with her cousin Clarke that just put the perspective in place. She's a superhero in her own right, but in the shadow of Superman, and while her cousin is always supportive and wiling to help, Kara wants to stand on her own and be the hero of National City.
The cast of Supergirl is rounded out with Mehcad Brooks (True Blood & Desperate Housewives) who plays Jimmy Olsen, the torn-between-two-women photographer extraordinaire! Jeremy Jordan (NBC's Smash) is the IT specialist, and stuck in the "Friends Zone" Winn. David Harewood (The Night Manager & Homeland) plays Hank Henshaw, the head of the DEO, and eventually comes out of hiding as John Johnes (the Martian Manhunter, one of the original seven members of the Justice League), who is also watching over both Alex and Kara, a promise he made to the girls' dad. Chyler Leigh (Grey's Anatomy) plays Alex, Kara's sister, who is always struggling with the being the "Older Sister" and the one who's supposed to know better and protect and, yet, gets no credit whatsoever. Peter Facinelli (Nurse Jackie & the Twilight Saga Series) joins the cast as Maxwell Lord, National City's version of a corporate Lex Luthor. And, rounding out the main cast is Jenna Dewan Tatum (Witches Of East End) who plays Lucy Lane, Lois Lane's younger sister and the second love interest for Jimmy Olsson. Also in the series is a couple of throwbacks that fans can get a kick out of. One of which is Alex's Dad and Supergirl's Adoptive father, who is played by Dean Cain! Yes, Lois & Clark's Superman is the adoptive father of Supergirl (Awkward! How do you explain that in any space time continuum) and Indigo (one of the villains Supergirl has to go against) is played by Laura Vandervoort, who played SUPERGIRL in Smallville!
Overall, Supergirl's strongest points include having incredibly strong female lead characters that make a difference in their own ways (no men needed, yet, sometimes they assist). I also loved the contempoary feel of this series and how it actually related to what's going on in our own world at this time. It has undertones of global warning and hints of what society is doing to the earth and also tackles immigration and how we treat others that are "different". However, none of these are overpowering to the basis that it's a fun, sometimes drama filled, superhero story with fantastic fight sequences and fun characters straight out of the DC universe! One of my favorite episodes is a crossover with CW's The Flash, which is sooooo cool! Even better, this year, the CW is promoting a major 4 series crossover event mixing the casts of Arrow, The Flash, Legends of Tomorrow and Supergirl together in a 4-night spectacle!
The Supergirl Season one Blu-ray edition hosts a chunk of bonus deleted scenes, along with the Supergirl: 2015 Comic-Con Panel, featurettes "The Man From Mars" & "A World Left Behind: Kyrpton" and a fun Gag reel that shows this group can definitely ham it up at work while trying to save National City!
If you haven't seen Supergirl yet, and you're a fan of The Flash or maybe Arrow, you need to check Supergirl out! It's very well done and just all around fun! Besides, you need to get caught up before that 4-night Crossover Event!
I give "Supergirl" 4 and a half amazing Cupcakes out of 5… its not fair that Cat Grant kept the whole box to herself! Keep the witty series going CW! Great Job!
Read More Supergirl Reviews
For more reviews please visit our film/television review section.
SPONSORED LINKS